Be a Part of a Team with a Cause
Be a part of a team that helps clients make sure their suppliers are meeting standards for quality and social compliance. At InTouch, we don't just follow our company mission, we live it each and every day.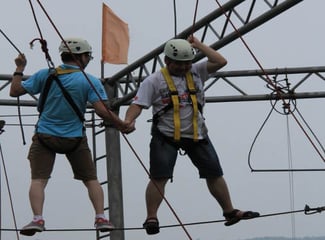 This means holding each other to a high level of integrity and following a strict Code of Ethics. We believe that our values should be reflected in every phone call made, every email sent and every report issued to a client.
If we aren't working together with clear communication in everything we do, then we aren't doing our job. Part of making sure we work well together means bringing our people together. Twice a year, our whole company gets together to touch base, catch up and have a great time. Getting together helps us stay connected with the people that make our mission a reality.
Think you're ready to be a part of the industry's best place to work? Contact us! We'd love to hear from you!
Current Positions: Marketing and Public Relations Internship in China
Job Description
We are looking for exceptional candidates with fluent (preferably native) English to join our team in a marketing and public relations role. Candidates who can start in July 2017 are highly preferred.
Our marketing and outreach efforts are what drive our business development. This position offers you the opportunity to become familiar with online web marketing, social media, Search Engine Optimization (SEO) as well as exposure to the quality control and manufacturing industry.
The responsibilities/requirements for this position include:
Working with company materials and employees to generate content ideas for video, podcast and blog.
Writing and publishing articles for our company blog.
Updating social media and growing InTouch's web presence through content circulation and publication outreach.
This is a 6-month, unpaid internship with the possibility of full-time employment to follow. What we're offering the right candidate:
Round-trip airfare from your current location to Shenzhen, China
2,000 RMB per month stipend
Shared accommodation (with your own room) – Free lunch Monday thru Friday
Health insurance during your time in China
As part of this position you will be exposed to experts in the quality control and manufacturing industries in China, and have the opportunity to travel to factories in China at least twice during the internship period.
InTouch's headquarters is in Shenzhen, China, where this position is based. And we also maintain a U.S. Company in Wantagh, NY.
Compensation
Unpaid 6 month internship. 2,000 RMB per month stipend with housing provided.
How Candidates Apply
If you are interested in this position please send a ONE PAGE CV as a PDF attachment to recruitment@intouchquality.com, with the subject: Marketing Intern – Your Name. The name of your CV file should be CV – Your Name. In the email text, please answer these 5 questions for us:
Where are you currently located?
Where did you find us?
If hired, when would you be available to start?
What is the most important thing about working in teams? (Please answer in 4 sentences or less)
What is an important concept in business communication that you can tell us about? (Please answer in 4 sentences or less)
NOTE: There is no application fee to apply for this position.