Whether it is related to the automotive, agricultural, manufacturing, or aerospace sectors, industrial equipment is often complex to manufacture and must comply with multiple levels of regulation from specific industries and governments.
Types of Industrial Equipment Inspections
Storage vessels, cranes, and metallurgical equipment are common types of industrial equipment used in a multitude of industries. Industrial equipment can also be purpose built to perform a unique task or operate under specific conditions, which could require the development of new testing procedures and quality standards.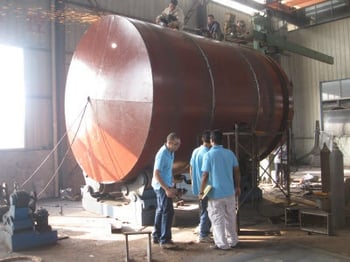 AQF's Experience Evaluating the QC of Industrial Equipment
Storage Vessels
Cranes
Metallurgical Equipment
AQF has developed a suite of services that can offer you unparalleled transparency into your industrial manufacturing projects. From materials verification to inspections, the AQF Industrial Division is prepared to be your long-term quality control partner.
How Can AQF Help YOUR Business?
If you have clients that are relying on you to provide a quality product in every shipment then do not settle for inspection companies who use untrained and underpaid local inspectors.

AQF QA teams are trained and our inspectors often have an engineering background. We'll make sure you have the right team for the job and that your industrial products are carefully and thoroughly evaluated.