China has become a prime destination for automobile manufacturers to produce their vehicles for both the domestic and foreign markets. As the global demand for automobiles increases, so to does the need for reliable quality control procedures. Automotive quality control activities require the coordination of skills and expertise in fields such as electronics, mechanical engineering, upholstery, and precision tooling.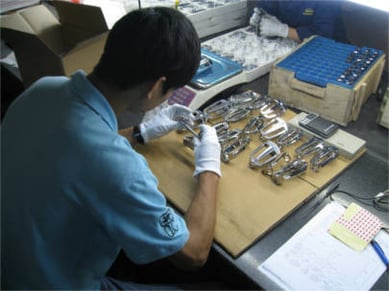 How We Verify A Quality Automobile
AQF has assembled a team of auditors including specialists in each of these fields. Ensuring the quality of an automobile must begin with its component parts. This includes but is not limited to:
Verifying the load-bearing capacity of structural steel and aluminum for the frame
Confirming proper casting and machining of critical engine components such as crank shafts and pistons
Ensuring fuel and oil delivery systems are fully functional and safety-tested
Benchmarking all critical functions of the on-board computer system
Automotive QC Division
The AQF Automotive QC Division is comprised of automotive experts as well as China manufacturing experts. This focused QC Division offers importers a single team on which to rely for specific automotive product quality evaluations and inspections, verification of products and components with virtually any market's import requirements, and consultation services to enhance quality or augment capacity at any Chinese automotive supplier.
With a keen understanding of not only current automobile technology, but also the constant evolution of automotive systems to increase efficiency and reduce emissions, AQF can be your automotive supply chain's QC partner.