Knowing exactly what goes into your products is advantageous for a number of reasons, such as giving you the opportunity to quantify the value added at each stage in your supply chain. Through Cost and Component analysis, importers can gain insight into their supplier's operations.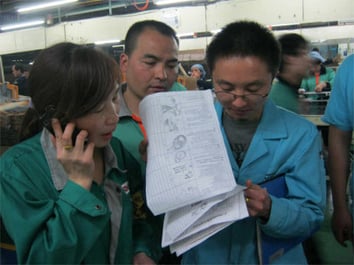 The Benefits of Cost and Component Analysis
Get a thorough analysis of exactly what components and materials make up your product and what they cost
Helps you negotiate a reasonable unit cost based on your knowledge of the product and market conditions
Verify exactly what value is being added by your supplier
Where InTouch Works for You
InTouch's detailed reporting can aid you in making informed decisions about how to implement cost-saving component substitutions that do not negatively affect quality. Likewise, having a record of each component and material your product is composed of makes identifying and correcting unauthorized substitutions far easier.
InTouch breaks down and determines the manufacturer's cost on every component in your product. Our reports will identify each component, and cross reference the product's Bill of Materials (which we will obtain from the factory).
This analysis will demonstrate where you can cut out unnecessary costs and give you a transparent view of your supplier's margin.
If you suspect that you are not getting the best price possible or want to add price transparency to your buying, Cost and Component Analysis is a powerful tool. We effectively save our clients millions of dollars each year with this service.