Costco has taken significant steps to ensure that its global supply chain operates in an ethical manner. A crucial aspect of their social compliance program is the Vendor Code of Conduct. All of Costco's vendors, suppliers, and subcontractors must adhere to this Code in order to maintain business relationships with the retailing giant.
As compliance experts, InTouch offers a wide range of services to ensure that your suppliers will meet the strict standards laid out by Costco in their Vendor Code of Conduct. InTouch compliance auditors will evaluate your suppliers with the same scrutiny as Costco's own audits would. InTouch can then set to work coordinating with your supplier to rectify issues of social compliance in areas such as:
Costco Labor Relations
Like many other retailers, maintains a strict zero tolerance policy towards the use of child and compulsory labor in the manufacturing of their products. In addition employees must be compensated at least in accordance with local minimum wage and benefits laws, and receive a contractual agreement in their native language that includes all necessary terms of employment. Thorough documentation audits as well as personal interviews with employees allow InTouch compliance auditors to determine that the employment conditions present at your supplier adhere to the Costco Vendor Code of Conduct.
Costco Health and Safety
Costco's Vendor Code of conduct mandates an emphasis on the health and safety standards implemented in both the production and dormitory facilities of all of its suppliers and subcontractors. These standards include but are not limited to: trained first-aid personnel on-site, easily accessible exit doors and stairways, adequate ventilation and lighting, personal protective gear, access to clean toilet and hand-washing facilities, and access to potable water. Through comprehensive factory audits, InTouch compliance auditors can determine the availability and maintenance of these facilities and procedures.

Costco Environmental Protection
While much of Costco's social compliance program is focused on maintaining the employment and living standards of their suppliers' employees, the Vendor Code of Conduct does make special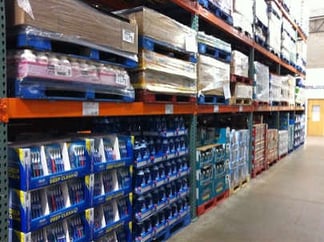 provisions for sustainability. In order to remain in good standing with Costco, suppliers and subcontractors are required to dispose of hazardous manufacturing byproducts in accordance with the applicable local laws and must meet or exceed all wastewater treatment and recycling requirements.
In addition, vendors are prohibited from using any ozone-depleting chemicals (ODCs). Factory audits as well as chemical documentation reviews will allow InTouch compliance auditors to determine the procedures in place at your supplier for the disposal of hazardous waste. In the event that unsustainable practices are in place, InTouch can work with you supplier to implement best practices in chemical disposal.