Disney has developed their own International Labor Standard and holds their global suppliers accountable for meeting their Code of Conduct for Manufacturers. Disney performed or received over 10,000 social compliance audits in 2014 to evaluate factories' adherence to their standards.
Key Components of Disney's Code of Conduct for Manufacturers
Suppliers that fail to meet certain aspects of Disney's Code of Conduct run the risk of losing Disney as a customer. If you import or manufacture products for Disney, here are a few key areas of Disney's Code of Conduct for Manufacturers that could put you out of business: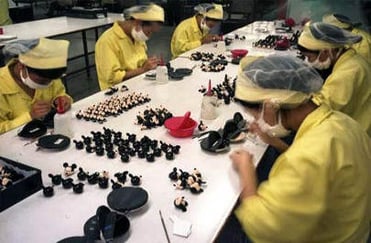 Disney Labor Relations
Disney strictly prohibits their suppliers from employing child and compulsory labor:
The term "child" refers to a person younger than 15 (or 14 where local law allows) or, if higher, the local legal minimum age for employment or the age for completing compulsory education.
Disney also specifies that manufacturers must respect workers' rights to lawfully organize and collectively bargain without penalty or interference.
Disney Health and Safety
Suppliers must demonstrate that their facilities maintain a safe working environment for all employees and comply with related local laws. Disney specifically cites the following areas of concern:
Access to potable water and sanitary facilities
Fire safety (e.g. minimum access to exits, appropriately placed extinguishers and other fire equipment)
Adequate lighting and ventilation in work spaces
Disney also requires suppliers to meet these requirements in any housing they provide employees.
Disney Environmental Protection
Suppliers and subcontractors often don't enforce correct use and disposal protocols for harmful chemicals used in the manufacturing process. Disney's Code of Conduct compels suppliers to meet any and all local environmental laws that apply to manufacturing in their jurisdiction.
You may be especially vulnerable to environmental law enforcement at your suppliers' factories if you manufacture in China. China's Ministry of Environmental Protection recently fined or jailed officials in more than 80,000 polluting factories in a single year.
How InTouch Can Help You Meet Disney's Code of Conduct
Whether you manufacture children's toys, promotional goods or other products, if you supply Disney, you're subject to meeting Disney's ILS standards. And supplier risk is growing. Disney announced they increased the percent of unannounced audits in China from 24 percent to 60 percent in 2009 alone.
How can InTouch help you limit your risk of losing Disney as a customer?
Disney Pre-Audits to Evaluate Compliance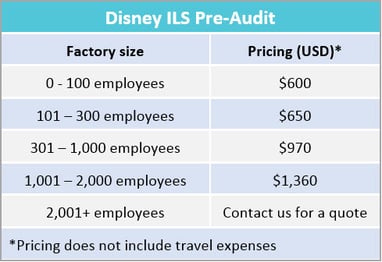 A pre-audit, or "mock audit", is one of the best ways you can prepare for an official Disney audit. InTouch compliance auditors will visit your supplier's facility, identify any violations on site and issue you a detailed report of their findings complete with photos.
We also provide the factory with a corrective and preventative action plan (CAPA) with suggested steps for remedying any Disney compliance violations we find.
Disney ILS Compliance Training
InTouch can also train your supplier's staff to become compliant if you already know they don't meet Disney's Code of Conduct for Manufacturers.
Our compliance experts will travel to your supplier's factory to discuss the CAPA with management on site. They'll coach staff in specific improvements toward Disney ILS compliance. We can also continue to audit or train your supplier to maintain compliance.
Training is particularly helpful if you're expecting an official audit from Disney. Our standard rate for Disney compliance training is US$600 per man-day plus travel expenses.
If you're ready to talk with an expert about Disney pre-audits or training, click the button below to contact us.