Disney has developed their own International Labor Standard, and holds its global suppliers accountable to all aspects of it as a minimum requirement for conducting business with them. The core component of this standard is Disney's Code of Conduct for Manufacturers, which is used to ensure that Disney merchandise is produced in a social compliant manner.
Seasoned InTouch compliance auditors will employ an inspection process that will cover the same criteria Disney uses during its own supplier audits. Where non-compliance is discovered, InTouch will work directly with your organization and suppliers to improve compliance with each aspect of Disney's Code of Conduct for Manufacturers such as: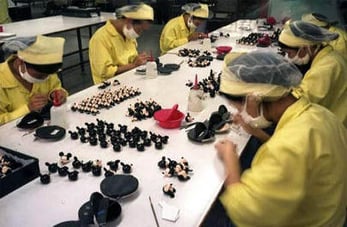 Disney Labor Relations
Disney strictly prohibits the use of child and compulsory labor by its suppliers. In addition, Disney strongly supports the recognition of employee rights to associate, organize and bargain collectively without penalty or interference. By conducting audits for compliance, InTouch auditors can ensure that your suppliers' labor practices meet local regulations as well as Disney's high standards.
Disney Health and Safety
In order to establish or maintain contracts with Disney, suppliers must demonstrate that their facilities have adequate fire safety equipment, lighting, and ventilation. Thorough audits of both commercial properties and employee dormitories will ensure that your suppliers comply with Disney's code of conduct by providing adequate access to potable water and sanitary facilities in addition to the aforementioned equipment.
Disney Environmental Protection
The correct use and disposal protocols for harmful chemicals used in the manufacturing process are often not strictly
enforced by suppliers and subcontractors. Disney has recently been putting an extra emphasis on their environmental sustainability programs, and will require their suppliers to adhere to these standards. InTouch compliance auditors will identify unsustainable practices, such as venting toxic fumes directly into the atmosphere or discharging hazardous waste into local ecosystems, and can implement best practices in the removal of these byproducts.