For some product categories and industries, quality control activities cannot end at the factory. Container Loading Monitoring is a service that centers around closely supervising the loading of merchandise or industrial goods into shipping containers. The loading of containers generally takes place at the factory where the goods were produced, prior to the container being sealed and delivered to the port for export.
Key Elements of Loading and Transportation Monitoring Services:
AQF ensures that each item in your shipment is handled with care throughout loading and the entire transport process
Our auditors will inspect containers prior to loading to ensure that each one is clean, structurally sound, and weatherproof.
AQF staff overlooks all handling in person to ensure that goods are safe, secure, and that containers are sealed in accordance with C-TPAT and Euro regulations.
Have eyes and ears on your products continually until they leave China.
Be notified of any pressing quality issues immediately, allowing you the opportunity to delay shipment at any time before your shipment departs China.
Thorough reports with photos are provided within 24 hours after the service for your review.
Expert Reporting of Container Loading Monitoring
The main deliverable of container loading monitoring services is a detailed report of the entire process observed by the auditor. Reports will include a detailed account and photos of the loading and transport activities, especially any information related to damage sustained during this process. Clients may also request to be notified immediately of any improper handling of the goods.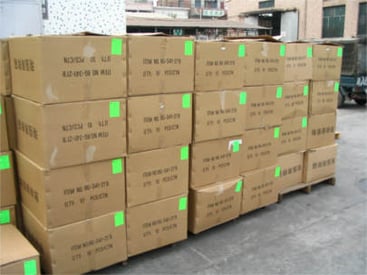 The purpose of this comprehensive reporting is to provide the client with as much transparency into the transportation as possible. The primary goal of the service is to allow the client to make a judgment as to whether or not the loading and transportation of their goods was performed up to their expectations.
When you absolutely must be sure that your goods will not only leave the factory in top condition but also arrive at your warehouse in full working order, employ AQF to accompany your goods all the way to the port of departure.

AQF QA teams go on-site at the factory, port, or other third party logistics area to ensure that your goods are handled with care throughout the shipment process. We help protect you from theft, mishandling, and incorrect loading of your goods. You receive detailed reporting with photos that trace the movement and handling of your goods.
We have monitored the transport of everything from oversized gas tanks for use in the petroleum industry to cookware en route to Sweden. This service is particularly valuable for those engaging in shipping a product for the first time, or when there are detailed loading criteria which if not met could result in serious financial loss or damage to your reputation.