Product inspection is a common practice for importers of many types of consumer products. But QC is especially important for drones because checks are needed to verify their sophisticated hardware and ability to perform autonomous functions. Drones, or Unmanned Aerial Vehicles (UAVs), are intelligent machines made of many internal components.
Experienced importers that manufacture drones abroad often insist on pre-shipment inspection to verify that their product meets their requirements. By conducting a series of standardized, on-site tests and checks during inspection, QC professionals offer the customer insight into the quality, condition and status of their order before it leaves the factory.
Key Areas of QC Inspection for Drones
There are several processes included in a typical product inspection of drones and quadcopters, including:
Visual inspection of drone components, including the radio control transmitter (remote control), lights, GPS sensor, camera, attachable wheels for ground-use, propellers, landing gear and others as applicable. This often includes verifying that internal parts conform to an available component data form (CDF) or similar specification.
Lab testing for electrical components, such as the motor, trimmer, printed circuit board (PCB), electronic speed controller (ESC) and flight controller (including gyro stabilization).
Performance testing of multidirectional flight capabilities and special features like headless mode and auto-return home functions to check maneuverability.
Checking endurance and durability by measuring battery life, charge/discharge and conducting product drop and collision tests.
Packaging inspection & testing, by conducting carton drop testing to check durability and by verifying requirements for packaging markings & labeling, weight and dimensions.
More advanced models often require other testing of autopilot modes, failsafe features and Wi-Fi and Bluetooth capabilities. Testing for camera capabilities and components such as the gimbal and SD card are also common for drones equipped with a camera.
With so many tests needed to verify a product that's only recently become commercially available, how can you find qualified professionals to help conduct a thorough inspection of your drones?
How You Benefit from Hiring AQF to Inspect Your Drones
In working with AQF, you'll benefit by having locally-based QC professionals visit your supplier's factory on your behalf to inspect. Founded in 2007, AQF has a consumer electronics division experienced with QC inspection of drones. Be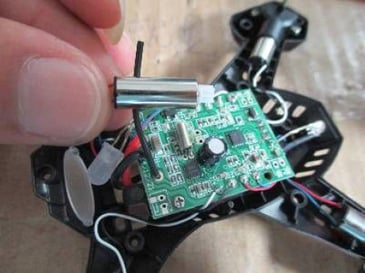 sides having a dedicated client manager that's fluent in both English and the local language, you'll benefit from:
Our team can also coordinate testing by a certified lab on your behalf as needed.
We know that integrity and accountability equally important to most importers as professionalism and expertise. That's why we're committed to following a strict Code of Ethics to ensure your interests are ours.
If you manufacture drones in Asia, don't settle for unqualified or dubious contractors to report on your product. AQF's QC staff are experienced, knowledgeable and objective. You can rely on our reporting because we use your standards to evaluate your product. Contact us now to learn more about product inspection of drones.