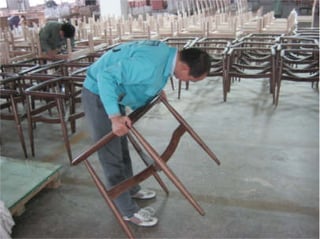 Furniture products are held to the highest structural and aesthetic standards due to daily and prolonged use. It's important to evaluate these products prior to shipment to ensure that all furniture items are durable enough to stand up to normal use, while also adhering to the end consumer's design and materials standards.
Whether you're a manufacturer of lower-end, wicker patio furniture or upholstered lounge chairs for a luxurious 5-star hotel, pre-shipment inspection is vital to ensuring your product meets your standards when you receive it. And as furniture production moves to lower-cost manufacturing countries, like Vietnam, the need for reliable and professional furniture inspection has never been greater.
Key Areas of QC Inspection for Furniture
Visual inspection against CAD design sketches and approved samples for aesthetic compliance and checks for defects related to dimensions, discoloration, inadequate finishing, scratches, warping and other visual imperfections
On-site tests and checks for structural safety through load tests, impact tests, arm and leg strength tests, drop tests and other relevant stability and usage tests
Compliance to legal standards related to illegal logging, labeling of filling materials and textile fibers for upholstered products and other relevant standards
Packaging inspection to check for appropriate packaging of all furniture parts to protect against abrasions and proper climate controls to prevent damage during shipping
Relevant lab testing coordination, including for flammability and fire resistance testing, as well as chemical testing for lead content in surface coatings and pentachlorophenol and formaldehyde in composite wood products
Why Hire AQF to Inspect Your Furniture?
AQF inspectors are experienced in the varied standards and quality expectations for wooden, metal, plastic, upholstered, indoor, outdoor, flat-packed and fully assembled items. For wood products, you'll receive results of relevant checks for moisture content, wood warping and presence of mold, mildew or insect infestation.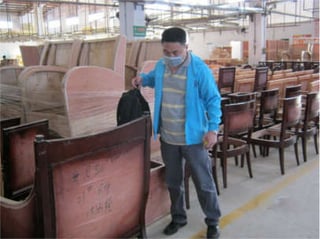 And for children's furniture, we'll ensure your product complies to safety requirements related to structural integrity, contaminants, sharp points and edges, small parts and mandatory tracking and warning labels.
AQF can also inspect your raw materials to identify quality concerns in wood, stone, metal and glass materials before they affect mass production. Regardless of at which production stage you need your furniture inspected, you'll receive a detailed report, within 24 hours of completion.
As much of furniture retail moves online, it's more important than ever that your business delivers on your promises and the products your customers receive meet their standards. Contact AQF today to conduct your furniture inspections and to be your eyes and ears in your suppliers' factories in Asia.