Power banks, or battery packs, are intended to improve a user's experience with their devices by allowing them to charge and continue to use their devices while on the go. Ensuring proper operability and performance of products through pre-shipment inspection is therefore essential for power bank manufacturers to meet customer expectations.
From durable, solar-powered power banks to customized, low-end promotional tools, power banks can vary in their capabilities, size and voltages. And many power bank manufacturers make claims on their product's charging capabilities to differentiate themselves in a crowded market. When performed by experienced professionals, power bank inspection helps you verify that your products deliver on your marketing claims and promises.
Key Areas of Quality Control Inspection for Power Banks
Visual inspection of all components, including product dimensions, internal wiring, printed circuit board (PCB), batteries, charging ports, logos and branding information, USB cables and LED light power and charging indicators
Check performance of charging capabilities, including charging and discharging test of the power bank itself, charging test of applicable devices and simultaneous charging test where applicable
Measure electronic function, including output voltage, power input and input current against rated specifications
On-site testing of built-in intelligent safety protections to avoid over-voltage, over-charge, over-current, over-heat, short-circuit and over-discharge issues
Compliance to mandatory FCC rating labeling of input and output DC voltage and current and battery capacity, as well as rub tests to ensure label is still legible after use
Packaging inspection, including checks of retail boxes and hang tags, the barcode scan test, the carton drop test and compliance to Lithium-ion and Lithium-polymer battery shipping regulations
Why Hire AQF to Conduct Your Power Bank Inspections?
Many importers manufacturing electronics in Asia find it difficult to communicate product requirements and performance standards to suppliers. AQF's bilingual staff will assist you with clarifying your product requirements with your factory through QC checklist development to help you avoid miscommunication.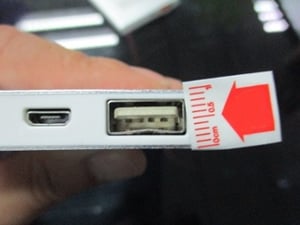 If you need testing by a professional laboratory, such as for product safety and performance, AQF will help you coordinate testing with one of our qualified lab partners.
As with all consumer electronics, defective power banks can pose dangers to your customers, as well as damage their devices if not adequately tested before shipment. And if you make claims that your power bank is waterproof, dustproof, shockproof or skid resistant, you'll benefit from our testing to help validate these claims before the product reaches your end-customer.
Delivering a high-quality, durable product to your customer could make all the difference for your business in this ever-growing market. Contact AQF today to conduct your power bank inspections and set your product quality apart from that of your competitors.