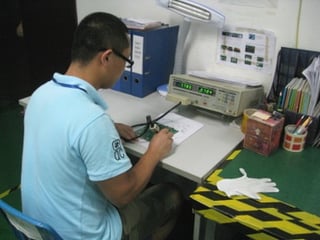 Tablet PCs are susceptible to a number of product defects, with often upwards of 50 potential product defects classified in QC inspection criteria. For electronic products with many components, like tablet PCs, it's highly unlikely that a single factory is producing all of the parts of your product. And with components being sourced from tens, if not hundreds, or different suppliers, tablet PC inspection is critical to ensuring suppliers assemble your product with components that meet your specifications and quality standards.
When conducted by experienced professionals, tablet PC inspections can be tailored to comprehensively check the specific quality standards of your product's hardware, software and intended use. Evaluating consumer electronics prior to shipment ensures your product is durable enough to stand up to normal use, while also meeting your end consumer's performance expectations.
Key Areas of Quality Control Inspection for Tablet PCs
Visual inspection for structural and aesthetic defects through comparison with approved samples and CAD sketches, checking dimensions, color, weight, cable length, logos and labeling and checking for scratches and cracks in device and LCD display
Verify correct assembly and mounting of all components against any available Component Data Form (CDF), including LCD display, speaker, microphone, printed circuit board (PCB), main integrated circuit (IC), switches, buttons and others
Check internal construction, including proper clearance between live parts and conductors and secondary parts, as well as the condition of solder joints, PCB, copper foil and screws
On-site functional testing, including powering device on and off, function of capacitive touch screen, display brightness and broken pixels, camera, audio playback, memory card recognition, headphone output, LED lights and ports
On-site battery testing and electrical testing for charger, including charge and discharge test, battery short-circuit test, battery drop test, checks for protection resistance and transformer, charger output voltage test and hi-pot test
On-site software testing, including operating system confirmation, Bluetooth, file transfer, Wi-Fi connectivity functions and calculator and clock/alarm applications
Confirm legal compliance to mandatory FCC regulations of radio frequency electronic products in collaboration with certified laboratory partners
Packaging inspection, including check of retail carton, barcode scan test, carton drop test and compliance to Lithium-ion and Lithium-polymer battery shipping regulations
Why Hire AQF to Conduct Your Tablet PC Inspections?
You'll benefit from AQF inspectors' professional diagnostic tools to evaluate the performance of your tablet PC. You'll receive results of testing your product to stated performance metrics with regards to processor speed, display resolution, touch screen responsiveness and software compatibility.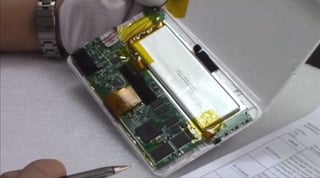 And you can be assured that we'll check the internal construction of your tablet PC for potential defects and other quality issues that might not be immediately visible upon first use.
With AQF as your inspection provider, you'll typically receive an inspection report containing numerous images of identified defects within 24 hours after completion. With this information in hand, you'll be able to quickly address all quality defects with your supplier before your order ships. If you need to further check your product's safety and performance with tablet PC lab testing, our client support team will also help coordinate testing with certified labs for you.
You can prevent most electronic product recalls by verifying product quality before it reaches your end customer. Contact AQF today to start managing your product quality and preventing costly defects through tablet PC inspections!