AQF is experienced in conducting product inspection in South Korea and other countries in Asia. Our Western-managed team is made up of local QC experts with backgrounds in a wide range of products, including electronics, cosmetics, textiles and others. We can also conduct factory audits in South Korea if you want to ensure a potential supplier is right for you before handing over a deposit.
How can product inspection in South Korea help you and your product?
Quality issues occur in every factory, and they can cause additional expenses and shipping delays if you don't catch them before they leave the factory. But by conducting pre-shipment product inspection, you can avoid those costs and delays.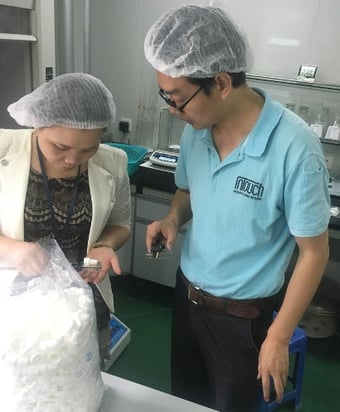 Almost nothing else gives importers the same level of assurance that their products meet expectations than a complete inspection report. Inspection saves importers time and greatly limits the risk of customer returns and product recalls.
Factories typically have their own internal QC inspectors on the production floor. But importers often prefer to hire their own full-time staff or an independent QC company to inspect on their behalf. This helps them avoid the biased reporting that can come when QC staff are inspecting their own factory's work. But finding a reliable and experienced third-party inspector can be tough.
AQF's product inspection services in South Korea
AQF conducts product inspection in South Korea to give you the information you need to understand your product in the different stages of manufacturing. With help from us, you don't need to send staff to a factory halfway across the world.
Our staff in South Korea work with integrity and accountability to visit your supplier's factory, check your product and report on quality and order status promptly. Besides a thorough inspection report, you can also expect our team to:
Work together with you to form inspection criteria that address your concerns for your product
Conduct any necessary on-site product tests for your product at the factory
Compare mass-production samples with any approved product samples available and compare other specifications, such as CAD drawings, product dimensions, etc.
Take detailed photos of the product, any packaging available and any issues found
We'll also help to communicate your needs and expectations effectively to your supplier in South Korea, helping you ensure your expectations are understood before, during and after production.
Product inspection in South Korea offers you the insight to any problems that need to be resolved before shipping your products to your customers. Avoid unneeded costs and added stress on your customer relationships by contacting AQF about product inspection in South Korea today!