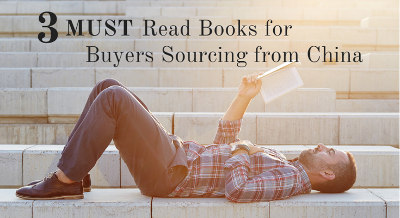 Have you been curious about China's manufacturing landscape? Or maybe you work directly with Chinese suppliers and would like to better understand how Chinese business works. There are hundreds, if not thousands, of books out there that focus on manufacturing and business in China.
In this article, we look at three books that are "must reads" for anyone who is sourcing from China or otherwise has business dealings in Asia.
Poorly Made in China by Paul Midler
If you're a seasoned China importer, you will smile as you read this book, since you will probably have been through almost every unfortunate situation outlined by Paul Midler.
Midler is what we in China call an "old China hand", and his book outlines various projects and situations he has encountered in a long career as a representative for foreign importers in China.
Quality fade, factories making up certifications, swapping materials and other challenges faced by buyers sourcing from China are all covered. Midler also provides great insight into the mindset of why these situations happen and what you can do to prevent them from happening to you.
This book is a page turner and not only gives great pointers but also is very entertaining to read.
The Asian Mind Game by Chin-Ning Chu
This is a great book not only for those importing from China, but for those doing business with Asian countries in general.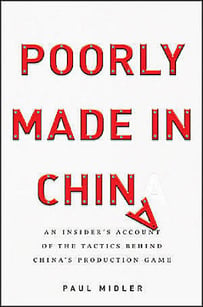 Chin-Ning Chu, who is ethnic Chinese but grew up with Korean influence in North East China and then Taiwan, gives great insight into the business psychology of various Asian countries.
The book profiles different cultures within East Asia including Chinese, Japanese, Korean and Taiwanese business culture. Never again will you think of "Asian" culture as a general concept. This book shows how each culture is uniquely different and how business people from those cultures relate to those of foreign business.
This book is more academic in the way it reads and could be used as a reference tool to be referred to over and over again during the course of one's career in dealing with Asia.
Factory Girls by Leslie T. Chang
As a buyer sourcing from China, you might visit your suppliers and see hundreds of workers in the factory making your products on the production line. Most people don't think about it at the time, but each and every one of those workers has a story.
In her book, Chang takes you into the lives of several girls working in the manufacturing industry. It covers all of the trials and tribulations of personal journeys that cover vast distances from villages in rural China into the manufacturing mega centers of Dongguan and Shenzhen.
While this book does not give much in the way of business advice for dealing with China, it does present a fascinating look into a world likely totally different from your own and puts a real human touch on manufacturing and sourcing from China.
Conclusion
Whether you're a seasoned buyer that has worked in China for a decade or more or a fledging manufacturer just tuning in, these three books provide real insight. Check out these three must reads to learn about:
Different problems manufacturers often face with Chinese suppliers and how to prevent and solve them
What it's like to conduct business in China as compared to other countries in East Asia; and
How manufacturing affects the lives of the factory workers that make the products many of us buy
Take a look at these books for a better understanding of manufacturing and business culture in China!