Visiting a Chinese factory helps prospective buyers gauge everything from the quality of the products to the technical expertise on offer, as well as everything that could be going wrong with their operations. But before you rush out to apply for your Chinese visa, book your airplane tickets and embark on a trip to the Far East, take heed of these 5 mistakes you have to avoid when visiting a Chinese factory for the first time...
Visiting a Chinese factory helps prospective buyers gauge everything from the quality of the products to the technical expertise on offer, as well as everything that could be wrong with their operations.
It is a great opportunity to get eyes and ears on the ground to suss out the "real" situation, but a lot of visitors often waste the opportunity and make costly mistakes by simply not doing their homework beforehand.
So before you rush out to apply for your Chinese visa, book your airplane tickets and embark on a trip to the Far East, take note of these 5 mistakes you have to avoid when visiting a Chinese factory for the first time...

1. Taking a potential supplier's word for everything prior to your arrival
The connected times we live in today have brought the world's marketplace to our homes and have offered us the convenience of searching for just about anything online. That being said, the all-open access of the internet has given those looking to swindle unsuspecting buyers a platform to work off of.
The number of "fake" factories or operations in China is astounding, with police in Beijing having shut down a fake Apple factory that made 41,000 fake iPhones worth $19.4 million in May this year >>> Tweet This <<<.
If these guys can do that to Apple imagine what they are doing to lesser-known brands. It is of utmost importance that buyers do a thorough background check:
Ask suppliers to provide you with a copy of their business license, registration documents and tax statements for a period of one year to be safe and make sure that they are a legitimate entity. They will need to provide you with an Invitation Letter to process a Chinese business visa, so this will also help you see if they are the real deal.
Obtain the physical address of the company's offices (if it is not on the same premises as the factory) and its factory's address to make sure of the location and to see how their location will fit into your travel plans.
Do your best to verify that the supplier exists by placing a call to the liaison on this side or to their offices/factory. It is also useful to conduct a meeting over Skype to make sure that you are dealing with the right people.
Use the opportunity to find out everything you need to know about the suppliers and their products. It is helpful to make a comprehensive list of questions you want answered beforehand. Any legitimate factory will be more than happy to provide you with any information that will set your mind at ease.
2. Taking a potential supplier's word for everything once you are on the ground
Some companies on this side may tell you that they have their own factory, when in fact they act only in the identity of a trading company (see 4 Ways to Tell a Trading Company from a Factory). They make deals with their suppliers to bring clients to them where the customer will, more often than not, be quoted a higher price. However, that's not to say that working through a trading company doesn't come with some advantages over going factory direct (see Trading Company vs. Factory Direct – What You Need to Know).
Another case may be that the supplier avoids taking you to their factory and, instead, shows you around a fellow supplier's factory for one of the following reasons:
The supplier may not actual have their own factory or
Their factory may house shoddy working facilities or may not comply with the standards they have talked up in the lead up to your arrival.
They may offer their fellow suppliers a cut of the deal or give them a "red packet" (commonly a bribe) as a token of their appreciation in allowing them to make use of their facilities.
Unfortunately, bribery and other forms of corruption are not as rare in manufacturing in China as we'd like. In fact, manufacturing is one of China's industries most prone to corruption: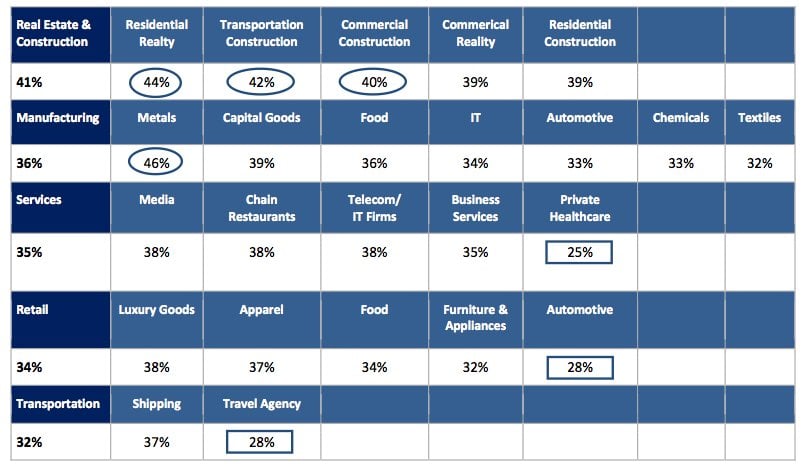 That being said, some factories just don't deal directly with buyers, so it depends on what products or materials you are looking for. Like with the advice above, planning well in advance and doing your homework will help your cause before you touch down. Comparing logos and names from their offices and documentation with the factory will also help to show you whether or not they can be trusted.
3. Looking only at what the supplier wants you to see at the factory
Having flown and traveled a long way to where you are, you should be entitled to check out everything that can potentially run your business into the ground. The factories on this side follow pretty much the same procedure for every single client that comes their way because it is safe and it allows them to steer you to areas of the premises that they feel live up to your expectations (see 4 Telltale Signs of a Bad Supplier).
This may very well be a ruse to draw you away from other problem areas that they have no intention of bringing to light, areas that may be a deal breaker. As a buyer, it is your right to ask as many questions as you like and to scope out any areas that are within the factory's means to show you. Take photos if you like, point out anything that may seem out of place, it's your show. Like I mentioned before, any legitimate factory that wants your business will do their very best to comply with your wishes.
4. Looking only at a supplier's factory
While visiting the offices and the factory of a potential supplier is a great way to gain insight into their company, one of the things that many buyers often overlook on their visits to China is the factory's warehouse.
This is now becoming somewhat of an overlying theme, but it is really important for you to make the most out of your trip. Making time to check out the warehousing of a supplier's products is another great way to find out a number of things about their operations such as:
Whether or not they have the capacity to handle orders of varied sizes in relation to the size of their warehouse facilities
What potential competitors they may be working with, what their order volumes are and so on; and
The state of the packaged materials or products before shipping. QC is very important as this will help to bring the whole process full circle and give you a better idea of whether the supplier is a reliable partner or not (see One Brand's Cost of Product Quality).
5. Proceeding without a written agreement
This may seem like a no-brainer, but it is of the utmost importance that you confirm everything that you have negotiated or spoken about in writing. This goes for the price, the quantity, the percentage of available seed stock, the lead and shipping times, payment terms, etc. Many buyers accomplish this, in part, by drafting what's sometimes called a "vendor guide" with detailed terms & conditions (see 6 Steps to Maintain Quality Chinese Manufacturers).
Without an official contract complete with a signature that clearly stipulates the particulars, you run the risk of being conned and you will have no legal standing should the deal fall through.
Takeaways
If there is anything that you should take away from this article, it is that when you deal with factories in China you can never be too cautious. You must be absolutely sure to:
Prepare well in advance, do your research and double, if not triple, check on everything that a supplier tells you (which includes all of their documentation) >>> Tweet This <<<
Ask to see the full extent of their operations and don't be afraid to question anything that seems off to you >>> Tweet This <<<; and
Get everything down in writing and try your best to ensure that the contract you sign is as ironclad as possible >>> Tweet This <<<
Follow these steps and avoid the mistakes many buyers fall prey to when dealing with Chinese suppliers. Your customers will thank you for it!
---
This blog was brought to you by Hongda Business Services. Hongda is a consultancy provider based in Shenzhen who have been helping foreigners handle their business needs in China and HK since 2007.
Plan on doing business in China?
Coming to China and visiting Chinese suppliers is just the first step. Hongda Business Services specialize in various types of company formation to help foreigners realize their specific business goals.
Please click below to contact one of our consultants to discuss what your aspirations for China are, and how we can help make business in China a whole lot easier for you!