How is one supposed to go about finding suppliers in China? In this article, we break down the process of finding a supplier into 5 easy steps.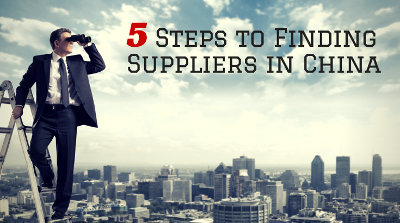 Finding a reliable supplier, in any country, can often be a very challenging task for buyers. With China still firmly established as the world's largest exporter of goods, it means China has an enormous number of suppliers available. For the most part, a greater number of available suppliers is considered a good thing because it offers more options to a buyer. However, more suppliers can also make the process of selecting a supplier seem a bit overwhelming.
So how is one supposed to go about finding suppliers in China? You may be asking yourself, where to start or what to look for. In this article, we break down the process of finding a supplier into 5 easy steps.
1. Search for the contact details of potential suppliers
The first step to finding suppliers in China is to do some preliminary research. There are many publicly available resources online that list details of suppliers in China. Websites such as Alibaba and Global Sources are very helpful resources for buyers looking for details on suppliers. Not all of the suppliers on those websites are actually manufacturers, you will also find many trading companies which can be a viable option for some buyers (related: 3 Reasons To Buy Through a Trading Company). At this stage, you want to accumulate contact details for as many suppliers as you possibly can. Then match up that list with your product or a product similar to the one for which you are looking.
2. Open an email dialog with the potential suppliers
In the first email you'll want to give background information about your company and details about the product or materials you are sourcing. Also include questions regarding pricing information and about whether the company has the ability to supply your required volume. Avoid delving too much into details about pricing, what you want to be feeling for is the suppliers' level of communication and overall responsiveness.
Based on the responses you get from your initial email, you'll want to follow up with more detailed information including quantities and more technical questions in order to test their professionalism. This second round will allow you to further narrow down the list of potential suppliers.
3. Arrange a call with each from your short list of potential suppliers
Now you should have a shortlist of potential suppliers. By this point, you've had quite a bit of correspondence with them and feel comfortable with their level of communication. It's time to put a voice to the name, so schedule a call to have a talk. This will further build the relationship with the potential suppliers and allow you to develop a sense of how they operate in comparison to one another. It is at this stage that you want to be asking more specific questions about their capabilities in order to identify whether they are the product manufacturer, an agent or a trading company. Don't be afraid to ask this question directly.
4. Carry out a supplier verification
You have now established one or two preferred potential suppliers that are a good fit based on your communication up to this point. Now it's time to really lift the lid and see what kind of organization they are. A general audit based on ISO 9001 standards is a cost effective way to get a good idea of the company you have been talking with and really find out if they actually have the capability to produce and fulfill your order. This type of factory audit, sometimes called a supplier review, probes into a factory's documentation, financial records, manufacturing capabilities, licenses and other areas to provide transparency prior to placing an order (related: 5 Key Findings of a Supplier Review). Supplier verification via an audit is regarded to be the final step in supplier identification prior to paying a deposit.
5. Place a small trial order
The audit results are acceptable and you're now ready to move forward. Before you go all-in with your new supplier, build up slowly. Request a product sample to verify product quality and conformance to standards (related: Never Manufacture Without a Golden Sample). Place a small trial order to test the waters. Use this to assess their lead times, the product quality and their level of after sales service once you have received your order. If all goes well, you are on the right track to placing future orders and having a reliable supplier in China.
Conclusion
China offers an almost unlimited number of options for buyers around the world. By following these five steps as your guide to approaching potential suppliers, you'll be more likely to find a supplier that's capable and less likely to encounter trouble.
Start by doing your homework. Search online for potential suppliers that offer your product type or similar products.
Communicate with supplier representatives by email and then phone or Skype call to gauge whether or not they are a good fit.
Carry out an audit of the factory to get detailed answers to pressing questions.
Place a trial order to be certain what you can expect from a particular supplier in terms of quality and deliverability of mass-produced goods.
Make sure you feel comfortable with your new supplier before placing any kind of order and start with a trial order. It takes time to build trust in any new business relationship but if done right the benefits of finding a good supplier will pay off in the end. Don't forget to check out 4 Telltale Signs of a Bad Supplier to find out how to avoid trouble.
---
Do you have other tips for finding suppliers in China? Share them in the comments below!