Thousands of travelers fly in and out of Hong Kong each and every day. Whether Hong Kong is your destination or if you're there for a layover you may find yourself in Hong Kong or South China for a weekend on one of your business trips to China. Regardless of why you're in Hong Kong, make the most of your time in one of the most exciting cities in the world by following our itinerary of recommended Hong Kong attractions.
Regardless of why you're in Hong Kong, make the most of your time in one of the most exciting cities in the world by following our itinerary of recommended Hong Kong attractions.
Friday Night – After Work Drinks in Lan Kuai Fang
Located right next to Central on Hong Kong Island is the infamous Lan Kuai Fang bar street. Unwinding with a beer in one of the many pubs that line the streets is a great way to knock the edge off the busy week you've just had. You will find everything from relaxing bars suited for some good conversation, all the way to heart-pounding clubs if you're refusing to call it an early night and head back to your hotel.
Saturday Morning – The Star Ferry/HK Maritime Museum
Depending on where you're staying, you can get to either the pier on the Kowloon side at Tsim Sha Tsui or Central on Hong Kong Island and ride the Star Ferry across the harbor. The Star Ferry is more than a Hong Kong attraction, it's an institution. And the view of the legendary skyline from the harbor is something too good to pass up.
Located on the Hong Kong Island side of the harbor, right next to the Star Ferry terminal is the Hong Kong Maritime museum. The museum focuses on Hong Kong's history from a naval perspective outlining China-British trade and Hong Kong's foundation as a British colony. The museum is worth a look, especially around mid-day in the summer when that infamous Hong Kong heat forces people indoors.
Saturday Afternoon – Victoria Peak
Another among recommended Hong Kong attractions is Victoria Peak on Hong Kong Island, sometimes known simply as "the Peak". The Peak is Hong Kong's highest point and offers unparalleled views over Central Hong Kong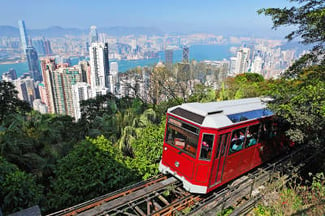 , the harbor and across to Kowloon.
There are a number of ways to get up to the Peak. If you're fitness-oriented, you can hike up along the roads originating straight from Central. For those that would like an easier ride, a tram, bus or taxi would be the recommended method. The Peak tram is by far the most popular choice, especially among tourists, offering a smooth ride up a near-vertical slope. The tram makes up a large part of Hong Kong's rich and long history, having begun operation all the way back in 1888.
Saturday Night – Drinks at Intercontinental
An inside tip coming straight from InTouch's own Managing Director Andrew Reich, the bar in the Intercontinental Hotel on the Kowloon side is a great place to stop by for a night time drink. The bar reputedly offers the best view of Hong Kong harbor at night, making it one of our recommended Hong Kong attractions. Make sure you get there early to get a seat near the window.
Sunday Morning – Dim Sum
One simply cannot claim they have toured Hong Kong without indulging in this traditional Cantonese cuisine. There are hundreds of great Dim Sum restaurants around the city, so simply ask your hotel concierge to recommend a good one close to where you are staying. Dim Sum is traditionally a morning tea, so aim to get there around 10 or 11am.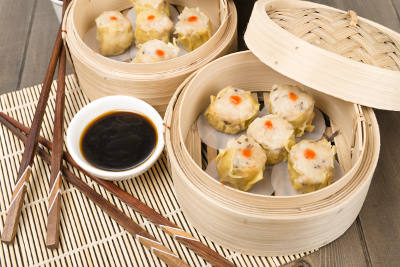 Sunday Afternoon – Shopping in Causeway Bay
Hong Kong is known as a favored shopping destination for world travelers and, within Hong Kong, Causeway Bay is one of the hot spots. A mix of all the modern fashions and local wares can be found in the labyrinth of streets that make up Causeway Bay – the centerpiece being the Times Square shopping center.
Conclusion
If you have a weekend to spare in Shenzhen or Guangzhou, don't miss out on visiting what is truly one of the world's most vibrant cities. Hong Kong has something for everyone and every budget. With so much to see and do, make sure to follow our guide of these recommended Hong Kong attractions in order to make your time there unforgettable!