China is known to be one of the pioneering states of the bullet train, also known as the High Speed Rail (HSR). China's first type of HSR, beginning in 1999, was named the Qinhuangdao–Shenyang Line. Today, the High Speed Rail of China is the world's largest such network with 16,000 km of high speed railway.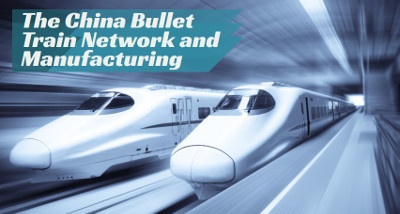 How has the advent of China's high speed rail network over the past seven years affected the country's economy and manufacturing sector? How will this massive logistical transformation affect your experience visiting suppliers in China?
In this bulletin article, you'll learn the answers to these questions as we walk you through the development of the world's largest high speed train network.
(Don't miss the manufacturing podcast episode that covers this article!)
Development of the China Bullet Train Network
China is known to be one of the pioneering states of the bullet train, also known as the High Speed Rail (HSR). China's first type of HSR, beginning in 1999, was named the Qinhuangdao–Shenyang Line. Today, the High Speed Rail of China is the world's largest such network with 16,000 km of high speed railway.
The idea for the High Speed Rail was proposed in the late 1990's. But a decade for the planning and implementation was needed before HSR could come into being. On June 30th 2011, Premier Wen Jiabao boarded the recently completed Beijing-Shanghai line himself. Initially, 21 stations were designed for the plan and were to be completed within five years' time. The infrastructure, technology and labor were all to be used domestically, fueling China's manufacturing and construction sector. Companies that worked to construct the railway system included China Civil Engineering Railway and China Railway Construction Group Co. Ltd, among many others.
Some interesting points to note: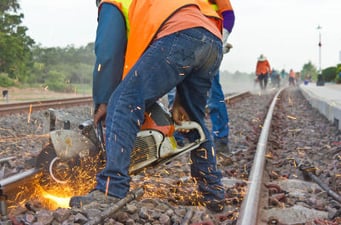 The Beijing-Tianjin intercity line has a maximum speed of 350 km/h.
Shanghai's magnetic levitation train carries passengers from Pudong District to Shanghai Pudong International Airport – a 30-km journey – in just 8 minutes.
By October 2014, travelers made 2.9 billion trips aboard the HSR in China.
Construction Costs of the China HSR
A massive infrastructural project like China's HSR has not developed without tremendous financial costs. The preliminary building plan called for 83.7 billion RMB. All told, the Chinese government plans to spend 1.8 trillion RMB on the construction of 25,000 km of high-speed rail by 2020. Factors related to the financial costs are the design speed, land acquisition, viaducts, construction cost of bridges over large water bodies, and train station construction.
. As an example of these costs, smaller train stations are estimated to cost 40 million RMB, while larger main stations can cost up to 13 billion RMB.
Current Network and Expansion Plan
The HSR consists of eight rail lines spread through different target regions. Most of the rail lines are 1,000 kilometers or longer.
Beijing-Shanghai Line
The fully operational unit that runs from Beijing to Shanghai covers a distance of 1,433 kilometers. According to Zhang Shuguang, former deputy chief designer of China's high-speed railway network, the designed continuous operating speed is 350 km/h with a maximum speed of up to 380 km/h.
Beijing-Hong Kong Line
The rail lines that are partly operational from south of Beijing to Hong-Kong cover a distance of 2,260 kilometers in total. Trains running along the line can travel up to 350 km/hour.
Northeast Line
Another fully operational grid that connects the capital Beijing to the north-east of the country is shown below. Including two branch lines, this network covers a distance of 1,700 kilometers.
Hangzhou-Shenzhen Line
The Hangzhou-Shenzhen Line is another partially operational line. Passengers can travel from Hangzhou to Ningbo, at a speed of 350 km/h. The remainder of the line is used for both cargo and passengers, and travels at a s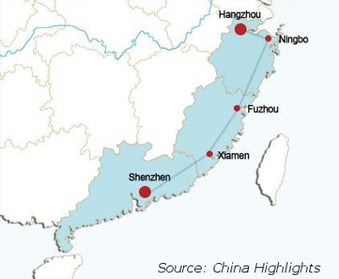 peed of 250 km/h over a distance of 1,600 kilometers.
Shanghai-Chengdu Line
The partially operational Shanghai-Chengdu Line covers a distance of 1,600 kilometers and is designed to carry trains at speeds of up to 250 km/h. Trains traveling from Yichang to Wenzhou along this line travel at a slower 160 km/h due to the curvier terrain.
Shanghai-Kunming Line
Lastly, another major line that's partially operational connects Shanghai to Kunming, and spans a distance of 2,080 kilometers with trains averaging a speed of 350 km/h. At its completion, this line will extend the HSR network to connect the south-western side of China to the central and eastern side.
The HSR's Effects on the Chinese Economy and Manufacturing
The busiest rail route of China's HSR, the Beijing-Shanghai line, carried approximately 220 million people in three years, as of 2014. These numbers show the significance of the impact the project has had on the mobility of the Chinese people. The recent inter-regional connectivity brought on by the HSR has led to rapid development of China's inland provinces. The China bullet train network has made it easier for people to work in factories in large manufactur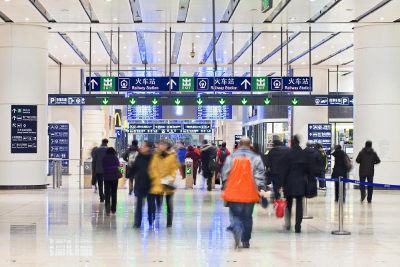 ing areas and still be able to return to their hometown for the major holidays like CNY. With this added mobility, workers also have more freedom to choose where they work. There was even a recent case where Chinese protesters threw rocks at police after rumors emerged that an HSR line would bypass their town.
The project initially relied upon the support of countries which had existing high speed rail technology. Countries like Japan, France and Germany were sought to provide construction and manufacturing expertise. However today, China is self-reliant in its ability to expand its HSR network to include additional lines and trains. Continued development of the railways has led to growth in China's manufacturing and construction industry. It is estimated that the HSR will create 230,000 jobs each year between 2011 and 2020.
The China bullet trains have also been a major factor for the growth & development of Chinese manufacturing, as it has lowered the cost of travelling for managerial and sales personnel and effectively reduced time while improving productivity. The mobilization of China's workforce in general has been noted to have long term employment benefits.
Is it Better to Take the HSR or Fly?
One concern buyers have when visiting suppliers in China – and Chinese themselves for that matter – is the relative cost and convenience of traveling within the country. Is it better to fly from one city to another or take a high speed train?
To answer this question, let's look at online ticket prices for one-way travel from Shanghai to Beijing on June 5th. If we look at the cost of a one-way train ticket aboard the high speed rail, we see the cheapest ticket available costs about 550 RMB. A flight covering the same distance in only 1 hour 45 minutes costs about 580 RMB.
One-way travel Shanghai -> Beijing
Flight
High Speed Rail
Class of Ticket
Number of Hours
Cost
Class of Ticket
Number of Hours
Cost
Economy
1.75
¥ 581
Business
7
¥ 1748
1st Class Seat
7
¥ 933
2nd Class Seat
7
¥ 533
The air travel is slightly more expensive in this case than a ticket aboard the HSR to the same destination on the same day. But an important second consideration is the travel time needed. This flight will get you from Shanghai to Beijing in a quarter of the time it would take to ride the train. If you're like most Westerners who are in China for a short time to visit suppliers, you certainly value efficient use of your time. In this case, airfare still might be your best option.
Another important point worth considering is the distance you plan to travel. Passengers often need to arrive at the airport a full hour or more prior to a flight. Meanwhile, those taking the high speed rail can reliably catch a train by arriving at the station just 15-20 minutes prior to departure. Bullet trains in China are also known to be remarkably on-time and rarely delayed or canceled, whereas delays and cancellations are fairly common with flights. For these reasons, you may find taking the train to be a far more viable option than flying when it comes to traveling shorter or medium distances.
One last point worth mentioning is the inelasticity of high speed rail tickets. Domestic airfare prices fluctuate considerably in China based on demand. During Chinese New Year and the October holiday, for example, airline tickets between cities can double or even triple in price. Prices for tickets aboard China's HSR, on the other hand, remain static despite the periodic rise and fall in demand. This means that you can stand to save a lot of money traveling in China by taking the train instead of flying. At the same time, buying a ticket during these busier periods will prove much more difficult, and you'll likely need to book tickets well in advance. Keep these factors in mind when traveling to China and considering the HSR over flying. Learn some tips for buying tickets online in China by checking out 5 Steps to Buy Tickets in China.
Some Final Thoughts
The HSR in China is the largest transportation service in the world. The cities that are linked with the HSR network have an increased employment rate in both the China manufacturing and the service industry. The HSR has played a significant role in bolstering China's manufacturing and construction industries. The rail network has given Chinese more freedom to travel and better employment opportunities.
The next time you're in China visiting suppliers, consider the high-speed rail as a possible travel option. It may not be superior to air travel for longer distances, but for shorter trips – such as those between Shenzhen and Guangzhou – you're bound to enjoy a smooth ride and fewer delays!
---