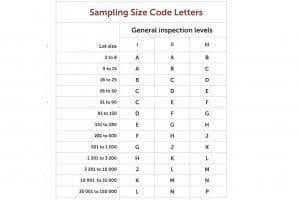 Consumer goods importers perform shipment inspections on a determined sampling size with the AQL table: the one commonly used by the professional in-house QCs or third-party inspection companies. The AQL table offers the possibility to choose between three sample sizes called "inspection level". However, for most of the buyers, the choice is difficult. How to choose the right AQL table inspection level? What are the differences?
AQL table inspection levels
Today we will focus on the general inspection levels. They are the ones defining the finished goods quantity the QC will pick from the manufactured lot for quality checking.
AQL inspection level I: the smallest sample size option for general inspections levels.
AQL inspection level II: the most commonly choosen and suggested by the third party inspection companies because the risk/cost ratio is well-balanced.
AQL inspection level III: suitable for risky products or in case quality requirements are very high. It offers the biggest sample size with the most representative result of the goods quality. Nevertheless, importers rarely choose this option.
Download or view the AQL table ISO 2859, ANSI/ASQC Z1.4
Criteria for choosing the right AQL table inspection level
Budget

: any inspection represents a cost, even though it is the buyer's own QC. The sample size determines the workload (and the cost) necessary to perform a specific inspection. Depending on the AQL table inspection level choice, the sample size varies as the time spent for inspection and the cost, evaluated in number of mandays.

Risk level

: some importers are less worried about quality issues and may consider very few defects as important. In this case, the smallest AQL table inspection level, offering the smallest sample size, is enough. This option helps to avoid only big issues.

Supplier relationship

: when the buyer works regularly with its suppliers, some defects may always appear and the buyer tolerates them. For routine controls, it worth to modify the sample size, from the AQL table inspection level I to II or III. In case the relationship with the supplier is new, the buyer will rather go for the level II or III.

End-customer profile

: depending on where and to whom the product will be sold (or offered), the product quality level expected changes. Therefore, the quality control on the product will be more or less strict according to the AQL table inspection levels.
And you: which AQL table inspection level do you usually choose and why? Contact an expert to help you define!