EU geo-blocking crackdown, China plans 150 new logistics hubs and denim supply chain sustainability in this week's roundup.
Best in Manufacturing – January 20, 2019
Each Sunday, we publish a list of top articles and other content related to manufacturing in areas like quality control, product development, supply chain management, sourcing, auditing and law.
1. EU fines Guess €40 million amid geo-blocking crackdown
European Union antitrust regulators just fined U.S. clothing company Guess €40 million ($45.3 million) for illegally blocking cross-border online sales.
The fine follows a year-long investigation into cross-border online sales practices of 1,900 companies. The move is part of a larger crackdown on illegal practices that block the EU's Digital Single Market strategy.
Guess' distribution deals prevented their retailers from:
Using Guess's brand/trademark for online search advertising
Independently setting retail prices
Selling online without special authorization
Selling outside authorized areas
This system allowed Guess to partition off specific markets and increase retail prices in different areas of Europe—a practice known as geo-filtering.
Geo-filtering is common among online retailers. But the European Commission believes it's contributing to low levels of cross-border ecommerce in the region.
Ending this practice has become a main objective as the Commission moves to build cross-border ecommerce and prevent internal marketplace borders.
What is geo-blocking?
Geo-blocking is technology that restricts access to internet content based on a user's geographical location. In ecommerce, this typically involves restricting overseas credit cards, bank accounts or all international payments.
Geo-filtering is a form of geo-blocking that allows retailers to redirect customers to another "local" website, often offering different prices.
This technology allows traders to artificially segment the market. And it's how Guess set retail prices 5 to 10 percent higher in Central and Eastern Europe than in Western Europe.
Geo-blocking unfairly punishes consumers for something out of their control, but it's become an industry norm. According to European Commission Vice President Andrus Ansip, 63 percent of ecommerce websites didn't allow purchases from another EU country in 2015.
What does the new EU legislation mean for your ecommerce business?
The EU's new regulation banning the practice of unjustified geo-blocking, Regulation (EU) 2018/302, took effect early last December.
The new legislation applies to both traders established in the EU and third-country traders selling goods or services in the EU. Main provisions prohibit:
Geo-blocking based on nationality, residence or place of establishment
Automatic redirection to a local version of a website (without notice or option to return to original site)
Differing payment conditions based on nationality, residence or place of establishment
Traders are not required to deliver goods to all member states unless they already have a presence in that country. And it's still legal to refrain from selling certain goods based on factors other than the customer's location.
But consumers will be able to see prices charged in other member states, which wasn't the case before. Because of this, retailers may feel increased pressure to move to standardized pricing.
Geo-blocking undermines consumer access to online shopping and cross-border sales. This change could be an opportunity for retailers to maximize international ecommerce sales.
Follow the link below for more on the EU's fight to end ecommerce geo-blocking.
Fashion group Guess fined $45 million for blocking EU cross-border sales – Foo Yun Chee, Reuters
2. 150 new logistics hubs to benefit manufacturers in China
China will build 150 advanced logistics hubs by 2025, according to a new plan released by the country's National Development and Reform Commission (NDRC) and the Ministry of Transport.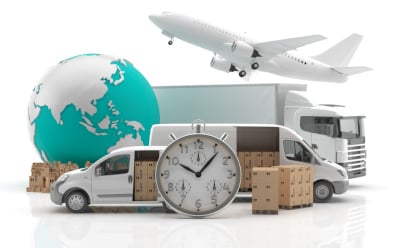 Manufacturers, especially those in ecommerce, stand to benefit from hubs, which will employ high-tech automation and robotics to boost efficiency.
China's logistic costs are on the higher end in the world. And China is ranked 26th in the World Bank's 2018 Logistics Performance Index. This is far lower than many developed countries, reflecting challenges in the country's trade logistics.
Chinese officials hope to build a more favorable environment for trade and ecommerce by lowering costs and increasing logistics efficiency.
China's plans for greater logistics efficiency
China's plan outlines six types of logistics hubs to be built as part of the initiative:
Inland harbors
Cargo ports
Airports
Service-oriented ports
Commerce- and trade-oriented ports
Inland border ports
While the government hasn't announced where the hubs will be built, around 127 cities have been named as "qualified locations."
These include major port cities like Shenzhen, Shanghai and Guangzhou but also inland cities such as Zhengzhou and Xi'an.
Ocean freight is often the cheapest way to move cargo. And as such, most manufacturing takes place on China's coastal areas, which are some of the busiest seaports in the world.
But booming shipping and manufacturing populations along the coast have created a shortage of space. As a result, inland logistics plans make up a key part of the new strategy.
Additional stipulations of the government plan include developing:
Parcel delivery
High-speed rail and air transport
Cold chain capacity
Cross-border delivery
The plan also encourages the use of unmanned vehicles, robots and drones at the new hubs to increase efficiency.
Inland hubs will boost domestic ecommerce and European rail
China's plans to move logistics inland are partially due to overcrowding at sea ports. But inland logistics are also driven by China's domestic ecommerce boom.
The plan specifically calls for strengthening ecommerce logistics capabilities and rural ecommerce.
China has the world's largest ecommerce market, which is expected to reach $1.8 trillion by 2022. And the country is struggling to ease fulfillment of domestic ecommerce orders.
Inland logistics hubs can also serve as a land bridge between China and Europe. Rail has started to see a resurgence in recent years as:
In 2017, four cargo trains began weekly service between Zhengzhou and Hamburg, Germany. Thirty percent of total rail volume to Europe from China goes through the Zhengzhou route
In May 2018, DHL Global Forwarding announced they were extending Vienna-to-China rail connections to Chengdu, with door-to-door service for high-value exports
While there's an abundance of ocean and air freight data, access to basic rail line information—rates, volume, route frequency—is currently limited, making rail use complex.
The new hubs won't necessarily fix these issues, but they will increase options for moving cargo.
China may have faced logistics growing pains in the past. But the new hubs may be enough to propel the country into a logistics bliss.
Follow the link below for more on China's plan to build advanced logistics hubs.
China to build 150 advanced logistics hubs by 2025 – Nicole Jao, Tech Node
3. Denim supply chain sustainability called into question
Manufacturing denim requires incredible amounts of water and toxic dyes.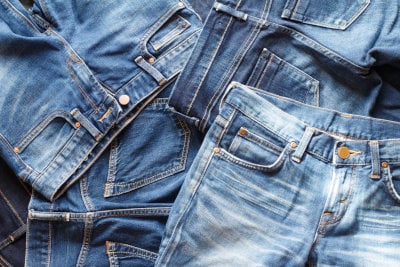 It takes 1,800 gallons of water to produce the cotton for a single pair of jeans. And that's just in terms of the cotton—the dye process and machine washing also require water.
And when it comes to production byproducts, the impact is ghastly. The fashion industry has repeatedly come under fire for environmental malpractices.
In 2010, a river delta in China's Guangdong Province dyed blue from nearby jean factories sparked outrage among consumers.
While brands have been working to improve production processes, the sustainability of denim production leaves a lot to be desired.
But consumers love denim. It's one of the world's most purchased pieces of clothing. And it's a major source of revenue for clothing manufacturers—with a market predicted to reach $79.2 billion by 2023.
As consumer awareness on the environmental impact of denim production grows, brands need to find a solution for environmental harmony.
Denim brands lack consensus on sustainability
Many brands employ sustainability programs. Levi Strauss & Co. is highly regarded for its efforts to improve water sustainability in the jean production process, for instance.
After completing a lifecycle analysis, the company developed an internal program called the Better Cotton Initiative to reduce the environmental impact of cotton.
Then they created a Water Recycling and Reuse Standard (an industry first according to the company website), made a publicly available Water<Less™ innovations program and joined several other initiatives.
There's no denying Levi is working towards sustainability. But with every company following a different standard, it's hard for manufacturers to compare programs and understand how to meet sustainability targets.
According to the author of this featured article,
Companies pay millions to get a snapshot of the processes used to make a product, but there's still no high-level awareness or data collection on the industry as a whole.
This has led to factories and manufacturers getting every certification possible to meet requirements—a time- and cost-intensive strategy for the entire industry.
Incorporating a blockchain-based system
Adoption of a common standard could help increase sustainability efforts in the industry and even help manufacturers save money.
While many brands are creating their own programs, there are a few popular standards many companies choose to follow. These include:
Higg Index – A suite of tools developed by the Sustainable Apparel Coalition
Cradle to Cradle – Product standard guides for designing "better" products
ISO 9000 – A family of quality management standards
Blockchain is another option for companies looking to increase sustainability in their supply chains.
The author of this article suggests implementing blockchain payment programs wherein participants in the supply chain automatically receive a reward if they achieve a goal or meet a new standard.
A blockchain system that provides automatic rewards and recognition could incentivize continued ethical and sustainable work.
Blockchain could also help companies prove their products are sustainable. If companies are willing to put their manufacturing records on the blockchain, retailers and buyers could then check the system for compliance.
Denim is here to stay, but there's still a ton of room for improvement in sustainability efforts.
Follow the link below for more on sustainability issues in the denim supply chain.
What The Denim Industry Needs To Support A Sustainable Supply Chain – Samantha Radocchia, Forbes
---
We're constantly scanning the web for top manufacturing stories and news. If you'd like to submit an article for consideration for our weekly Best in Manufacturing, send us a message and let us know.