Learn about FedEx's split with Amazon and mobile manufacturing hubs in India in this week's roundup.
Best in Manufacturing – August 25, 2019
Each Sunday, we publish a list of top articles and other content related to manufacturing in areas like quality control, product development, supply chain management, sourcing, auditing and law.
1. FedEx won't ship Amazon's packages in the U.S. anymore
Logistics giant FedEx recently decided not to renew their ground delivery contract with Amazon. FedEx had already announced they would end their air freight delivery contract with Amazon in June. With the split, FedEx will no longer ship any Amazon packages in the U.S.
The split won't impact other existing contracts between FedEx and Amazon, like FedEx's contract with Amazon for international services.
According to FedEx's press release, Amazon represented less than 1.3 percent of FedEx's total revenue in 2018, or less than $1 billion. FedEx also said the change is a strategic decision so the company can focus on the "broader e-commerce market" in the future.
On Amazon's side, representatives said they were "confident in our ability to serve customers" despite the split. Amazon will likely turn to other third-party carriers and its own logistics resources to handle the remaining packages.
But the split still has some Amazon sellers and consumers worried the ecommerce giant won't be able to deliver goods on time during the upcoming peak season.
Risks for carriers of partnering with Amazon
After their split with FedEx, Amazon is expected to deliver their packages with other big carriers like UPS and the U.S. Postal Service (USPS). Amazon also partners with some local carriers to handle regional shipping, like OnTrac and LaserShip Inc.
Big carriers like UPS and USPS have expanded their parcel networks to meet demand. They can likely provide enough capacity to handle Amazon's packages during peak season. Satish Jindel, President of SJ Consulting, estimated that USPS handled 28 percent of Amazon's total packages in July.
But in the long run, carriers might not want to bet their future profits on Amazon. Cathy Roberson, founder and chief analyst at Logistics Trends & Insights LLC, says:
Amazon is a very demanding customer, and they can use that to get better rates, to the detriment of their supply-chain partners.
Plus, Amazon might cast off third-party carriers in the future if they can successfully build their own delivery network. Losing a big client like Amazon could hurt a big carrier like UPS and might "kill" small carriers.
Jerry Hempstead, principal of ecommerce delivery consultant Hempstead Consulting, said:
I'm sure that long-term UPS will be handling less packages. If Amazon has a truck coming to my house, why would they pay UPS to do that? …They have their own trucks now, they have their own planes, and the writing's on the wall.
"Amazon is looking to become a logistics company in their own right"
Amazon has quietly been developing their own delivery capabilities to meet their enormous shipping demand.
The ecommerce giant is now handling delivery for 26 percent of their online orders, according to Wolfe Research. In a press release at the end of 2018, Amazon said they could "transport hundreds of thousands of packages per day" with a new dedicated air network, Amazon Prime Air.
Amazon expanded their air network from 40 to 50 planes last year. And Amazon further expanded their air fleet with 15 more planes in June 2019—the same month FedEx ended their air delivery contract. The ecommerce giant says their fleet will number 70 planes by 2021.
In addition, Amazon has added drones to their Prime Air network as competition in drone delivery has heated up.
What's more, Amazon has rolled out a new Amazon Flex App to solve last-mile delivery shortages. This app enables people to sign up as part-time drivers to pick up and deliver Amazon packages in their community. Amazon pays $18 to $25 an hour to drivers who deliver goods through Flex.
But Amazon's growing shipping capabilities haven't necessarily benefitted Amazon sellers and consumers yet. Many customers reported shipping delays during Amazon Prime Day in July. And some sellers worry Amazon might struggle to deliver goods on time during the peak season without FedEx.
Follow the link below to learn more about FedEx's split with Amazon in ground shipping.
FedEx-Amazon Split Will Provide a Shipment Windfall for Rivals – Jennifer Smith, The Wall Street Journal
2. India might be the next biggest mobile manufacturing hub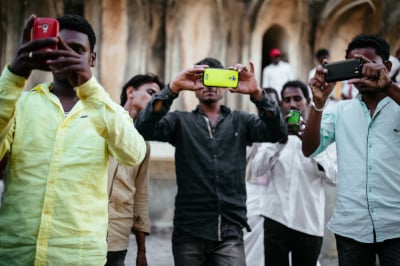 India is now the world's second biggest mobile phone manufacturing hub, behind China. India has 268 mobile phone manufacturing factories—up from just two factories four years ago.
Government programs like "Make in India" and "Digital India" have helped incentivize manufacturing in India in recent years. The Indian government has been providing financial incentives to mobile phone manufacturers through schemes like the Modified Special Incentive Package Scheme (M-SIPS) and Electronics Manufacturing Clusters (EMC).
M-SIPS offers a 25 percent capital subsidy to electronics manufacturers located in Special Economic Zones (SEZ) . Electronics manufacturers outside SEZs can still enjoy a lower 20 percent capital subsidy. And the EMC scheme encourages entities to provide good-quality infrastructure within a manufacturing cluster.
India's mobile component industry is growing stronger too. According to the Indian Cellular and Electronics Association, the Indian component industry will surpass $9.87 billion in value in fiscal year 2019. Brands like Samsung and Oppo all plan to manufacture their key mobile components in India in the future.
Mobile phone brands are moving from China to India
China still remains the biggest manufacturing hub in the world. But with trade tensions escalating, labor prices rising and land prices soaring, many mobile phone brands have relocated to India.
For instance, South Korean smartphone giant Samsung has built the world's largest mobile phone factory in Uttar Pradesh, India. Samsung currently manufactures over 60 million smartphones annually in India. With its new factory in Uttar Pradesh, Samsung will have the capacity to assemble 120 million smartphones per year.
As for now, mobile phone manufacturing in India is mainly limited to final assembly. To achieve its "Make in India" goal, the Indian government is also improving India's capabilities in key component manufacturing. Ajey Mehta, Head Vice President at HMD Global, said:
We are looking at building the component manufacturing ecosystem. …we intend to maximize the component manufacturing part over the next two to four years.
With India's efforts, some brands are considering producing key mobile parts in India.
Samsung began manufacturing key components like touch panels, display screens and vibration motors in India earlier this year. Chinese players like Oppo and Vivo are also likely to locate key parts manufacturing lines in India by 2020. Manufacturing in India can reduce labor costs and bring greater profits to brands.
Mobile phone manufacturing hubs bloom in Uttar Pradesh
Uttar Pradesh in northern India has taken a leading role in mobile phone manufacturing among Indian states.
Among the 268 mobile phone factories now in India, 94 are in Uttar Pradesh. These factories produce mobile handsets, components and accessories.
For further development, the Indian government plans to establish electronics manufacturing clusters between Noida and Meerut in Uttar Pradesh. Ravi Shankar Prasad, Minister of Electronics and Information Technology, said:
Applications for 59 projects worth around ₹23,000 crore [$3.2 billion] were received of which 22 projects worth ₹10,500 crore [$1.5 billion] were approved by my Ministry in Uttar Pradesh (Noida, Greater Noida) under the M-SIPS program.
Once built, the clusters in Uttar Pradesh will produce mobile accessories like power banks, AC adapters and memory cards.
The Indian government expects the cluster to attract investment worth $490 million in the next five to 10 years. The cluster is also expected to boost employment opportunities for around 30,000 people.
India's mobile components manufacturing and assembly market is projected to reach a value of $74.1 billion by 2024. Follow the link below to learn more about how India is developing its mobile manufacturing capabilities.
How mobile manufacturing made the most of 'Make in India' – Gokul Bhagabati, Live Mint
---
We're constantly scanning the web for top manufacturing stories and news. If you'd like to submit an article for consideration for our weekly Best in Manufacturing, send us a message and let us know.