Home textile products like bedding and towels are a necessary items in any household. Make sure your products deliver on quality and performance by having your home textile inspection take these standards into account!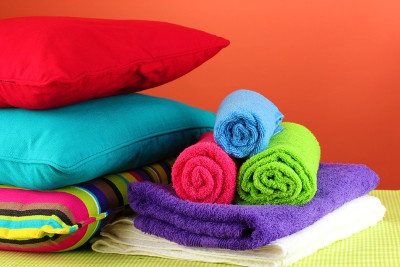 Home textile products like bedding, towels and pillows are are very commonplace. But manufacturing issues in the textile industry which can be harmful, such as the usage of hazardous chemicals during production, can also be common. You can protect your customers and your business by conducting product inspection of any home textile goods you import.
When developing textile inspection protocols and quality control standards, it's important to ensure you're complying with the standards required by the country in which you'll be distributing your product. Let's go through some common international standards that textile manufacturers use around the world.
OEKO-TEX Standards
OEKO-TEX is an independent association that researches and tests textile safety and manufacturing. They developed a international testing and certification system for product safety and sustainable production of home textiles.
Of the OEKO-TEX standards, the Standard 100 is most commonly used. Products that follow the standard must be free of harmful substances, meaning that they're safe for consumer and environmental health.
American Society for Testing and Materials

The American Society for Testing and Materials (ASTM) is an international standards organization that sets standards for a wide range of industries and product categories.
ASTM D6322-15 is the standard guide on test methods for international textile care procedures, including determining characteristics like:
Colorfastness
Cusceptibility to damage from retained bleaching agents
Dimensional stability
Safe ironing temperatures, and
Appearance retention
Global Organic Textile Standard
The Global Organic Textile Standard was created by multiple international organizations. It's one of the most commonly used textile processing standards in the world. The standard is applied to the entire textile supply chain, from the harvesting of the raw materials to the manufacturing and labeling of the finished product.
American Association of Textiles Chemists and Colorists
The American Association of Textiles Chemists and Colorist (AATCC) is a not-for-profit textiles association. They have created a lot of product testing standards.
One of them is AATCC 30-2004, which is the standard used to assess textile resistance to mildew and rot.
The Association for Contract Textiles
The Association for Contract Textiles (ACT), a not-for-profit trade association that addresses textile concerns, created a set of voluntary performance guidelines that measure textile flamability and durability. By following the guidelines, you can be assured that your product satisfies international standards on:
Flame resistance
Crocking resistance
Ultra-violet light resistance
Physical properties, and
Abrasion