Indonesia has thriving economy, improved logistics and infrastructure and rapidly growing labor force. Let's look at the five factors you should consider before moving your manufacturing to Indonesia.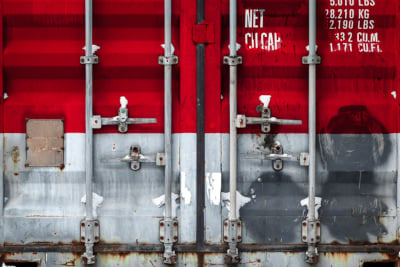 Is Indonesia capable of taking over China's role as your primary manufacturing base?
This may seem outrageous, considering China accounted for more than 30 percent of the $13.171 trillion global manufacturing output in 2017.
But behind the rosy façade, several major factors are dulling China's competitive edge. Chinese wages are five times higher than those in India and 40 percent more in Mexico.
A secondary factor is China's aging population. By 2050, the 65+ age demographic is projected to grow to be 24 percent of the population, a massive spike from 10 percent in 2010. The effects are already felt now, as China's workforce has been shrinking since 2014.
These trends contrast sharply with Indonesia's. Its thriving economy, improved logistics and infrastructure and rapidly growing labor force have made Indonesia a contender. And under the stewardship of President Joko Widodo, Indonesia boasts a stable yet vibrant political environment.
But the question of where to sourcing your products is a complicated one. Let's take a closer look at this rising star in Asia. Here are five factors you should consider before moving your manufacturing to Indonesia (related: Asia Sourcing Guide: 11 Top Alternatives to China [eBook]).
1. Indonesia's top export industries
Indonesia is the world's 17th largest economy and 27th largest export economy. However, it only ranks 71st on the list of the most complex economies largely because raw commodities account for approximately 60 percent of its exports.
The government is planning to implement a slew of new policies to rejuvenate the manufacturing sector and reduce the country's dependence on raw commodities. Airlangga Hartarto, Indonesia's Minister of Industry, even declared that the country aims to become the future manufacturing hub of Southeast Asia. But for now, these are Indonesia's top exports:
Food and beverage
The food and beverage industry is Indonesia's second-largest export sector, behind mineral products, with a value of $34.7 billion. The sector is also the fastest growing in the country. But only five percent of Indonesia's F&B goods produced in 2018 were exported, mainly due to prohibitive import tariffs at potential export destinations.
Calls by the Indonesian Food and Beverage Producers Association (GAPMMI) for the government to conduct renewed negotiations with the country's trade partners on tariff levels have been met positively. The Industry Ministry has also named F&B as one of its five priority sectors.
These factors, along with the sector's consistent eight to nine percent annual growth, make F&B-related investments promising.
Machinery
Machinery accounts for over eight percent of Indonesia's total exports, accounting for over $14.7 billion. Major machinery exports include:
Printing machinery
Insulated wires and cables
Monitors and projectors
Telephone sets
Electrical capacitors
Indonesia also reportedly manufactured more than 1.3 million automobiles in 2018, of which 346,000 units were exported. The government plans to boost car exports by nearly 16 percent in 2019.
Garments and textiles
Low-cost labor, a large workforce and abundant raw materials make Indonesia especially attractive for garment manufacturing. The country has emerged as a production country of choice for major international brands, such as Tommy Hilfiger, Calvin Klein and Marks and Spencer.
Indonesia's garment exports, valued at $12.9 billion, constitute almost a third of all U.S. imports from Indonesia.
Sectors targeted by "Making Indonesia 4.0" initiative
Making Indonesia 4.0 is an ambitious roadmap designed to facilitate Indonesia's entry into the fourth industrial revolution via manufacturing. This initiative was prompted by the need to address the manufacturing sector's declining contribution to GDP. It also aims to improve Indonesia's net export-to-GDP ratio, which has dropped to below 1 percent since 2016.
To achieve this, the government is focusing its efforts on developing five core industries:
Food and beverage
Textiles
Electronics
Chemicals
Automotive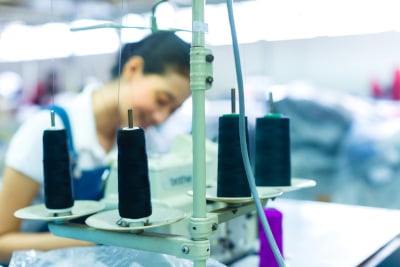 Indonesia aims to become a leading player in these sectors, which are seen as key drivers of the global economy.
The roadmap seeks to introduce innovative Industry 4.0 technologies, such as robotics and artificial intelligence, into manufacturing processes. The immediate aim is to increase the manufacturing sector's contribution to GDP from 20 percent to 25 percent by 2025.
The government also seeks to create a synergistic relationship between the five industries. Industry Minister Airlangga Hartarto noted that, for example, the textile, packaging and automotive industries, among others, are reliant on materials from the chemical industry. So improvement in the chemicals sector would resonate across the others.
Indonesia also aims to become a regional hub for the manufacturing of electric vehicles. In August 2019, President Widodo signaled the country's resolve by signing a Presidential Regulation to accelerate the use of electric vehicles on the road.
President Widodo also highlighted Indonesia's strategic advantage due to the availability of local manganese and cobalt needed to manufacture batteries for electric vehicles.
2. Human capital in Indonesia
One of the Indonesia's greatest assets is its large workforce. Indonesia is the world's fourth most populous nation, with almost 271 million people and a median age of 28 years. In 2018, the labor force grew for the 28th consecutive year to 131 million.
Thought the size of Indonesia's skilled workforce pales in comparison to mature manufacturing hubs like China, it is larger than that of many countries in the region.
In the 2017 Global Human Capital Report, Indonesia was applauded for its "remarkable progress" in educational attainment in the youth demographic. The report also notes that Indonesia's approach bodes well for its "future human capital potential."
Indonesia's low labor cost offers manufacturers opportunities to reduce overall production costs. While wages vary by region, they are markedly lower than those in China, especially in major cities like Shanghai and Shenzhen.
The Indonesian average wage of $185 is also highly competitive compared to its three major regional competitors–Malaysia ($893), Vietnam ($249) and Thailand ($473).

3. Logistics in Indonesia
Logistics is a vital part of supply chain management, and consequently, manufacturing. Strong logistical infrastructure helps manufacturers lower production costs and improve turnaround time.
Indonesia fares quite well in this respect. The country is ranked 46th in the 2018 Logistics Performance Index (LPI), a 17-place improvement over the previous year. Indonesia is also the fifth highest-ranking country in Southeast Asia, ahead of the Philippines (60) and Cambodia (98).
Indonesia's customs sub-indicator score (62) significantly held back their LPI rank. This sub-indicator measures the speed and organization of border clearance processes. Resources must be directed to enhance its efficiency here looking forward.
Indonesia performed better in the international shipments (42) and logistics competence (44) sub-indicators, with scores matching Bulgaria and Croatia.
Despite that, Indonesia still has some catching up to do with neighboring countries. Asia Pacific nations like China, Singapore, Japan and Malaysia have a 47 percent share of the global logistics market. This gives them an advantage in lowering transaction costs and time, as well as enhancing supply chain efficiency.
Future logistics improvements for Indonesia
Indonesia is obviously not resting on its laurels. A project to build a $4.1 billion deep sea port is now underway in Subang, West Java and on track to be operational by mid-2020. According to Director General of Sea Transport R. Agus H. Purnomo, the Patimban Port should help lower logistics costs, among other benefits.
Indonesia is also still in talks with China on its Belt and Road Initiative, despite controversy surrounding the $5.9 billion Jakarta-Bandung high-speed railway. During an April 2019 meeting, Indonesia invited China to participate in 28 projects related to the initiative worth about $91 billion.
4. Indonesia's geographic disadvantage
No discussion about manufacturing in Indonesia would be complete without mentioning the Pacific Ring of Fire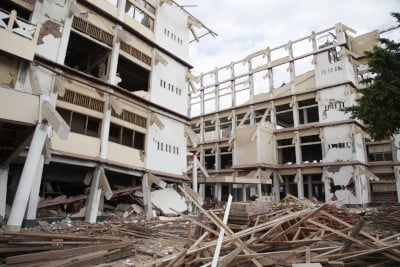 and its disruptive effects. Also known as the Circum-Pacific Belt, the Ring of Fire is a 24,900-mile-long semi-circular ring which meanders from New Zealand to Chile. Over 90 percent of earthquakes on Earth occur inside the Ring of Fire.
The Indonesian archipelago, which lies on the subduction zones between the Indo-Australian and Eurasian plates, is situated in the middle of the ring. There are currently 127 active volcanoes in the country, of which seven are now in the eruption phase. As many as five million people live within the danger zones of these volcanoes.
Natural disasters inflicting loss of life and other damage
Eruptions can cause catastrophic loss of life and infrastructural and environmental damages. They're also incredibly difficult to predict.
In September 2018, for instance, a 7.5 magnitude earthquake caused ten-foot-high tsunamis to smash into the coastal region of Central Sulawesi. More than 2,200 people died and another 4,600 were injured. Thousands of buildings were destroyed by the earthquake and tsunami, as well as landslides and ground liquefaction.
The region also experienced power and communications outages, while the primary airport, Mutiara Sis Al Jufri Airport, had to be closed. According to the National Disaster Mitigation Agency (BNPB), the disaster damaged "68,451 houses, 327 places of worship, 265 schools, 78 offices and 362 shops".
The economic losses from the tragedy are estimated at Rp 13.82 trillion, or almost a billion U.S. dollars. The reconstruction and recovery process are expected to cost the government about Rp 10 trillion ($716 million).
Damages to an oil depot there also caused fuel shortages. According to a report released by the European Commission's Joint Research Centre, the damages were due to fuel tanks shifting during the quake. Ship loading facilitates at the depot were also affected.
Dr. Kerry Sieh, a researcher from Singapore's Nanyang Technological University, expects an even bigger quake will occur here within the next 20 years.

5. Ease of doing business in Indonesia
The World Bank's Ease of Doing Business (DB) index offers a useful metric on determining the regulatory climate of countries.
Despite high expectations, Indonesia slid down the rankings by one spot to 73rd in the 2019 edition of the index. In April 2016, President Widodo explicitly mentioned that his deregulation package was meant to boost Indonesia's spot on the index. Some of his announced measures include:
Reducing business startup time from 1,566 days to 132 days
Reducing permit application time from nine days to six days
Streamlining the business application process from 47 days to 10 days
Cutting red tape and waiting time for construction permits and property registration
Introducing an online tax payment system
Faster resolution time for contract enforcement lawsuits (from 28 days to eight days)
Faster electricity application time (for new grids, not individual accounts)
Reduction of export processing time from 4.5 days to three days
Despite an improved overall score (+1.42 points), Indonesia failed to gain ground on its Southeast Asian neighbors. Singapore (2), Malaysia (15), Thailand (27), Brunei (55) and Vietnam (69) all continue to rank higher on the metric.
Where Indonesia has improved
On a positive note, Indonesia recorded improvements in six of the ten indicators used in the ranking. The World Bank also commended Indonesia's move to train more judges, which helped reduce backlogs in courts.
Businesses are eager to see changes made to the current labor laws, which are deemed too rigid. Indonesian-based companies currently pay the highest amount of compensation in the region for worker termination, which seriously affects their competitiveness.
Changes cannot happen overnight. Indonesia has laid the necessary foundations to see the country climb the DB index in the coming years. Once again, this is where political stability becomes key.
Unlike in Myanmar or the Philippines, where violent political instabilities hinder progress, Indonesian President Widodo will be able to calmly push his agenda in his second term to encourage further reforms. Even the cagey democratic power transfers in Cambodia, Malaysia and Thailand seem inadequate compared to the stability enjoyed in Indonesia.

Conclusion
When it comes to choosing a manufacturing base, Indonesia has a lot going for it. The country has come a long way in improving infrastructure and logistics in the last few years. And the competitive wages of its large workforce may offer big savings in production costs.
But you'll also likely find sourcing from Indonesia can be challenging for other reasons. Indonesia lags behind many of its neighbors in ease of doing business. And the country's location makes it prone to earthquakes, tsunamis and other disruptive natural disasters.
Is Indonesia a good replacement for China as a manufacturing hub? Perhaps for some importers sourcing some products, it is. But moving your supply chain should never be a quick decision. Your prior due diligence will largely determine whether you end up better or worse off for the move.
---
What do you think the future holds for Indonesia's manufacturing industry? Share your thoughts in the comment section below!