Cambodia has one of the lowest labor costs in Asia. The country's geographic proximity to Thailand and Vietnam is also considered a strategic advantage. Let's delve more deeply to see if Cambodia can be your next manufacturing hub.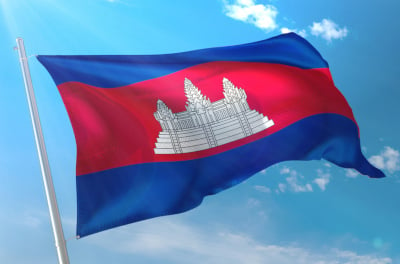 Cambodia is seen by many as a natural fit for labor-intensive garment manufacturing. And Cambodia's appeal as an alternative to China became increasingly clear even before the onset of China's ongoing

trade war

with the United States.

While manufacturers have seen wages soar in China in recent years, Cambodia's competitive advantage in this respect has only strengthened. Even after a government-sanctioned 2019 wage increase for workers in the textile, garment and footwear industries, Cambodia still has one of the lowest labor costs in Asia.

Cambodia's geographic proximity to Thailand and Vietnam is also considered a strategic advantage due to the spillover effect, as shown by some Japanese companies' "Thailand-Plus-One" strategy.

Cambodia is also one of the few Southeast Asian nations which allow fully foreign-owned investments, giving foreign businesses the opportunity to expand their operation without forfeiting control to local partners.

But despite these advantages, the situation in Cambodia is far from perfect. So let's delve more deeply into the case for and against manufacturing in Cambodia (related: Asia Sourcing Guide: 11 Top Alternatives to China [eBook]).
Cambodia's top export industries
Cambodia struggled in the decades following independence in 1953,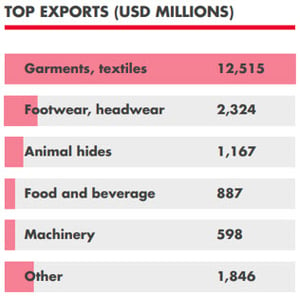 its economy relying heavily on the agricultural sector. But reforms starting in the late 1980s have gradually shifted Cambodia to becoming a market economy, triggering rapid growth. Between 1995 and 2012, Cambodia recorded a staggering average GDP growth rate of 7.9 percent per year while per capita income more than tripled.
One of the most remarkable developments from the economic reforms was the growth of Cambodia's manufacturing sector. According to a 2018 report by the Asian Development Bank, the manufacturing sector accounts for 31 percent of the country's economy.
Let's look at the manufacturing industries that have come to dominate Cambodia's exports.
Garments and textiles
Garments and textiles are the largest export industry in Cambodia. In 2018, the industry shipped $13.1 billion worth of goods, accounting for 63 percent of the country's total exports. The primary markets for these exports, which also include accessories such as buttons, Velcro and zippers, are the European Union (40 percent), United States (30 percent) and Canada (9 percent).
Most of the country's garment and textile factories are foreign-owned, with Taiwan (28 percent), Mainland China (19 percent), Hong Kong (17 percent) and South Korea (13 percent) leading the pack.
Footwear and headwear
Footwear and headwear are collectively Cambodia's second-largest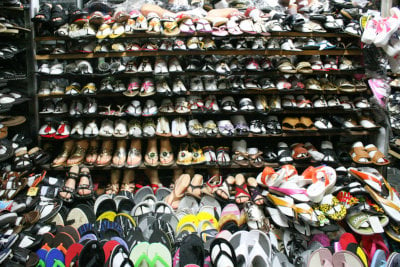 export. In 2018, the industry shipped products valued at $2.3 billion, or 11 percent of Cambodia's total exports. The primary destinations of these exports are the European Union (46 percent), the United States (17 percent) and Japan (12 percent).
The sector, which also produces leather products such as riding crops, whips and walking sticks, is projected to grow at an even faster rate than the garment and textile sector. The International Labour Organization (ILO) reported that footwear and headgear's share of exports grew by 4.4 percent between 2013 and 2018, while the garment and textiles industry's share fell by 10 percent.
Food and beverage
Food and beverage is the third-largest export industry in Cambodia. Cereals, vegetables, roots and fruits and nuts make up the bulk of the sector's $1.5 billion (7.2 percent) in exports. There is confidence within the industry that the food and beverage sector is on the cusp of major growth, based on the expansion of the middle class and investments from foreign, regional F&B companies.
Human capital in Cambodia
Human capital is one of the most critical criteria behind the success of any manufacturing operation. Labor costs are among the most important elements of human capital. And Cambodia's wages are some of the lowest in Asia. In fact, Cambodia has the second-lowest minimum wage in Southeast Asia, behind Myanmar.
Even a January 2019 wage hike of $5 to $182 per month for employees in the garment, textile and footwear industries did not hurt the country's competitiveness. To put things into perspective, the minimum wage in major Chinese cities like Beijing and Shanghai is between 2,220 yuan ($311) and 2,480 yuan ($350)—almost double.
Despite competitive wages, Cambodia has two major weaknesses which could affect its prospects as a manufacturing hub and feasible China alternative.
The first is the size of its labor force. Cambodia has one of the smallest labor forces in the region with just over 9 million people. Cambodia's population numbers just 16.6 million, while neighbors Thailand and Vietnam have a population approximately four and six times larger, respectively.
Cambodia's second weakness is the skills gap of its workforce. Cambodia ranked 92 out of 130 countries in the World Economic Forum's 2017 Global Human Capital Index. Major deficiencies were found in vocational and tertiary education enrollment, as well as high-skilled employment share.

The Asian Development Bank issued a $60 million loan to the country to help boost its labor competitiveness. The funds will be used to upgrade existing technical training facilities and to improve teaching curriculum.
Logistics and infrastructure
Logistical efficiency and industrial and commercial infrastructure help to enhance the competitiveness of manufacturing hubs. Countries with poor logistics and infrastructure will have a less efficient supply chain which could negatively impact production time, production cost and shipping time.
The World Bank's 2018 Logistics Performance Index ranks Cambodia 98th globally, with a score of 2.58. This is a 25-place drop compared to its 73rd position in the previous 2016 report. It also ranks poorly among Southeast Asian countries, falling behind Laos (82).

The country's poor performance can be attributed to its low scores in the infrastructure (2.14), customs (2.37) and logistics competence (2.41) sub-indicators.
Cambodia ranked 132nd globally in the infrastructure sub-indicator, which rates transport infrastructure such as roads, railways and ports. For perspective, this is worse than war-torn countries Libya (2.25) and Syria (2.51).
The president of the Cambodia Freight Forwarders Association, Sin Chanthy, argued that the Index score "does not reflect the reality" of the situation and questioned the methodology of the ranking. He commended the government's effort to improve the logistics sector and believes Cambodia's ranking will surge in the next report.
Still, there is clearly a lot of work to be done to enhance Cambodia's logistical efficiency.
Ease of doing business in Cambodia
The Ease of Doing Business index is an initiative by the World Bank to provide a data-driven analysis of the business climate and regulatory best practices of all member countries.
For the 2019 edition, Cambodia is ranked 138th globally, with a score of 54.80 out of 100. This is a slight drop from the 2018 index, when it received a worldwide rank of 135th with a lower score of 54.47. Cambodia fared particularly poorly in the following three areas:
Starting a business
The "starting a business" area measures the process, time and cost of setting up a business in a particular country. Cambodia is ranked 185th out of 190 countries. The World Bank noted no regulatory improvements in Cambodia for setting up businesses since the last report.
The last improvement recorded occurred in 2016 when the government made improvements in name checks, tax registration and publication of official notice of incorporation.
Cambodia lost points as well for lengthening registration and compelling companies to submit evidence of capital deposit during the registration process.
Enforcing contracts
"Enforcing contracts" refers to the cost and time involved in resolving commercial disputes, as well as the efficiency of the judicial process. Cambodia is ranked 182nd here. The World Bank has recorded no improvements on this topic since 2009.
Dealing with construction permits
This area measures the time, cost and procedures involved in setting up physical structures in the country. Cambodia is ranked 179th globally in this category. No improvements were made between 2009 and 2018. However, one beneficial regulatory change was made in 2019—a reduction in building permit application fees.
Despite these deficiencies, Cambodia has performed relatively well in the area of "getting credit", with a global rank of 22, which is better than Singapore (32), the United Kingdom (32) and Germany (44). Getting credit measures the legal rights of lenders and borrowers, credit reporting and accessibility of credit data.
Foreign Direct Investment
Cambodia attracts a relatively large amount of foreign direct investment (FDI). In 2018, the country recorded FDI totaling more than $3.1 billion, due in large part to various incentives Cambodia offers investors, including:
Full foreign ownership of businesses
Corporate tax holidays (up to eight years, followed by a flat 20 percent corporate tax rate)
Duty-free import of select goods
Minimal restrictions on capital repatriation
These measures are further augmented by the creation of special economic zones (SEZs) which offer investors further perks in exchange for establishing a presence in the country.
Corruption in Cambodia
Cambodia is one of the most corrupt countries in the world. Transparency International ranked Cambodia 161st among 180 countries and territories in their 2018 Corruption Perception Index. The country's weak press freedoms and NGO protections are possible reasons for the low ranking.
Corruption has become an accepted way of life in the country with citizens paying bribes to forgive traffic offenses, ease permit applications and even influence court verdicts. This culture of corruption has caused great unease with foreign investors and is viewed as a hindrance to normal business.
Conclusion
Cambodia is a beautiful country filled with lovely, accommodating and hardworking populace. Coupled with its natural resources and existing infrastructure in labor-intensive manufacturing, particularly in the garment and textile sector, Cambodia is well poised to become a hub for manufacturers leaving China.
However, Cambodia doesn't compare strongly with other countries in Southeast Asia in several regards, such as infrastructure, logistics and education and size of labor force.
And lingering accusations of human rights abuses and labor rights violations have cast an unwanted spotlight on the country. Cambodia may be losing their preferential Everything But Arms (EBA) trade status with the European Union. Revocation of EBA status could deal a crippling blow to the nation's manufacturing industry.
Consider all the facts when deciding whether to manufacture in Cambodia. Labor costs are only one part of the equation.
---
Have you decided to move your manufacturing base to Cambodia? What motivated your decision? Share your thoughts in the comment section below!