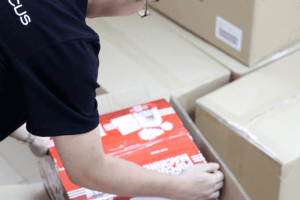 A Pre-Shipment Inspection (PSI) is a quality control procedure carried out at a supplier's premises by either your QC department or an independent quality control agency contracted to you. It's a commonplace check within the consumer goods industry in particular and helps importers, traders, wholesalers, and retailers guarantee the quality of goods before they are shipped. It guards against any nasty surprises, and means you know your goods are in working order long before you take delivery — pretty useful if your supplier is halfway around the world.
You might have heard this type of check called a final random inspection (FRI) or finished quality control (FQC). In reality, they are all the same thing; quality inspections carried out once 100% of the order is manufactured and at least 80% packed (although some buyers choose to wait until it's 100% packed before carrying out the test).
The Advantages of Pre-Shipment Inspections
There are lots of benefits to a PSI, but most people agree that guaranteeing the quality of goods produced overseas, at the place where they were manufactured, is its trump card.
This quality control procedure also saves a fair bit of time. Once the goods are in the country of destination, correcting faults becomes costly and requires additional shipping and time delays. Identifying any faults and errors in the batch before you ship makes it easier for suppliers to rectify an issue there and then.
Pre-Shipment Inspection Standards
Whether you use in-house staff or a third-party quality control agency, there is a single standard for sampling procedures and acceptance criteria that the majority of PSI inspectors follow.
Acceptance Quality Limit (AQL)
The so-called AQL Table is widely used for consumer goods Pre-Shipment Inspections in Asia and throughout the world. This clever model uses statistical number crunching to define the highest acceptable number of defects in a batch (i.e. how many faults a buyer can tolerate) before it is rejected.
The AQL varies between industries, so it always provides a balanced, unbiased view. You can further tailor it to your needs based on your quality expectations.
Sampling Plans
Inspectors won't test every item individually. Instead, they'll use sampling plans (cf. ISO 2859 or ANSI/ASQ Z1.4-) to determine how many samples they need to pick randomly to get an accurate overview of the quality of the whole shipment. This means savings in time and money for you — particularly useful if your inspection date is close to shipping.
The general inspection level III is the most extensive check and samples a larger portion of the shipment compared to a general inspection Level I test at the lower end of the scale. Choosing your AQL general inspection level will depend on the quality risk you are facing and the type of products you are checking. For general consumer goods, we recommend at least a general inspection level II, while automotive or medical products should be tested at the general inspection level III.
Defect Classification
Depending on the needs of the buyer, PSI sampling can be used to verify different measures of quality. One of the most commonly used within the consumer goods sourcing industry is to classify the defects as either: critical, major or minor and define an acceptance quality limit for each one of them.
Curious about exactly what we check during a pre-shipment inspection? Stay tuned for the next article in our series: Pre-Shipment Inspection Checklist, Everything you need to know.
Still got questions? Check out this helpful article from our specialist operations team and find out all about pre-shipment inspections based on the AQL table.