Many sellers on Amazon would choose Fulfillment by Amazon (FBA) to support their businesses but complying with FBA standards is not easy. At AQF, we present you our FBA Inspection service to ensure your products meet both quality standards, as well as FBA requirements.
In this digital age, selling on an ecommerce marketplace can be the key to success and Amazon is the first choice for many sellers. Whether you sell online or not, you've probably heard of Fulfillment by Amazon (FBA).
FBA is a service offered by Amazon to all of its third-party sellers. FBA allows sellers to store their products in Amazon warehouses, while Amazon picks, packs and ships them. It's also a great way to reach more customers since people tend to prefer shopping with sellers who offer Fulfillment by Amazon.
However, sending products to Amazon FBA requires you to follow all the various compliance guidelines. Issues such as incorrect labeling, oversized cartons, inadequate packaging, among others, can cause delivery delays and additional costs. In the worst-case scenario, Amazon could suspend your account due to non-compliance.
This is where the AQF Amazon FBA Inspection service comes in. At AQF, we combine our standard quality inspection service, with a stringent FBA compliance check. This ensures that your products meet both quality standards, as well as FBA requirements.
AQF Helps to Ensure Compliance under Amazon FBA standards
The major reason that complying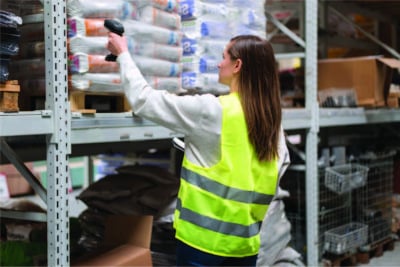 with FBA requirements can be challenging to many third-party sellers is the requirements can change frequently. Moreover, Amazon has specific requirements for certain products such as products containing liquid, fragile items, or baby products. If your products fall into Amazon's 'special product category', you will need to pay extra attention to the requirements, and this is not always straightforward.
That's why AQF now provides an easy way to ensure your FBA compliance. We have a professional team that is dedicated to quality control and can update the inspection details based on the latest FBA requirements. During our FBA Inspection, we can help to verify multiple quality points, including:
Verifying the labeling boxes for delivery
Verifying bill of lading (BOL)
Verifying shipping boxes' dimensions, weight, and content
Checking the quantity of the products
Inspecting the workmanship of the products
Conducting on-site tests to ensure product functionality
Ensuring your products will not be fined, rejected, or get delayed in receiving
Increasing customer satisfaction rate and avoiding negative reviews with quality products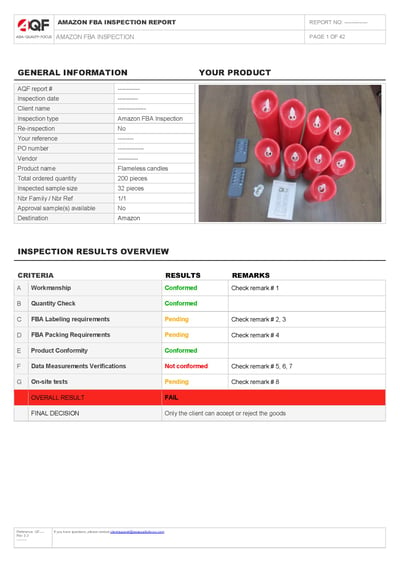 Fast Inspection Reports and Preventing Potential Risks that can Hurt your Amazon Store
Being a reliable seller and maintaining your brand & store's reputation requires continual effort and vigilance. Any product defect or non-compliance can definitely be detrimental. Combining good product quality with FBA compliance can strengthen your market positioning and reputation.
Moreover, our digital platform AQF Online enables a fast and reliable way to obtain your inspection results. No need to wait days to make your decision, as we issue a same-day report.
Contact us today and book your FBA Inspection to ensure your product quality and FBA compliance.