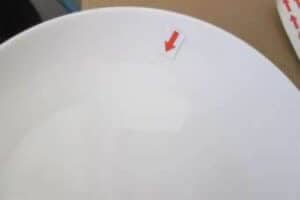 The quality of ceramic products is difficult to gauge because there will almost certainly be defects. The main reason behind this is that it is a natural material and due to the delicate nature of it, all of the production involves handcrafting. However, it is imperative to clearly explain, to the supplier, the kind of ceramic products quality required. To do so, the buyer should take into account two points: the material's conformity to standards and both its requirements and standards of cosmetics.
Ceramic products material
To ensure the ceramic products material fulfills the standards and directives of the good's country of destination, it is necessary to perform tests in an official laboratory where some chemical tests will be performed. Once said tests have been carried out, the goods should pass them.
The defects of reference for ceramic products
There is an exhaustive list of 24 defects, which are taken into account while governing the cosmetics of ceramic products. They all refer to the quality standard concerning appearance. The defect list is as followings: deformation, bubble, blank dot, under glazing, pin hole, accumulated glazing, unsmooth glazing surface, crooked decal, scratches
Cracking, vacant spot, impurity, different color, color stain, rough bottom, broken decal, glaze cracking, unsmooth edge; rough surface, crawling, glazing sticking, chip, knocking, over burned.
Defining the Quality of ceramics: grade A, B, C
The quality of ceramics is defined by giving a grade ranging from A, B and C.
Quality of ceramics Grade A: If there is nothing exceeding 24 kinds of defects on the product, the product is considered an excellent product.
Quality of ceramics Grade B: It is classified between Grade A and Grade C. It can accept 2-4 defects from the listed defects mentioned above.
Quality of ceramics Grade C: If there are 6 or more kinds of the above mentioned 24 variations of product defects.
And you: which quality of ceramic products do you request?