Thailand is one country perfectly suited to serve as an alternative manufacturing base to China. Here are four factors you should consider for your Thailand manufacturing supply chain.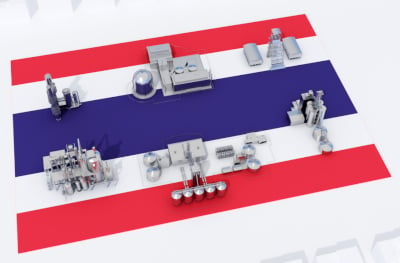 A May 2019 American Chamber of Commerce survey revealed that 40 percent of U.S. companies are considering relocating or have already relocated their operations outside China. That's an almost 10 percent increase from a similar September 2018 survey!
Many importers are considering sourcing from other Asian countries due to recent economic and political developments. China's growing trade issues with the U.S. and increasing tariffs have diminished China's cost advantage. And China's minimum wages almost doubled from 2009 to 2014, making Chinese labor only four percent cheaper than U.S. labor when adjusted for productivity.
Thailand is one country perfectly suited to serve as an alternative manufacturing base to China. If your company is looking for a new operation base, then importing from Thailand might just be the solution you're looking for (related: Asia Sourcing Guide: 11 Top Alternatives to China [eBook]).
China's skilled workforce, extensive infrastructure and advanced local supply chains make the task of sourcing alternative locations challenging. Does Thailand have the credentials to serve as a legitimate alternative to China?
Let's find out by looking at four factors you should consider for your Thailand manufacturing supply chain.
Thailand manufacturing as an alternative to China
The Kingdom of Thailand, a constitutional monarchy governed by a military junta, has one of the most vibrant economies in Asia. According to the World Bank, Thailand has elevated itself from a low-income to an upper-income country within a single generation.
Its steady economic growth has allowed the country to reduce its poverty rate from 67 percent to 7.8 percent over the last three decades. Thailand has also extended healthcare insurance coverage to almost all its 70 million citizens.
These remarkable achievements owe much to the long-term socioeconomic planning of the central government. The Thai government recently announced a 20-year blueprint to help the country achieve developed nation status. One of the core tenets of the blueprint is to turn Thailand into a regional investment, production, trade and transportation hub.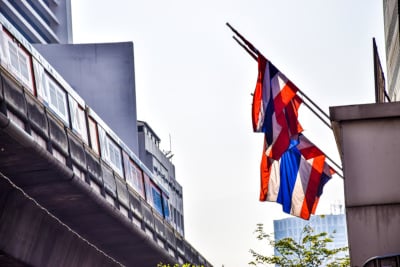 Thailand has long been considered one of Asia's major automotive, electronics and petrochemical production hubs. Its success is partly due to its existing infrastructure and relative ease of doing business. The Thai government is also receptive to foreign direct investment, as shown by the various tax incentives in its Seven-Year Investment Promotion Strategy.
Could Thailand be a ready-made replacement for your Chinese supply chain? Let's explore four factors that will help you determine whether importing from Thailand is right for you.
1. Industries and product expertise
It's exciting to be a trailblazer manufacturing in a new location. But capital expenditure, human capital training and other preparation work to set up a supply chain can be expensive and time consuming.
Sourcing from a country with existing expertise and resources for your product will allow for a much quicker and seamless integration with your existing supply chain.
A review of Thailand's top exports can provide a good indication of whether importing from Thailand is an option for your company.
Electronics and machinery
Electronics and machinery account for the largest portion of Thailand's exports at 31.19 percent and valued at almost $80 billion.
Major exported electrical products include:
Computers
Electronic integrated circuits
Telephone sets
Air conditioners
Printing machinery
Miscellaneous electronic parts and accessories
Internal combustion engines
Air or vacuum pumps
Refrigerators and freezers
The U.S., Japan and China are major export markets for these products. Many foreign electrical appliance manufacturers have factories in Thailand, including Haier, LG, Panasonic, Samsung and Toshiba.
Automotive and transportation
Thailand is the top automotive producer in Southeast Asia and is ranked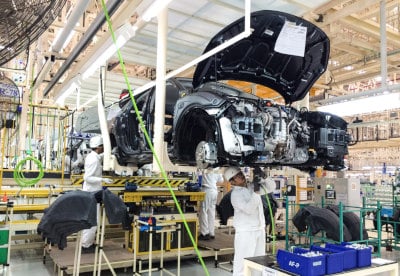 12th globally.
Automotive and transportation exports account for 13.12 percent of Thailand's exports. Exports for the automotive and transportation industries cumulatively generated over $32 billion in revenue for Thailand's manufacturing industry in 2018.
Most of Thailand's automotive exports consist of one-ton pickups (57 percent) and passenger cars (41 percent). Motorcycles are also a large industry, generating almost $1.5 billion in 2018. By 2020, Thailand is projected to increase automotive production by 80 percent over 2016 production to 3.5 million vehicles.
Fifty-eight percent of Thailand's auto assemblers have foreign majority ownership. Major brands like Toyota, BMW, Nissan and Ford all have production facilities in Thailand, as well as many smaller auto parts manufacturers.
Food and beverage processing
About 50 percent of Thailand's land area is used for agricultural purposes. It's no surprise then that Thailand's manufacturing industry exports a huge amount of food overseas. Thailand exported more than $35 billion of food and beverage products in 2018, or 14.09 percent of total exports.
Thailand's largest food export is cereals, primarily rice, valued at $5.7 billion. Thailand is also the world's second largest net exporter of sugar and fish.
Natural rubber and rubber products
Thailand is the largest producer and exporter of natural rubber in the world, with exports valued at $15.5 billion. Thailand's tropical monsoon climate is highly conducive to rubber cultivation.
Thailand's natural rubber resources can reduce production costs for rubber products like automotive parts and medical devices. Manufacturers can source the raw materials for these products from within Thailand, rather than importing them from other countries, thus reducing production input costs.
2. Logistics
Thailand is ranked 32nd out of 160 countries globally in the Logistics Performance Index (LPI), with a score of 3.41. While this may seem a fairly middling score, Thailand is actually the eighth highest-ranked Asian country. It is also the second highest in Southeast Asia behind Singapore, which is ranked seventh globally.
Thailand fares even better on two of the sub-indicators, namely international shipments and timeliness, where it's ranked 25th and 28th, respectively.
Thailand performs similarly to China on this metric, especially in the timeliness of shipments. Companies importing from Thailand are less likely to experience unpredictable shipping delays compared to less-developed countries like Bangladesh, Cambodia and even India.

Planned infrastructure projects to improve logistics further
Thailand's LPI score is expected to improve further in coming years as several projects are currently underway to strengthen its infrastructure. The most significant is the $45 billion Eastern Economic Corridor (EEC) project, approved into law by legislators on February 1, 2018.
The project seeks to connect provinces along the Gulf of Thailand with export infrastructure like ports, railways and airports. The provinces, which include Rayong, Chachoengsao and Chonburi, are also expected to be linked to neighboring Southeast Asian cities.
The Thai government hopes to turn provinces in the Eastern Economic Corridor into technological manufacturing hubs. To encourage investment by the private sector, the Thai government is offering tax break packages and 99-year leases on land.
Thailand has also been a strong supporter of China's Belt and Road Initiative (BRI). China is currently funding Thailand's first high-speed railway network which will connect Thailand with Laos and the city of Kunming in southwestern China. More than 100 Chinese companies have also established Thailand manufacturing facilities in the Thai-Chinese Industrial Zone in Rayong.
Yet another project being discussed with China is the construction of a 120 km (75 mile) long canal at Kra Isthmus. The ambitious project could shorten freight time significantly as vessels will no longer need to circle around the Malay Peninsula. This canal would hand Thailand a massive competitive boost over Malaysia and Singapore, though it's still in its early planning stages.
3. Ease of doing business
The World Bank's Ease of Doing Business (DB) index provides an insightful glimpse into the level of business regulations, policies and taxes in countries. Thailand fares reasonably well on the 2019 index, ranking 27th out of 190 economies, sixth in Asia and second in Southeast Asia behind Malaysia.
The country demonstrated across-the-board improvements in 2019, with improved rankings in eight out of ten criteria in 2019. This performance is reflective of the Thai government's long support of an open, market-oriented economy.

Thailand enjoys two particularly high ratings in the DB index—getting electricity and protecting minority investors. The improvement in getting electricity came after the government eliminated the need for external inspections by streamlining its geographic information system. It has also improved the process for new applications and made tariff changes more transparent.
Thailand's ranking stands in sharp contrast to China's, which languished at 46th place (although it's an improvement over its 65th place last year). China's ranking is heavily weighed down by issues regarding dealing with construction permits (121) and paying taxes (114). Thailand ranks better than China on paying taxes, mainly due to an overall lower tax and contribution rate.
Recent reforms improve processes for importing from Thailand
The Thai government has made several key reforms in the past few years to create a more business-friendly environment and support Thailand's manufacturing industry, including:
Introducing the E-Matching system for electronic cargo control, reducing the time required for document inspection and border compliance.
Establishing single business registration windows and introducing fixed registration fees for starting a new business
Enhancing its online platform for calculating and filing corporate income taxes
Thailand also recently announced a new "relocation package" for firms relocating from China, including tax incentives, special investment zones and changes in laws to facilitate foreign investment.
4. Human capital and labor costs
It's an open secret that Thailand's labor costs are among the highest in Southeast Asia.
The minimum wage is significantly higher than the rate in smaller Chinese cities—although major Chinese cities have comparable minimum wages. The minimum wage in Thailand varies slightly by province but is relatively consistent overall. The minimum wage in 2019 ranges from $200.18 to $214.47 (6,160-6,600 THB/month).
Due to higher minimum wages, importing labor-intensive goods from Thailand is unlikely to be cost-effective compared to doing so from other Southeast Asian countries. But wages don't solely determine production costs. A skilled workforce plays a large role in the long-term success of suppliers and their production capabilities.
Thailand ranked 40th in the World Economic Forum's 2017 Global Human Capital Index, which measures a country's talent resources.

Thailand ranked highest on the deployment (7th) and know-how (51st) metrics of the report.
The deployment metric measures the level of active participation in the workforce, including for historically marginalized workers like female, youth and older workers. Thailand has low unemployment and underemployment rates, ranking near the top globally on these metrics.
The know-how metric measures the breadth and depth of specialized skills acquired by workers. Thailand ranks 25th globally in economic complexity, a know-how submetric that measures a country's productive knowledge through the diversity of its exports. Thailand ranks only slightly behind China, which ranks 18th on this metric.
But unlike its neighbors like Vietnam and Indonesia, Thailand's population growth is stalling, and its workforce is slowly aging. And as evidenced by the above metric, skilled employees can be harder to find in Thailand than China. Experts estimate 475,000 skilled workers will be needed in the next five years in Thailand's EEC zone alone.
Thailand is shifting away from labor-intensive manufacturing
Thailand is shifting away from labor-intensive manufacturing to more advanced manufacturing to address skilled worker shortages.
The Thai government has launched the Thailand 4.0 economic initiative to address these concerns and modernize its manufacturing industry. Named after the fourth industrial revolution, the initiative will offer businesses the opportunity to automate their manufacturing processes. Not only will this reduce operating costs, but it will also improve production efficiency.
The government has announced several incentives to encourage private sector participation in the initiative and offset the costs involved in adopting new technologies. Among the incentives offered are:
The option to establish companies with 100 percent foreign ownership
Import duties exemptions on raw materials and machinery used for research and development and products meant for export
Exemption of corporate income taxes for a period of up to 13 years
A tax-deductible allowance equivalent to 70 percent of invested capital
A tax holiday of up to 15 years for enterprises involved in new technologies
Matching grants for innovation and R&D in selected sectors
These incentives can help cover any short-term labor cost spikes from shifting your production away from China and importing from Thailand.
Conclusion
China remains the go-to destination for many manufacturing projects, at least for the immediate future. This is due to its relatively high number of skilled technical workers, low production costs and existing supply chain and delivery infrastructure.
However, while Thailand may not yet be ready to compete directly with China, it can compete in niche manufacturing categories. The key to successfully importing goods from Thailand lies in identifying the Thailand manufacturing industry's core strengths.
A supply chain which leverages Thailand's current expertise in electronics and automotive products will stand a good chance of hitting a home run.
---
Are you already manufacturing in Thailand? Share your tips for working with Thai manufacturers in the comment section below!