Tariff loophole for U.S. importers, tackling ecommerce packaging challenges and Cambodia garment industry improvements in this week's roundup.
Best in Manufacturing – January 27, 2019
Each Sunday, we publish a list of top articles and other content related to manufacturing in areas like quality control, product development, supply chain management, sourcing, auditing and law.
1. U.S. importers can legally avoid tariffs with this unknown loophole
Less than two months remain before the conclusion of Presidents Xi and Trump's trade truce.
Trade tensions seem to have calmed for the moment. Earlier this month, the first face-to-face discussions ran a day longer than planned and concluded without incident.
While the truce halted President Trump's plan to increase tariffs from 10 to 25 percent on January 1, 2019, it didn't eliminate the existing tariffs on $250 billion of Chinese goods.
U.S. importers manufacturing in China are still struggling to manage the burden of existing tariffs.
But a decades-old customs rule, codified during the Reagan administration, may be the secret to reducing these burdens. And if the 90-day truce ends without an agreement, this little-known legal loophole could prove extremely valuable in coming months.
How does the "first sale rule" work?
The first sale rule is a 30-year-old piece of trade legislation that applies to goods bought and sold multiple times on the way to their final buyer in the U.S.

It works like this: Imagine you make headphones at a factory in China. You sell those headphones to a trading company in Hong Kong (or anywhere else outside mainland China). Then your Hong Kong trading company sells the headphones to the U.S at a marked-up price.
President Trump's tariffs are only payable on the first sale price—the price your trading company or vendor paid to the factory for those headphones.
So if the first sale price is lower than the final price, you can pay reduced duties. You might pay a 15-percent duty on an item bought for $8 each in the first sale, rather than 15 percent on the same item you pay $10 each for from your vendor, for instance.
But it's not as simple as writing an extra buyer into your records. Each transaction must be legitimate and each party must make money on the sale.
And importers must be able to prove the legitimacy of each sale through documentation at every stage of the import process, including:
A purchase order (PO) from the importer to the vendor (from the importer asserting first sale)
A PO from the vendor to the factory
An invoice from the vendor to the importer
An invoice from the factory to the vendor (provided with shipment at import)
Payment from the importer to the vendor
Payment from the vendor to the factory
Depending on the transaction, the required paper trail can become even more complex.
First sale rule can be a pain to implement
The first sale rule can help reduce your tariff burden. But there are multiple reasons why companies aren't taking advantage of the rule yet.
For one, compliance requires a ton of documentation, which takes time to gather. And it can be extremely difficult to convince Chinese suppliers to share their financial details.
There's also the cost barrier of certifying suppliers, establishing the documentation and other requirements. And managing the process, usually manually rather than through ERP software, can be a pain.
It took Farouk Merzougui, Chief Financial Officer of Native Union, a designer of luxury tech accessories, five months to implement the rule in his supply chain.
Merzougui said implementing the rule required a lot of preparation and documentation. But now that he's done the legwork, Native Union is saving two-thirds of the duties it used to pay on exports to the U.S.
There's no denying the tremendous opportunity presented by paying duties on a lesser first sale price. Putting in the time and effort upfront could payoff in the long run—especially if tariffs increase on March 1.
Follow the link below for more on the first sale rule.
Trump's trade war tariffs send firms to Hong Kong for a little-known legal loophole – Finbarr Bermingham, South China Morning Post
2. Tackling the ecommerce packaging challenge
In 2017, Amazon reduced packaging waste by 16 percent, eliminating 305 million boxes from their supply chain. But that same year, the company shipped five billion boxes to Prime members alone.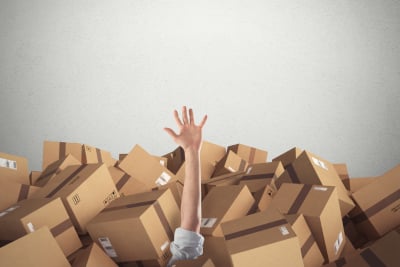 Packaging waste has a large carbon footprint. There were 68 million tons of new cardboard produced in 2015—the same impact as 94 coal-fired power plants running for one year.
When it comes to packaging, the environment is a major concern. But it's not the only packaging challenge facing online retailers.
Online sellers need packaging to protect their products in transit. But they must also consider cost efficiency, waste, shipper requirements and the unboxing experience when making packaging decisions.
As the ecommerce market continues to grow, improving packaging logistics is becoming a key consideration for online retailers.
Main challenges of ecommerce packaging
Unless your product is ultra-durable, you probably require some sort of packaging to protect it during transport.
While protecting your order is likely your number one concern, packaging must also address these three major challenges:
Waste – to minimize environmental and financial impact
Shelf presence – to optimize branding and the unboxing experience
Shipper size constraints – to optimize returns via small parcel shipping channels
These challenges often bleed into product design.
According to Emmy Corman, package design engineer at Dollar Shave Club, right sizing their Blueprint cologne to the shipper was a key consideration when creating the product. Designers had to balance their shipper's size constraints with the necessary cushioning to keep the cologne intact during shipment.
Corman warns online retailers should always keep their shippers in mind during product design because:
A product that doesn't fit in your shipper is like a product that doesn't fit on the store shelf.
Building a branded packaging experience
Packaging must also meet your consumers' needs. Unboxing contributes to the overall customer experience.
Amazon previously received a lot of criticism when customers were receiving small items in massive shipping boxes. The oversized packaging was likely a byproduct of other shipping logistic decisions. But while the packaging may have improved Amazon's bottom line, it hurt the customer experience.
Ecommerce sellers have fewer touchpoints with customers than traditional retailers. And packaging presents an opportunity to provide additional value to the customer.
According to Dotcom Distribution, 52 percent of consumers are likely to make a repeat purchase from an online merchant that delivers premium packaging.
When designing your packaging, Shopify suggests considering:
Box – Customize color, print or sizing to make a good first impression
Tissue paper – Add excitement to the unboxing experience
Protective cushioning – Consider nontraditional options like crinkle paper or excelsior
Stickers – Brand your packaging inexpensively
It's up to each individual brand to find a balance between aesthetics and functionality. But no ecommerce brand should overlook the importance of logistics and the customer experience when designing packaging.
Follow the link below for more on the challenges of ecommerce packaging.
3 challenges of ecommerce packaging (from an insider) - Lisa McTigue Pierce, Packaging Digest
3. Working conditions improve in Cambodia's garment industry
Cambodia's garment sector employs 86 percent of the country's factory workers. And about 40 percent of Cambodia's GDP comes from garment exports, according to the Phnom Penh Post.
For many years, low wages have helped maintain the country's prominence as a garment production destination.
Yet concern among the nation's factory owners has grown amid wage hikes, a deteriorating political situation and increased competition in the global garment marketplace.
But importers shouldn't write off Cambodia just yet.
The Better Factories Cambodia Annual Report 2018, which provides insight into trends in compliance and working conditions, points to major improvements in Cambodia's factories.
Ensuring a culture of compliance in Cambodia's garment sector may help quell uncertainty and boost foreign investment. And if the positive trend continues, Cambodia could become an unstoppable force in garment production.
Fewer violations on critical issues since 2014
The latest Better Factories Cambodia Annual Report was published at the end of 2018. It contains data from 464 assessment visits over 14 months—from the beginning of May 2017 to the end of June 2018.
The report examines 21 critical issues, including labor standards, discrimination, contracts, occupational safety and compensation.
Since public reporting was reintroduced in 2014, there's been a decrease in violations on critical issues and a greater proportion of compliant factories.
In this year's reporting period, researchers documented:
631 violations on 21 critical issues (down from 811 violations in 2014)
41 percent of factories in compliance with publicly reported issues (up from 32 percent in 2014)
And incidents of underage workers declined from 74 cases in 2014 to just 10 in the last reporting period.
Other critical issues relating to emergency preparedness, non-discrimination and payment of wages and allowances also showed steady improvements.
Workplace health and safety issues still present a challenge
While factory working conditions saw notable improvements in this year's Better Factories report, other critical areas remained stagnant or declined in compliance rates.
Noncompliance issues highlighted in the report include:
Leave and compensation
Contract issues (in specifying terms and ensuring worker understanding)
The report also revealed high levels of noncompliance with Occupational Safety and Health (OSH) requirements—which were recorded at a staggering 34.7 percent of factories.
But it's important to note OSH compliance is an industry-wide issue around the world, not just in Cambodia. According to the report:
Factories where all OSH requirements are implemented are still the exception.
Factories often lack proper OSH policies, proce­dures and division of roles and responsibilities, leading to higher rates of noncompliance in this area.
Better Factories Cambodia recommends factories establish and maintain a robust OSH management system according to international guidelines to improve compliance.
This year's report shows progress. But sustainable change will require continued effort from everyone involved in Cambodia's garment industry.
Follow the link below for more on improvements in Cambodia's garment sector.
Better Factories Cambodia's Annual Report 2018 highlights notable improvements in working conditions – International Labour Organization and International Finance Corporation
---
We're constantly scanning the web for top manufacturing stories and news. If you'd like to submit an article for consideration for our weekly Best in Manufacturing, send us a message and let us know.