Learn about China's electronics industry, Vietnam's textile industry and Johnson & Johnson's recalled baby powder in this week's roundup.
Best in Manufacturing – November 03, 2019
Each Sunday, we publish a list of top articles and other content related to manufacturing in areas like quality control, product development, supply chain management, sourcing, auditing and law.
1. China's electronics industry eagerly awaits the end of the trade war
China's electronics industry is currently the world's largest. But the trade war has hit this industry hard.
Exhibitors at this year's Hong Kong Electronics Fair reported fewer international buyers than previous years. Importers from the U.S. are looking for suppliers from Vietnam, Indonesia and other Asian countries outside China.
There was also a sharp slump in China' electronics exports. From January to August, exports of hi-tech products declined 2.1 percent. Exports of liquid crystal display (LCD) panels dropped 6.6 percent. And exports of mobile phones and parts dropped by a staggering 15.1 percent.
But many Chinese-made consumer electronic goods have yet to face U.S. tariffs—tariffs are expected to roll out for many such products on December 15. But the trade dispute has already pushed many foreign buyers away from their Chinese suppliers.
Chinese electronics companies struggling to stay afloat
For many Chinese electronics manufacturers, sales have plummeted since the trade war started. They are now seeking ways to recover their order volumes, though the trade war shows no signs of a resolution anytime soon.
Chinese electronics manufacturer SZ Telstar moved its factory from Shenzhen, China to Vietnam in July. The "Made in Vietnam" label requires at least 40 percent of a product's value to be added in Vietnam. But raw materials cost 30 to 60 percent more in Vietnam than in China. The company is now struggling to purchase more materials from China to lower production cost.
Infrastructure and logistics outside China also leave something to be desired. The company still can't find qualified local freight fowarders three months after relocation.
Rather than relocating, another Chinese electronics company called iStar chose to expand into the domestic market. The company hopes the huge Chinese domestic market will help them offset the losses in overseas sales due to the trade war.
However, some Chinese players' cost advantage has helped them thrive in spite of the growing tariffs. Shenzhen-based endoscope manufacturer Avanline kept its order book full even under the escalating trade war. According to Josie Chen, Avanline's salesperson in Hong Kong:
For the same product, our price is around one-tenth that of [Japanese competitor] Olympus. Our US buyers just paid the tariffs and did not ask us to lower the prices.
How can you manage your quality concerns outside of China?
Whether your Chinese supplier has relocated or you're now sourcing outside China, there's no guarantee of victory. Sourcing outside China often not only means lower costs, but also less-skilled labor and lower productivity. Those factors will likely cause potential quality problems that can hurt your business.
Product quality is a top priority for most importers. Higher defect rates will result in lower customer satisfaction and lower sales.
So how can you manage your quality concerns outside China? Here are four steps you can take to prevent product defects before they appear in your products:
Conduct an audit. An audit can help you check the factory's internal quality management. An ISO 9001 standard audit is commonly used.
Aim for negotiating the best (not always the lowest) price. Different parts and materials and levels of quality demand different price points. Pushing too hard on price typically encourages suppliers to cut costs at the expense of quality.
Establish a golden sample. A golden sample enables you to provide feedback to your supplier and resolve any quality issues before mass production.

Set a tolerance for defects. An AQL table can help you

communicate to your suppliers the types and quantities of various defects you can accept, as well as define the scope of inspection that you need.
Follow the link below to learn more about Chinese electronics exporters' struggle in the trade war.
China's electronics exporters desperately look for an escape from US trade war nightmare – Cissy
Zhou, South China Morning Post
2. Vietnam's textile industry: an unexpected trade war casualty

People often say Vietnam is the big winner in the U.S.-China
trade war. But what you may not know is that the trade war is hindering Vietnam's textile industry.

The trade war has led to major growth in exports from Vietnam, and many textile manufacturers have relocated there. But its negative impact has started to show in some sectors. Vietnam's textile industry is now facing difficulties both manufacturing and exporting products.

According to a report by the Ministry of Investment and Planning:

Buyers are concerned with the on-going China-US trade war and it has resulted in fewer and smaller orders.

What's more, Vietnam is now facing a shortage of skilled labor needed to meet production demands. Jef Stokes, a Vietnam-based garments manufacturer, said "even basic sewing workers will need training for at least six months". The skilled labor shortage is now pushing some manufacturers out from Vietnam.
Vietnamese textile companies have been hit hard
China's reduction of imports is one factor to blame for the struggle of Vietnam's textile industry. Raw materials exports to China have traditionally accounted for 60 percent of Vietnam's total exports. One such export product is yarn, the price of which has fallen drastically in line with falling demand from China.
Vietnamese textile manufacturers are also receiving generally fewer orders for smaller quantities. The reason is buyers are trying to stay agile without relying too much on a single supplier in case of any changes to the manufacturing climate, such as U.S. tariffs on Vietnam-made goods.
Rising costs are another complication. Vietnam's rising labor costs and land rent are putting added cost pressure on textile manufacturers. And as countries like Cambodia and Bangladesh ratchet up their tax incentives, buyers are increasingly attracted to suppliers elsewhere.
Southeast Asia at large is also feeling the squeeze
Vietnam isn't the only country reeling from the trade war. Southeast Asia at large is feeling the pain. Margaret Yang, an analyst at CMC Markets in Singapore, said:
…China is the largest trading partner with many Asian economies, the U.S. tariffs are having a ripple effect on trade in the region.
The trade war disrupts the whole supply chain in Asia, with many countries affected, including:
Singapore, a major semiconductors hub, saw its exports of integrated circuits fall 33 percent in June from a year ago.
Thailand, a hub for automakers and electronics manufacturers, saw its exports to China in June fall 15 percent from a year ago.
India saw a 10 percent decrease in exports in June.
Considering other sourcing alternatives in Asia and diversifying your supply chain may be a safe way to minimize tariff impacts.
Follow the link below to learn more about how the trade war is squeezing the textile industry in Vietnam.
Textile industry hit by on-going trade war – Staff, Vietnam News
3. Johnson & Johnson recalls baby powder due to asbestos contamination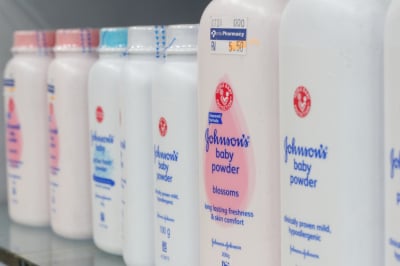 Johnson & Johnson recently issued a voluntarily recall on 33,000 bottles of its baby powder lot #22318RB. The recall came after the Food and Drug Administration (FDA) found trace amounts of asbestos in its sample bottles.
The company has insisted for years that its baby powder is safe. This is the first time the company has taken its products off the shelf due to asbestos concerns.
The FDA Commissioner DR. Ned Sharpless said the FDA would keep testing those talc-based products to ensure customers' safety:
The FDA continues to test cosmetic products that contain talc for the presence of asbestos to protect Americans from potential health risks.
Johnson & Johnson noted the level of asbestos contamination that the FDA tested was no greater than 0.00002 percent. And the company repeated its longstanding defense against cancer claims on its baby powder. However, analysts estimate pending lawsuits related to the baby powder could cost Johnson & Johnson $5 billion to $10 billion.
The stock market also responded to the news, pushing share prices of the company down 6 percent on the day of the announcement.
Talc-based products are especially prone to asbestos contamination
Asbestos contamination likely happened during the mining process of talc, a raw material and key ingredient in the baby powder.
Talc is a natural mineral used in many cosmetic products, such as baby powder and blush. It is formed in underground deposits under the same geological conditions as asbestos. And veins of one mineral tend to mix with the other. Contamination could happen when talc is mined near natural deposits of asbestos.
The "close relationship" between talc and asbestos makes talc products especially prone to asbestos contamination. The FDA has announced several recalls of cosmetics due to asbestos contamination (see #3).
However, there's little regulation covering the talc industry. And the FDA's authority over cosmetics under the Federal Food, Drug, and Cosmetic Act hasn't been updated since the Act was enacted in 1938. The FDA doesn't require safety testing for personal-care products and cosmetics.
The lack of official standards to measure asbestos content makes overseeing and preventing asbestos contamination in products hard.
Ensure product safety through lab testing and audits
The recalled baby powder represents only a small part of Johnson & Johnson's business. But the recall can seriously affect the brand's reputation. David Noll, a law professor at Rutgers University, said:
…if people come to associate the company's signature product with deadly diseases, there will be huge spillover effects for its ability to market other products.
There are no existing U.S. laws mandating that brands must test for asbestos. But lab testing can still be an effective way to alleviate worries about potential asbestos contamination with your products. Polarized Light Microscopy (PLM) and Transmission Electron Microscopy (TEM) are two of the most common ways to test for asbestos.
Conducting an audit for good manufacturing practices (GMP) is another step you can take to prevent other types of material contamination in cosmetics, medical devices, food and other products. A thorough GMP audit will include an assessment of the factory's adherence to maintaining quality standards in production, as well as a review of any on-site lab in the facility.
Follow the link below to learn more about Johnson & Johnson's first recall on baby powder due to asbestos contamination.
Johnson & Johnson Recalls Baby Powder Over Asbestos Worry – Tiffany Hsu and Roni Caryn Rabin, The New York Times
---
We're constantly scanning the web for top manufacturing stories and news. If you'd like to submit an article for consideration for our weekly Best in Manufacturing, send us a message and let us know.