This week's top stories include the 10-year anniversary of CPSIA regulations, protecting intellectual property from copycat fashion and how eCommerce brands can compete with Amazon.
Best in Manufacturing – September 16, 2018
Each Sunday, we publish a list of top articles and other content related to manufacturing in areas like quality control, product development, ­­­supply chain management, sourcing, auditing, and law.
1. How has CPSIA regulation changed manufacturing since 2008?
More than 30,000 rubber toys were recalled last week in the U.S. because of lead contamination.
The recall comes at an ironic time. It's also the 10-year anniversary of the Consumer Product Safety Improvement Act (CPSIA). How successful has the CPSIA legislation proven to be?
Why was CPSIA created?
In 1978 it became illegal to market toys containing lead to children in the U.S. But today many other countries continue to manufacture with lead-based materials.
More than 25 million toys were recalled in the U.S. in 2007. Varying product hazards, including lead paint, tiny magnets, and dangerous chemicals, led to consumer uprising. The passage of CPSIA followed in 2008.
In 2017, there was just one such product recall for lead. And in 2016, there were no reported deaths prior to a recall on a children's product.
CPSIA benefits for consumers
CPSIA gives power to the Consumer Product Safety Commission (CPSC) to regulate and reform the toy industry. But it also benefits consumers.
Here are five benefits consumers appreciate from CPSIA:
An industry-wide safety code and manufacturing standards
Mandatory premarket third-party safety testing before sale
A consumer-based incident database, SaferProducts.gov
A ban on eight varieties of plastic-softening chemical (phthalates)
Stringent, mandatory standards for nursery products
China took initial fall for lead paint recalls
Developing a safe toy requires diligence regardless of where you choose to manufacture.
A majority of the 2007 recalled toys were manufactured in China by Mattel Inc, the world's largest toy manufacturer at the time.
Initial blame was placed on China for the use of lead-based paints. Mattel later issued a public apology for damaging China's reputation.
The company released this statement owning up to the design flaw:
It's important for everyone to understand that the vast majority of those products that we recalled were the result of a design flaw in Mattel's design, not through a manufacturing flaw in Chinese manufacturers.
Important considerations for CPSIA-regulated manufacturers
When manufacturing a regulated product in China, pay attention to these key details:
Examine products on-site for potential safety issues. Review labeling, materials, function, and general construction.
Juvenile products face stringent quality and safety standards. Consider using third-party inspection and product testing to verify your product meets the various requirements (related: 4 Ways Importers Conduct Product Inspection [eBook]).
Learn more about CPSIA legislation and follow-up investigations in the link below.
10th Anniversary of Consumer Product Safety Improvement Act: Safer Products, Better Tools for Informed Purchasing, Increased Safety, More to Do – U.S. PIRG
2. Copycat fashion is completely legal. But how can manufactures protect their IP?
Large fashion brands are constantly recreating designs. That inspiration often comes from smaller designers.
This is a fact of fashion. Trends are heavily reliant on inspiration and imitation. But when does imitation cross the line?
The limitations of copyright protection
Copyright is a buzzword in intellectual property law. When you think about protecting your product, you might think of copyright.
However, U.S. copyright law doesn't protect functional products, like clothing and accessories, in their entirety.
Copyright covers only the creative elements of a design that can be separated from functional elements. For example, the print covering a blazer could be copyrighted. But, not the blazer itself.
This has implications for manufacturers in the fashion industry, as they struggle to protect their intellectual property from copycats.
The EU provides greater design protection
In 2013, the Internal Market/European Patent Office estimated design protection generates 12.8 percent of GDP throughout the EU. This is one reason the EU places a high value on design protection.
The EU adopted the European Designs Directive in 1998, introducing a unified system of design rights throughout the region.
In the EU, manufactures can file to protect shape, colors, and materials.
Does intellectual property protection limit growth?
The domestic market value of the U.S. fashion industry has grown to over $385 billion.
Some competition between brands is healthy. Does allowing imitation inspire innovation? Allowing brands to copyright entire garments could create a hostile environment.
But big brands have big legal budgets. The concern is that these brands could push smaller designers out of the industry.
Consider multiple forms of intellectual property protection
But copyright law is not the only option for protecting a product. Other forms of intellectual property protection can provide legal backing for fashion designs.
The U.S. lacks an end-all, be-all legal solution for product protection. But you can legally protect the original aspects of your product.
Trademarks and patents protect different aspects of a product.
Trademark your name, logo or product image
Is your product heavily logoed? Trademark protection makes it illegal for other manufacturers to create a product with your trademarked branding.
You can also consider a trade dress protection which protects the unique characteristics of a product or packaging's visual appearance. But you'll have to prove customers link a product's appearance to your brand, which can be difficult.
Patents protect technical design components
A patent is the best way to protect an original design. You can patent proprietary fabrics with a patent.
Patents can be expensive and take a long time to obtain. By the time you have a patent, fashion trends may have changed.
The question remains—where should the line between imitation and innovation be drawn?
Why is Copying So Rampant in Fashion? – The Fashion Law
3. How can eCommerce brands compete with Amazon?
Amazon is one of the world's largest online retailers. The company's expansion into more than 12 industries shows no sign of slowing.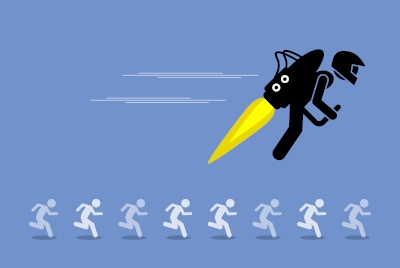 Amazon's sheer volume and reach can be intimidating for many smaller companies.
But annual consumption in emerging markets is predicted to reach $30 trillion by 2025. There's a lot of room left for new brands to penetrate emerging markets.
Three elements for growth
Taking the time to build a strategy can help you in the long run. Keep the customer center as you think through ideas.
Look at the data and set your brand apart from others. What niche do you fit into?
1. Use data-driven marketing strategies
Data-driven marketing uses "big data" to predict consumer behavior. Think long-term. What performance indicators should you track?
Marketing platform company Emarsys suggests including these elements in a data-driven strategy:
Automate and integrate – Maintain objectives but allow for personalization.
Collaborate across teams – Share information and invite feedback.
Monitor industry changes – Follow the competition and market trends. Remain open to change.
Continue to measure – Constantly monitor and adjust. What's working and what should go?
2. Build a strong online brand
Digital interaction influences 70 percent of purchases, according to Ad Week. Driving traffic to your website is only one part of the equation. Building your brand will lock in purchases.
Branding is where a business meets emotion, engagement, and expectation. It's a powerful tool for differentiating yourself from other products.
When thinking about branding, consider these elements:
Put the customer on centerstage.
Tell your story.
Capitalize on change.
3. Focus on customer experience
Why do customers shop on Amazon? It's quick, easy, and secure.
You can implement the same customer service standards as Amazon. Allowing reviews and providing free shipping and returns are obvious customer-winning techniques.
Customer experience is essential in customer relationship management (CRM). Creating a long-term plan will help you build repeat, loyal customers.
Remember, Amazon is not untouchable. What makes your product unique?
To read more about ways eCommerce brands can compete in an Amazon era, click the link below.
Four Ways Fashion E-Commerce Brands Can Compete with Amazon - Revecka Jallad, Forbes
4. Are certification programs still important for manufacturers?
A recent paper from the Center for Global Development found the impact of sustainable coffee certifications practically impossible to measure.
This is due to three main factors:
No baseline for how growers were performing prior to certifications
A lack of comparative statistics between certified and non-certified growers
Poor monitoring of certified growers overtime
Certified products can give consumers a sense of control over their purchases. But certification programs can be costly for manufacturers and misleading to consumers.
What do certifications mean?
A certification generally confirms something is genuine or true, according to businessdictionary.com. Suppliers typically meet specific requirements or standards in exchange for a certificate.
A certificate generally implies there's a governing body or authority granting certification. Therefore, a certification is only as strong as the body that's granting it.
Certified organic food must meet USDA guidelines to be sold as such in the U.S. A company that falsely uses the term "organic" on its packaging can be fined up to $11,000.
But a high volume of organic labeling means mislabels often fall through the cracks.
The FDA received a multitude of negative feedback for lax regulations of organic products in late 2017. As a result, consumer trust in organic labeling took a nosedive.
Important supplier certifications
Not all certifications are misleading. In fact, there are several important certifications to consider as a manufacturer, including:
FCC Declaration of Conformity: for electronic products sold in the U.S. It relates to a product's electromagnetic interference. Testing is required for this certification.
UL certification: though not a legal requirement, many companies will only buy UL-certified equipment. UL listings must meet nationally recognized safety standards.
CSA certification: a legal requirement for all electrical products installed in Canada.

These standards focus primarily on safety from electrical shock and fire hazards.

CE, or Conformité Européenne: a legal requirement in the EU. Electrical equipment, toys, and other products must have this certification to be sold in the EU.
ISO 9001: proves an organization meets quality management system requirements. ISO 9001 certification can be a helpful determinant of a supplier's quality and production capabilities.
Three ways to verify a certification
Determining the validity and usefulness of certification can be difficult. But certifications are important and sometimes required in manufacturing.
Thoroughly research a certification's background before committing. Ask yourself:
What is the governing body? Is this body accredited and respected?
How can this certification help my product? Is the initial cost worth the potential payoff?
Will this certification provide greater transparency and reliability to me or my consumers?
Curious about the investigation into sustainable coffee certifications? Read more of NPR's coverage below.
Do Sustainable Certifications for Coffee Really Help Coffee Growers? – Angus Chen, NPR
5. Tariffs on Chinese goods impact countries throughout Asia
Another round of proposed tariffs rings in the third month of the China-U.S. trade war. This time, on an additional $200 billion of Chinese imports. The potential list includes more than 6,000 products.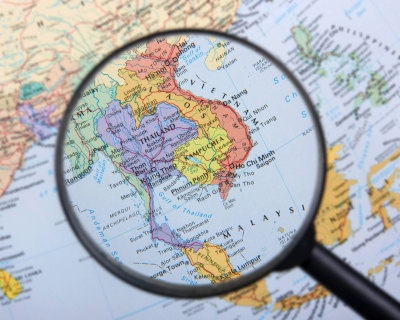 But many Chinese exports are complex products. Chinese manufacturers often source components and raw materials from elsewhere in Asia. A "Made in China" laptop could take components from Japan, Taiwan, and South Korea.
Tariffs attacking a single Chinese export good often affect suppliers throughout the supply chain.
Dependence on intermediate goods
According to a 2017 report by the Korea Institute for International Economic Policy, intermediate goods account for more than 50 percent of Southeast Asian exports and imports with China.
An intermediate good is a product or component used as an input in the production of a final good or finished product. Examples include materials like the wood used in furniture or components like an LED screen used in a laptop.
Growth in many Asian markets heavily relies on demand from China:
Vietnam exports US$5 billion of goods to China's value-added supply chain
Taiwan supplies eight percent of China's total imports of intermediate goods—14 percent of Taiwan's GDP
The proposed tariffs threaten to reduce that demand.
Companies moving manufacturing outside of China
But Southeast Asia also stands to gain from the trade war as many companies consider shifting manufacturing outside of China.
Big names like Steve Madden, Samsung, and Adidas are just some of the companies shifting production away from China and into neighboring countries.
This phenomenon is not new. But the trade war is serving as a catalyst or accelerator for brands to consider other souring destinations.
Jon Cowley, a partner at the Hong Kong law firm Baker McKenzie, says:
For many companies, the trade conflict is a catalyst to explore changes they hadn't contemplated before. For others, it's an accelerant to a process they'd already started. The trade conflict is just pushing them over the finish line.
Some companies are seeking lower production costs, while others aim to add flexibility to their supply chain.
Creating a flexible supply chain
Late materials, delayed shipments, and rejected shipments are just a few manufacturing headaches importers face. A flexible supply chain enables quick responses to challenges and opportunities.
According to the CSCMP's Supply Chain Quarterly, these are four important questions to ask when working toward a flexible supply chain:
Are there other products or services that could reduce cost and enhance client relationships? Are there any new markets that we could enter?
Could changes to component manufacturing improve delivery times or provide a more responsive design or greater customization?
Does information flow freely and in real-time throughout the supply chain?
Do our suppliers have the right capabilities?
Dive deeper into the tariff war's impact on Vietnam in the link below.
Can Vietnam Avoid Getting Hurt in the Crossfire When the Tariffs Are Flying? - Brook Larmer, New York Times
---
We're constantly scanning the web for top manufacturing stories and news. If you'd like to submit an article for consideration for our weekly Best in Manufacturing, send us a message and let us know.