Here are the most common EU lighting label requirements and how pre-shipment inspection can help you identify any issues.
Introducing lighting products into the European market is a huge step for any importer. The EU continues to lead the global LED lighting market with 31 percent share. But EU regulations can be a big hurdle for less-experienced businesses looking to import lights.
Meeting lighting label requirements, in particular, can be challenging, as suppliers in Asia don't always understand lighting labels for overseas markets.
It's a common misconception that the original manufacturer of a product, not the importer, is liable for EU compliance. But in fact, as the importer of the product, you're responsible for ensuring EU compliance and will be held accountable for any noncompliance.
From a ban on marketing products, to permanent removal of products from the market, noncompliance can be deadly for lighting importers.
Verifying lighting labels can help take you one step closer to full EU compliance. So let's look at the most common EU lighting label requirements and how pre-shipment inspection can help you identify any issues and ensure compliance (related: Sample Inspection Report – Household Lamps).
CE mark compliance for lighting products
You've probably seen the letters "CE" on a product before. The CE (Conformité Européenne) mark is the primary way for manufacturers to show compliance with EU requirements. Importers and consumers alike are likely familiar with this mark, as it appears on many different types of products, including lighting.
The CE mark itself doesn't represent any individual EU directive. But rather, the CE mark signals that the product complies with all applicable EU directives for that product.
The CE mark must be accompanied by a Declaration of Conformity and a technical file, which we'll detail more below. You cannot simply affix your product with the CE mark without first providing these documents.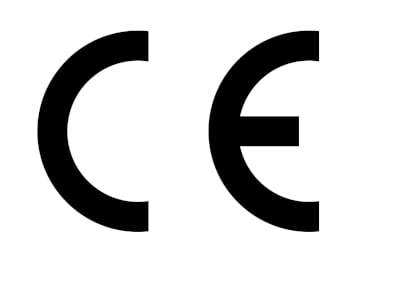 When you're ready to label your lighting product, the CE mark must be:
Visible, legible and impossible to remove
At least 5 mm in height
Make sure any product drawings and designs you send your supplier include the CE mark in its correct dimensions and position on your product. The manufacturer must permanently apply the CE mark to the product. Simply adding a sticker to your product with a printed CE mark is insufficient.
Declaration of Conformity
In addition to the CE mark, importers must provide a Declaration of Conformity and a technical file to affirm a product fully complies with EU regulations.
The Declaration of Conformity (DoC) is a document stating that the item in question is compliant with all applicable EU directives. The DoC should list the applicable EU directives the product complies with.
For lighting products, the DoC will need to state compliance with four specific directives:
Your Declaration of Conformity must include: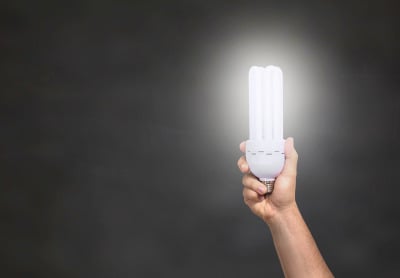 Name and address of the manufacturer
Details of the product (model, description and serial number, where applicable)
List of applicable directives and standards for the product (e.g. above four directives), with a statement declaring that the product complies with all relevant requirements
Signature, date, name and position of the responsible person
Details of the authorized representative within the European Economic Area (EEA), where applicable
Technical file
In addition to the Declaration of Conformity, lighting importers must provide a technical file that provides information on the technical aspects of their product. The technical file should at minimum include:
Item description
Circuit diagrams
Component schemes
List of standards applied in full or in part
Part lists
Testing reports (in house or from a third party)
Copies of markings and labels
User instruction copies
Your supplier can often provide technical files to satisfy EU requirements. But be sure to notify your supplier of this requirement before placing an order, as some suppliers might refuse to provide the paperwork later. They might cite the need to "protect their IP" as a way of evading the requirement, for example.
You can issue the DoC and technical file without third-party verification of compliance for the above four directives. But the European Commission expects importers to verify "the manufacturer outside the EU has taken the necessary steps to allow the product to be placed on the EU market".
And remember, you'll be held responsible for any noncompliance found with the products, even if your supplier declares compliance.
Verifying compliance through a third party can reduce your risk and ensure your products comply with all relevant directives. And if your supplier can't or won't help provide necessary paperwork, you may need to consider looking for another supplier to import lights into the EU.
The Waste Electrical and Electronic Equipment label (WEEE)
Another key marking to import lights into the EU is the Waste Electrical and Electric Equipment label (or WEEE for short). This mark is mandatory for all electrical and electronic equipment under the European Directive 2012/19/EU.
This requirement is part of a wider initiative to ensure importers provide adequate information to guide consumers on recycling, sorting and handling of certain products. But the WEEE directive is not part of the requirements for the CE mark, and you don't need to include it in the DoC for your products.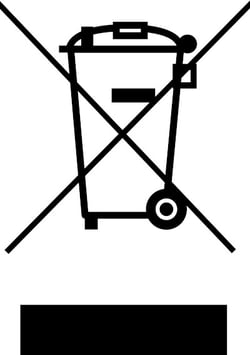 You can see the WEEE marking here as an "X" over a trash bin. To comply with WEEE requirements:
The mark must be at least 7 mm tall and accessible, durable, legible and indelible
The mark can be embossed onto the product, printed onto it or applied as a sticker
The name or brand of the producer or the importer must also be found on the product
As of August 2018, lighting manufacturers who market and import lights into the EU are also required to establish a recycling program as part of the initiative.
This involves registering with the National Authority in the relevant Member State where you're marketing your products. Then Member States will authorize private companies to collect and prepare materials for recycling.
Collection companies will receive the electrical waste, log the weight of materials collected and note the your business name so you receive appropriate credits. Collection companies will maintain an inventory of material collected on your behalf. You must then submit this data each year in each Member State where you market your products.
Energy-related products label (ErP)
The last key labeling requirement to consider when importing lights into the EU market is the energy-related products (ErP) label, or energy label. This is a mandatory requirement for most electrical products under Regulation (EU) 2017/1369, which repealed Directive 2010/30/EU.
This label helps customers choose products that consume less energy and thereby save money on energy costs. The label is mandatory for most electronic products, including LED, household and fluorescent lamps, bulbs and luminaires. "Lamps" under the EU's definition include:
Filament lamps
Fluorescent lamps
High-intensity discharge lamps
LED lamps and LED modules
Meanwhile, "luminaire" refers to an apparatus which distributes, filters or transforms the light transmitted from one or more lamps.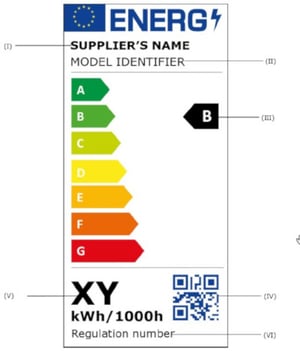 The energy efficiency rating system rates these products from "A" to "G" as a measure of luminous flux to the level of power consumption. Class A (green) is the most energy efficient, while Class G (red) is the least. A+, A++ and A+++ grades were previously added to the top of the scale but will be phased out in 2021 for greater consumer clarity.
You can find an official label generator on the EU website—no need to design one from scratch. Requirements for the label include:
Minimum dimension for lamps: 36 x 76mm
Minimum dimension for luminaires: 50 x 100mm
Supplier's name or trademark
Supplier's model identifier (alphanumeric code)
Energy efficiency class at the head of the arrow (on A to G scale)
Energy consumption in kWh per 1,000 hours
For luminaires, a written sentence in any EU language with the bulb compatibility of the luminaire
The label size may be reduced in some cases where the packaging is not large enough to contain it in its standard size.
As of January 2019, all importers subject to this regulation must also register their products in the European Product Database for Energy Labelling before distributing to the EU market. A QR code will also be part of the new label to link customers to the product database.
How pre-shipment inspection can help importers verify lighting labels
Clearly you need some preparation if you want to ensure your lighting products are EU compliant. And it's vital that your supplier follows these lighting label requirements in production, or you'll face the consequences of noncompliance.
Hiring a third-party inspection service can give you eyes and ears on the ground to verify whether your lighting labels meet EU requirements (related: How a Convenient Online Platform Simplified Lighting QC for Seynave [case study]).
While on site, the inspectors will:
Check lighting labels and packaging based on your provided requirements and artwork
Visually check your products to ensure they meet your product specifications
Conduct relevant on-site testing to confirm product function and electrical safety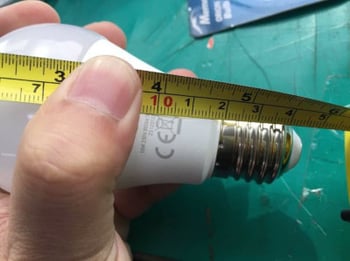 Unlike some other quality control tests, checking lighting labels doesn't require any extra equipment. The inspector will simply need to refer to your specification and use a tape measure to ensure the label matches your specified dimensions.
Include your labeling requirements, diagrams and examples in your QC checklist to ensure the inspector references the right standard.
Inspectors will also take photos of all the lighting labels on the product and packaging for your reference. They'll typically only need to check a few production units to verify whether they meet labeling requirements, as the printing and labeling process is usually standardized across production.
You'll receive a report from your inspection team detailing the inspection findings upon completion. Your report will typically include a table like the one below outlining the label measurements of inspected production samples:

Direct your supplier to address any labeling issues found during inspection before shipment. Resolving any issues before shipment is essential because you'll be liable for any remaining in the products once they arrive in the EU.
Conclusion
Understanding EU requirements for your lighting products is a key prerequisite to importing lights into the EU market. Failure to satisfy the requirements can lead to consequences ranging from the loss of your CE mark to having your products banned in the EU market.
Once you fully understand the labeling requirements, it's then vital to ensure your manufacturer follows them. While manufacturing capabilities in Asia have certainly grown over the years, most manufacturers still have a limited understanding of overseas requirements. It's up to you as the buyer to set expectations so your products are fully compliant.
A third party can assist you in this by drafting quality control checklists that address the relevant requirements and inspecting your products to ensure your lighting labels comply.
---
Download our sample report for household lamps below to see how pre-shipment inspection can help you ensure EU compliance!