Learn about the Japan-South Korea trade dispute, eBay's new delivery service and fraudulent Chinese trademark applications in the U.S. in this week's roundup.
Best in Manufacturing – August 11, 2019
Each Sunday, we publish a list of top articles and other content related to manufacturing in areas like quality control, product development, supply chain management, sourcing, auditing and law.
1. Japan-South Korea trade dispute threatens electronics industry
Asian manufacturing hubs are already struggling under the tensions of the U.S.-China trade war. But now, a dispute between Japan and South Korea might make things worse.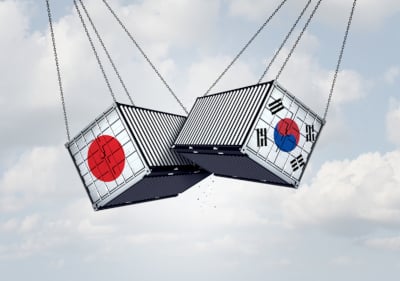 A historical dispute regarding Japan's compensation to Korean World War II forced labor victims is now affecting trade relations between the two countries. South Korea is seeking greater compensation, while Japan claims compensation was already settled in a post-war treaty.
In response, Japan has tightened its exports of high-tech chemical materials used in smartphone displays and chips to South Korea. Japanese and South Korean companies on both sides of the supply chain will bear the impact of the dispute.
Aside from Asian brands, U.S. brands with manufacturing plants in South Korea will also feel the impact. Rajiv Biswas, Asia-Pacific chief economist at consultancy IHS Markit, said:
If supply constraints arise in South Korean memory chip production, the price of memory components could significantly increase due to the inability of the other memory suppliers to meet global demand.
Japan cuts supply of semiconductor chemicals to its neighbor
Japan's escalation of the dispute is a big blow to South Korea's smartphone manufacturing industry. Here's how the dispute has arisen so far:
October-November 2018: South Korea's Supreme Court rules that Japan's Nippon Steel & Sumitomo Metal Corp. and Mitsubishi Heavy Industries must compensate Korean victims of wartime forced labor.
July 4th, 2019: Japan escalates dispute by restricting exports of three chemicals to South Korea: fluorinated polyimide, resist and hydrogen fluoride.
August 2nd, 2019: Japan removes South Korea from its "whitelist" of trustworthy countries, stripping South Korea of some preferential trade benefits. South Korea retaliates later that day by removing Japan from its own whitelist.
Japanese exporters must now seek government permission each time they want to ship any of the three restricted chemicals to South Korea—a process that takes about 90 days.
The restricted materials are crucial components for memory chips, microprocessors and integrated circuits. South Korea relies on these chemicals to manufacture semiconductors and display screens.
Japan's decision to remove South Korea from its whitelist won't go into effect until August 28th. But once effective, South Korean companies will have to seek individual approval for shipments of 1,120 strategic items from Japan. And Japanese exporters will face more paperwork and on-site inspections before they can secure permits for exporting to South Korea.
Under Japan's restrictions, South Korean factories could fail to meet production deadlines, causing a rippling effect throughout global electronic supply chains.
Trade barriers are a lose-lose battle for the electronics industry
This trade dispute is bad news for the electronics industries in South Korea and Japan.
South Korean manufacturers have limited choices for sourcing key materials outside of Japan. Japan produces around 90 percent of the world's fluorinated polyimide and resists, as well as 70 percent of the world's hydrogen fluoride. The sudden shortfall in supplies may lead to quality issues as companies seek alternatives.
The dispute affects Japan's own industries as well. Many Japanese companies buy semiconductors from South Korea to manufacture electronic products. South Korean semiconductor giants Samsung Electronics and SK Hynix supply 61 percent of components used in memory chips globally. If there's a production delay in South Korea, Japanese companies could face delays too.
And Japanese chemical producers could face declining profits if they can't find new buyers outside of South Korea. Waqas Adenwala, Asia analyst at consultancy The Economist Intelligence Unit, said:
South Korea is an important export market for Japan. The producers of materials used in manufacturing of semiconductor devices will struggle to find new buyers.
Compared to the U.S.-China trade war, economists "do not expect [Japan-South Korea] trade tensions to escalate to such an extent that businesses are severely affected".
Many companies have stockpiled inventory to offset restrictions in the short term. But South Korean President Moon Jae-in has already warned South Korean companies to prepare for a "prolonged" dispute.
Follow the link below to learn more about how the Japan-South Korea dispute is affecting the electronics industry.
The Japan-South Korea dispute could push up the price of your next smartphone – Yen Nee Lee, CNBC
2. eBay launches new delivery service to compete with Amazon FBA
eBay boasts more than 180 million shoppers who spend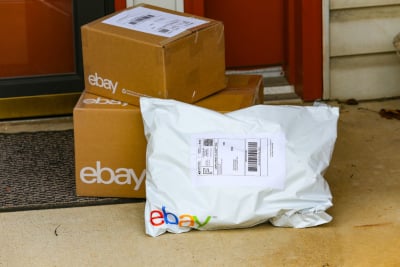 $100 billion a year on the platform. That may sound like a lot, but Amazon now boasts three times more sales.
For a long time, eBay took a hands-off approach to order fulfillment and left package delivery up to its sellers.
But customers now pay more attention to the speed and quality of delivery when shopping online. Many consumers have complained over the years about late deliveries and broken packages on eBay's platform.
As a solution, eBay is now launching its Managed Delivery Program to optimize end-to-end fulfillment.
eBay sellers deliver about 1.5 million packages in the U.S. daily. Rather than launch their own warehouse network, eBay aims to use this collective volume to earn discounts from logistics partners for warehouse space, packing and delivery.
With a cheaper service, eBay also plans to win back some of its sellers who are currently using Fulfillment by Amazon (FBA). The new program will launch in 2020.
New program benefits mid-sized eBay sellers
The new service will likely appeal to mid-sized sellers who want to outsource their delivery operations from their home to a warehouse. David DiBartolomeo, an eBay seller working out of his home who participated in the program's trial, says that his sales have already increased 35 percent with the program.
Sellers can benefit in many ways from this new Managed Delivery Program:
Lower fulfillment price: Working with logistics partners, eBay can offer its sellers a competitively lower fulfillment price. The price of the program will be cheaper than Amazon FBA.
Faster shipping: The Managed Delivery Program's end-to-end fulfillment service promises faster delivery with greater reliability. Most products will be delivered within two to three days.
eBay branded packaging: Sellers won't have to buy their own packaging supplies. The program's packaging will be eco-friendly and specially designed for Managed Delivery orders.
More sales: The improved shipping service can attract more customers and increase sales for sellers.
Also, eBay will shift the responsibility for products lost or damaged in shipping from its sellers onto itself.
eBay's Chief Executive Devin Wenig said of the program:
We're offering our millions of sellers a value proposition no one else can. We'll rapidly win market share overseeing delivery of our own orders.
eBay's competitor Amazon goes over budget for one-day shipping
eBay isn't the only ecommerce platform that's improving its fulfillment and shipping capabilities. Shopify Inc. announced last month its own logistics service. And Amazon is investing $800 million to transition its Prime two-day shipping service to one-day shipping.
Offering cheaper delivery services while keeping costs within budget isn't easy. And Amazon has now found itself over budget for its one-day Prime shipping service.
Amazon recently revealed that transitioning its Prime shipping time from two days to one has cost more than the expected $800 million. Amazon's CFO Brian Olsavsky​ said the company will "digest" the expenses and proceed towards its goal:
We expect we'll be working through that for a number of quarters, but when the dust settles, we will regain our cost efficiency over time.
Amazon says the increase in expenses is mainly caused by three adjustments:
Transitioning warehouses
Buying more inventory to store in warehouses
Moving the inventory closer to customers
Olsavky says the company will continue to add carriers and delivery partners to expand its capabilities. But eBay's new program could cause further losses for Amazon.
Follow the link below to learn more about eBay's new Managed Delivery Program.
eBay Is Planning New Shipping Service to Challenge Rival Amazon – Spencer Soper, Bloomberg
3. U.S. struggles to cope with surge of fraudulent Chinese trademark applications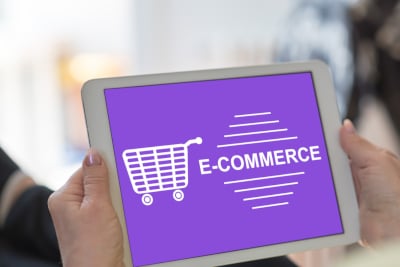 "Made in China" used to be synonymous with counterfeit goods. Counterfeits had damaged Chinese ecommerce platforms' reputations and hurt consumers' confidence in buying Chinese goods.
But China announced new ecommerce laws and policies to punish counterfeit manufacturers in 2018. And now it seems that Chinese counterfeits might be a more serious problem in the U.S. than in China itself.
A recent U.S. House Judiciary Committee hearing revealed that U.S. ecommerce sites and the U.S. Patent and Trademark Office (USPTO) are performing poorly in purging counterfeits online. Members of the Subcommittee on Courts, Intellectual Property, and the Internet expressed concern at the hearing over the rise in Chinese fraudulent trademark applications in the U.S.
Committee Ranking Member Rep. Doug Collins, R-Georgia, said in his opening statement:
We learned Alibaba's anti-counterfeiting policies and programs are significantly more effective than any of their U.S. counterparts. I find it shocking U.S. platforms are so far behind.
Are counterfeit goods now a bigger problem for U.S. ecommerce sites than Chinese sites?
Chinese trademark applications increase by 1,200 percent
The USPTO has struggled to verify trademark claims in recent years due to an overwhelming increase in Chinese trademark applications.
Chinese trademark filings in the U.S. rose 1,200 percent from 2013 to 2017. Chinese companies now form the largest proportion of foreign companies filing trademarks in the U.S. About 11 percent of all trademark filings in the U.S. are now from Chinese companies, while Canadian filings are a distant second at 2 percent.
Due to this overstretching of the USPTO's resources, it's become easier for counterfeit Chinese products to enter U.S. ecommerce marketplaces. Attendees at the hearing called out the USPTO for their lack of authority in revoking fraudulent registrations after they're issued.
The USPTO can only revoke registrations before they are issued. Once a registration has been granted, the USPTO relies on third parties to challenge registrations via cancellation or opposition proceedings.
Appealing a fraudulent trademark can cost anywhere from $95,000 to $500,000. Many small companies can't afford such an expense, preventing them from challenging registrations.
Jeanne Fromer, a professor at the New York University School of Law, urged the office to improve its rules for auditing registrations:
Many small businesses will throw up their hands and give up. The USPTO should have authority to take more initiative to audit crowded parts of the register.
The USPTO has reformed their policies in recent years to reduce fraudulent applications. Foreign applicants must now be represented by a U.S. licensed attorney to file and prosecute its U.S. application, for instance.
But the hearing revealed the office still needs to reform its operations further to deal with the influx of Chinese applications.
Ecommerce platforms fail to remove counterfeit goods before sale
Once counterfeit goods reach online platforms, both the platform operators and the USPTO have struggled to remove goods before sale.
Representative Martha Roby (R-AL) said at the hearing that 20 of 47 phone chargers purchased by the Government Accountability Office from third-party sellers online were counterfeit. She also said some of the defective chargers could catch fire or electrocute consumers.
Amazon launched Project Zero earlier this year to fight counterfeits, but representatives at the hearing called out the company for lagging behind Alibaba. Representative Doug Collins (R-GA) called out Amazon for their absence at the hearing:
I know that Amazon, eBay and Walmart are listening. We cannot hide from this discussion. I need them to be part of these discussions at the table. The way you solve problems is not by avoidance but by actually taking the issues on.
In comparison, Alibaba claims it removed 97 percent of counterfeit listings on its site before any sales took place in 2017. And Alibaba announced earlier this year it will link its Intellectual Property Protection Platform to China's Internet Courts using blockchain technology, empowering stronger litigation.
Follow the link below to learn more about how U.S. ecommerce platforms and the USPTO are struggling to address Chinese counterfeit goods.
US e-commerce platforms struggle to rein in counterfeit products – Morgan Forde, Supply Chain Dive
---
We're constantly scanning the web for top manufacturing stories and news. If you'd like to submit an article for consideration for our weekly Best in Manufacturing, send us a message and let us know.