Read about Malaysia's plastic waste dumps, Amazon Prime's one-day delivery and ethical problems in fast fashion in this week's roundup.
Best in Manufacturing – May 12, 2019
Each Sunday, we publish a list of top articles and other content related to manufacturing in areas like quality control, product development, supply chain management, sourcing, auditing and law.
1. Malaysia is America's new plastic waste dumping ground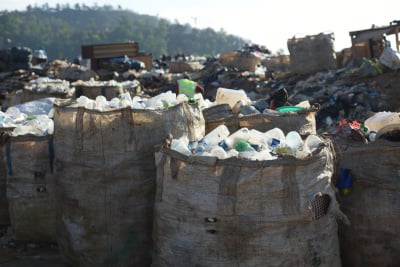 Malaysia has become America's new "dumping ground" since the Chinese government banned nearly all foreign plastic waste last year.
China had been accepting the world's plastic trash for nearly two decades. But in order to protect its environment, China announced an import ban on "foreign garbage" in 2018.
Due to China's ban, many scrap dealers rerouted exports to other developing countries in Southeast Asia. And Malaysia became the top destination for U.S. plastic waste.
Malaysia imported more than 192,000 metric tons of plastic waste in the first 10 months of 2018—a 132 percent jump from 2017, according to federal government data. But its existing recycling facilities haven't been able to keep up, leading to the formation of many illegal recycling facilities.
Yeo Bee Yin, Malaysia's Minister for Energy, Technology, Science, Climate Change, and Environment (MESTECC), summed up the rising problem to National Geographic:
I hate seeing my country as the dumpsite for the developed world ……You [the U.S.] have to mind your waste in your own backyard. Especially the non-recyclables.
Illegal "recyclers" in Malaysia are disposing of recyclable materials
Vincent Cheong, a supervisor of a legal recycling operation in Malaysia, has a simple explanation for the rise in illegal plastic recycling facilities: "rubbish is money".
According to Malaysia's Housing and Local Government Minister, Zuraida Kamaruddin, Malaysia's plastic waste industry is worth an astonishing RM30 billion (approximately $7.2 billion). But now illegal plastic recycling plants that don't have the license to import and process plastic waste are "digesting" the excess plastic waste.
Different waste has different value. Paper, tin and aluminum waste can be easily recycled into making new products. But some non-bottle mixed plastics can't be easily recycled, as they are either too expensive or too difficult to recycle.
Illegal recyclers often find it "most profitable" to simply dump or burn less valuable plastic.
The Ecology Center in Berkeley, California tracked the GPS location of plastic exports from their facility and found that many of the recyclable plastics weren't actually recycled abroad. Local environmental investigators in China and Malaysia found signs of the plastic dumped in ravines and waterways instead.
The illegal recycling plants are already causing environmental hazards in Malaysia. Some illegal plants have started burning plastics, for instance, emitting an unbearable smell for local residents.
Tan Ching Hi, an environmental activist, said:
The smoke and the smell from the factories was too much for us to bear. Even in the middle of the night, there was no respite.
Malaysia's path out from under the plastic waste dump
The Malaysian government is now taking action to shut down illegal recycling plants and find more options to recycle waste properly.
The government inspected 300 recycling plants just last month. The MESTECC says 148 of them were found in violation to the extent they were temporarily or permanently shut down.
Malaysia does have many legal plastic waste recycling plants. And the government plans to build more capacity to process rising plastic imports, as well as implement more rules to regulate the recyclers. Minster Yin said:
We have 400 legal plastic waste recycling factories in the country, but it does not mean they [all] are adhering to the law, so monitoring has to be conducted at least twice a year to ensure their continuous compliance.
The government has also added 18 new stringent conditions to the online application process for obtaining approved permits to import plastic waste.
Beware that waste you ship abroad might not be recycled and reused as you intended. How might you keep resources in use for as long as possible and create less overall plastic waste instead?
Follow the link below to learn more about the growing influx of plastic waste into Malaysia.
China's recycling ban has sent America's plastic to Malaysia. Now they don't want it -- so what next? – Ivan Watson, Jo Shelley, Sugam Pokharel and Ushar Daniele, CNN
2. Fast and furious: Amazon launches one-day delivery war
Amazon recently announced it will accelerate its free shipping options for Amazon Prime members from two-day to one-day shipping.

Amazon Prime is a paid service that Amazon offers to its account holders. For $119 dollars a year, customers can enjoy fast and free delivery, free online digital content and many other benefits.
Amazon will invest $800 million this year to achieve its one-day shipping goal. Amazon will spend the funds on improving warehouses and delivery infrastructure during the second quarter of this year.
Amazon Prime's two-day shipping service has become a golden standard in the ecommerce industry since its inception back in 2005.
Most ecommerce sites can now offer free two-day shipping services. Amazon hopes halving delivery times will attract more customers and help Amazon compete with brick-and-mortar retailers who boast large retail footprints.
How can one-day shipping change the game?
Amazon raised the price of an annual Prime membership in 2018 from $99 to $119, and the monthly membership from $10.99 to $12.99. With a price increase comes the inevitable question of whether the service's value still matches its price tag.
With the boom in online shopping over the past decade, customers have much more choices for where to shop online than ever before. Free two-day shipping used to be an edge, but consumers' expectations have officially been reset. Customers are expecting faster ways to get their products.
Cutting shipment times by one day can help Amazon minimize delivery-related customer complaints and increase overall customer satisfaction.
Amazon calculates shipping time from the time they ship the order, not from when the customer places an order online. This policy has caused confusion among Amazon Prime subscribers who expect their shipments faster.
Amazon CFO Brian Olsavsky said of the one-day shipping strategy:
We've already started down this path. We've, in the past months, significantly expanded our one-day eligible selection and also expanded the number of zip codes eligible for one-day shipping.
Same-day delivery is the next frontier
But the next revolution of delivery might lie in same-day shipping, not one-day shipping. And brick-and-mortar retailers might have an upper hand in that fight.
Amazon's retail competitors Walmart and Target saw their shares drop after the announcement. But Walmart and Target are also launching similar plans to save their threatened market share.
Walmart hinted at its future plans on their official Twitter account following Amazon's announcement:
One-day free shipping…without a membership fee. Now THAT would be groundbreaking. Stay tuned.
Target launched a non-membership two-day shipment option during the holiday season last year. What's more, Target also offers an in-store pickup service. And 75 percent of the U.S. population lives within 10 miles of a Target store.
Brick-and-mortar retailing has returned to complement and support online retailing. Traditional retailers like Walmart and Target have their own advantages in one-day and same-day shipping—namely their extensive store network throughout the continental U.S.
These retailers can use their brick-and-mortar advantage to offer a buy-online-and-pickup-in-store service. Such services are particularly popular for perishable goods, like groceries, where product freshness is key.
Retail equity analyst John Zolidis said of the brick-and-mortar advantage:
…both retailers already have product stored within a short driving distance of the vast majority of the U.S. population in their respective 1,000's of stores. Further, both retailers are offering not just delivery but various options for buy online pickup in store.
Retailers are already racing to come close to Amazon's shipping prices and speeds. Amazon's upgrade will squeeze competition even further. Follow the link below to learn more about Amazon's improvements to its Prime delivery service.
Suddenly, free 1-day shipping is the new normal – Daphne Howland, RetailDive
3. Fast fashion business model dooms ethical fashion efforts
Fashion is a glamorous industry on the outside. But the blood and sweat behind this vast industry often goes unseen. The social and environment cost of fast fashion is far greater than we might think.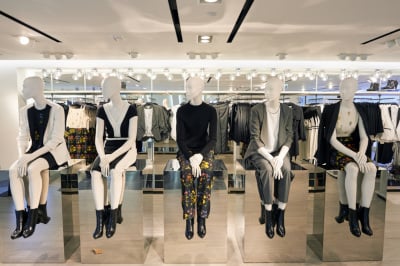 The essence of fashion is to get rid of the old and bring forth the new. Yet this veneer of beauty comes at the cost of huge energy consumption and waste, heavy pollution and unethical labor practices.
"Ethical fashion" is a term that has attracted interest among consumers in recent years. Ethical fashion mainly focuses on reducing the social and environmental impact of fashion in design, production, retail and purchasing.
Ethical fashion is a worthy and laudable goal. But this featured article suggests brands are treating the symptoms of a disease, rather than the disease itself, when it comes to ethical fashion. And the fast fashion business model is still the primary culprit for that disease.
According to a recent report from Human Rights Watch (HRW):
Low purchase prices and shorter times for manufacturing products, coupled with poor forecasting, unfair penalties, and poor payment terms, exacerbate risks for labor abuses in factories.
Fast fashion costs more than you think
Fast fashion brands must continuously market new items to keep up with trends and cater to popular tastes. And in order to meet such high demand, something ultimately ends up being sacrificed—whether that's social impact, environmental impact, cost or time.
For most brands, they prioritize manufacturing items cheaply and quickly. Brands are currently using every method available to lower their manufacturing costs and shorten turnaround times.
But the fast fashion business model is undermining ethical fashion efforts. Many brands implement corporate social responsibility programs and set strict standards for suppliers to maintain compliant working conditions. But Human Rights Watch said in their report:
Many brands demand their suppliers maintain rights-respecting workplaces, but then incentivize them to do the opposite.
Fast fashion brands typically:
Don't own the factories that make their clothes: Brands outsource work to independent producers, who may then subcontract to other facilities with worse conditions
Can change factories easily based on price: Many brands frequently change suppliers, limiting the long-term impact they have on a factory's conditions
Are continually pushing to hasten production to meet changing trends: Brands set tight deadlines with suppliers with that are sometimes impossible to meet ethically
So to get more orders from brands, factories may exploit workers to meet their deadlines and price demands.
And buyers sometimes suddenly demand larger quantities or make other changes to an order when production is already underway. This leads to factory owners forcing staff to work overtime without extra pay to meet deadlines.
Environmental cost of fast fashion
The "cheap, flexible and fast" fast fashion business model is also harming the environment.
The business model means that consumers are buying clothing more often and disposing of it quicker. Believe it or not, the textile and apparel industry is the world's second largest polluter after the oil industry.
According to a report from Quantis, the apparel industry's production impact on climate change increased 35 percent between 2005 and 2016. And the percentage is projected to steadily rise by 2020 and 2030.
Fabric dyes are one of several factors in the fashion industry's pollution problem. In order to achieve rich colors and durability, manufacturers often prefer to use artificial dyes over natural ones. These artificial dyes require many chemicals that can be harmful to the environment.
Take manufacturing giant China as an example. A research report from China Water Risk shows that 72 toxic chemicals in China's water originate solely from dyeing and 30 of these cannot be later removed from the water.
The demand for ethical fashion is growing. More consumers are questioning the social and environment cost of a garment during their purchasing process.
But Martin Buttle of the Ethical Trading Initiative (ETI) says the real responsibility lies with brands:
If you're provided with a cheap garment, most people are just going to buy it without thinking about it… we shouldn't put too much of the emphasis on the consumer to do the work for the brands.
Follow the link below to learn more about ethical problems in fast fashion industry.
Can cheap fashion ever be ethical? – Marc Bain, Quartz
---
We're constantly scanning the web for top manufacturing stories and news. If you'd like to submit an article for consideration for our weekly Best in Manufacturing, send us a message and let us know.