Learn about Vietnam's trade deal with the EU, Chinese furniture makers' struggles and CPSC compliance issues with helmets in this week's roundup.
Best in Manufacturing – July 21, 2019
Each Sunday, we publish a list of top articles and other content related to manufacturing in areas like quality control, product development, supply chain management, sourcing, auditing and law.
1. Vietnam signs EU trade deal amid Trump's tariff threat
Vietnam has been a key winner in the U.S.-China trade war. Many U.S. and Chinese companies are leaving China for Vietnam to avoid tariffs. As a result, Vietnam's GDP has surged 7.9 percent in the wake of the trade war.
Vietnam remains one of the fastest growing economies in Asia. But President Trump has recently threatened to hike tariffs on Vietnamese products, claiming Vietnam is "almost the single worst abuser of everybody".
Amid Trump's threat, Vietnam just teamed up with the EU and signed a free trade agreement with the bloc. This deal will eliminate 99 percent of tariffs on goods imported from Vietnam to the EU.
The deal signals a great step in Vietnam's progress into the global market. Vu Tien Loc, President of the Vietnam Chamber of Commerce and Industry, said:
If the EU succeeds in cooperating with Vietnam in the framework of EVFTA, the EU will convince the whole world about the feasibility of fair cooperation between developed and developing countries.
Vietnam strengthens its trade ties with the EU
Vietnam is already the EU's second largest trading partner in Southeast Asia behind Singapore. The country exported $42.5 billion worth of goods and services to the EU in 2018.
To further boost trade, the EU signed the EU-Vietnam free trade agreement (EVFTA) with Vietnam in Hanoi on June 30th, 2019. The EVFTA is the EU's first comprehensive trade agreement with a developing country in Asia.
The EVFTA will benefit both Vietnam and the EU. Vietnamese officials said on Sunday that the EVFTA will boost EU exports to Vietnam by 15.28 percent and exports from Vietnam to the EU by 20 percent by 2020.
Once implemented, the elimination of trade barriers will boost exports of Vietnamese products like:
Agricultural products
Wood products
Textiles
Footwear
Furniture
Automobile products
Besides export growth, the EVFTA is expected to create about 146,000 jobs per year for Vietnam. Some also predict the deal will increase EU's gross national income by €29.5 billion.
Lawmakers on both sides still need to approve the deal. And approval is expected by the end of this year.
Trump takes aim at Vietnam as next tariff target
Vietnam has long been a strong trade partner to the U.S. The U.S. imported almost $49.2 billion dollars of goods from Vietnam in 2018.
But the U.S. trade deficit with Vietnam has been steadily rising in recent years, increasing by 253 percent since 2010. As a result, President Trump said Vietnam could be his next tariffs target:
A lot of companies are moving to Vietnam, but Vietnam takes advantage of us even worse than China. So there's a very interesting situation going on there.
The Trump administration has also taken aim at Vietnam for allowing companies to circumvent U.S. tariffs within its borders.
Since the trade war started, many companies are using Vietnam as an illegal tariff workaround. Some companies are circumventing tariffs by manufacturing their products in China and exporting them from Vietnam. They claim Vietnam as the product's country of origin but only handle minor assembly and repackaging there.
These moves violate U.S. antidumping and countervailing duty laws. A company must significantly alter a product in a country to legally claim that country as the product's country of origin.
The U.S. has already fined some companies for transferring goods via Cambodia to dodge tariffs. And in early July, the U.S. Commerce Department announced it will impose up to 456 percent duties on steel imported from Vietnam.
The "Made in Vietnam" steel products were found to have actually been produced in South Korea or Taiwan but shipped to Vietnam for minor processing. Manufacturers then exported the steel from Vietnam to the U.S. without paying tariffs levied on South Korean and Taiwanese steel.
While tensions with the U.S. heat up, Vietnamese officials seem content to strengthen their nation's bonds with other trading partners like the EU for now.
Follow the link below to learn more about Vietnam's trade deal with the EU.
Trump threatened Hanoi on trade, but Vietnam just teamed up with the EU on a big new deal – Grace Shao, CNBC
2. Chinese furniture makers struggle under Trump's tariffs
The U.S. is by far the biggest importer of furniture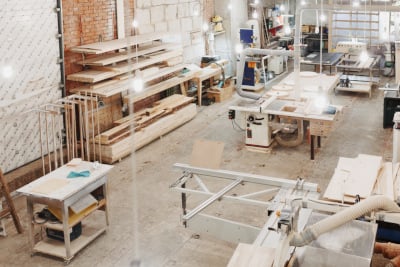 worldwide, and China has been its main supplier for many years. China exported $11.3 billion worth of furniture to the U.S. in 2017—48 percent of the U.S.' total furniture imports.
On China's side, Chinese furniture makers shipped around 10 percent of their total exports to the U.S.
But this year the trade war has badly hit China's exports. Out of all industries, China's furniture industry is the most affected by tariffs, according to China International Capital Corp.
Many U.S. companies are placing fewer orders or even turning to manufacturers in other countries to avoid tariffs. Xi and Trump's meeting last month gave hope for a trade deal to reduce tariffs.
But some Chinese furniture manufacturers are still worried about their future as they wait for a comprehensive trade deal. And yet, some other furniture makers are optimistic about the potential of the Chinese domestic furniture market.
"A 25 percent tariff is a death sentence to Chinese furniture companies"
After the U.S. raised tariffs on furniture from 10 percent to 25 percent on June 1, the tariffs have choked Chinese furniture makers' profits. Some companies are working to lower production costs, while others are holding out for a trade deal.
Jason Furniture is a Chinese furniture maker that earns 38 percent of its revenue from exporting. Since the beginning of this year, the company's Shanghai shares have slipped 1 percent. And the company's first quarter profits only increased by 10 percent, compared to 20 percent the year before.
Jason Furniture has been planning to move manufacturing lines out of China and diversify its customer base to minimize the impact of tariffs. Jason Furniture has also been simplifying its manufacturing process to lower its production costs and further offset tariffs.
In the meantime, Zhejiang-based Haining Mengnu Group is counting on a trade deal. Mengnu is highly reliant on the U.S. market, exporting about $291 million worth of sofas and other home furnishings to the U.S. annually.
Mengnu's net profit margin on exports is only about five percent. The company has limited flexibility to adjust prices amid tariffs and "cannot afford a further price reduction".
Zhang Xiaojun, Mengnu's senior sales manager, says the Chinese furniture industry urgently needs a trade deal before it's too late:
We are expecting the governments to reach a deal soon and scrap the tariffs imposed on our products. After all, it is a do-or-die game for Chinese furniture companies.
Chinese domestic furniture market might overtake exports
The good news for Chinese manufacturers is the Chinese domestic furniture market has experienced healthy growth in recent years. Feng Rong, manager of a Chinese wooden furniture manufacturing company, said domestic demand can offset some of the effects of tariffs:
China is still a growing market with millions of people looking to improve living conditions. Some 10 percent of the total output can be digested in the domestic market over the next two or three years.
Rapid urbanization and a growing middle class are driving higher consumer demand for furniture in China. Furniture makers are gradually shifting their focus to second- and third-tier cities in response.
For home furniture, custom-made kitchen cabinets and wardrobes are in high demand. China's skilled workers and large-scale facilities enable furniture makers to offer personalized designs. Customers can design their own unique furniture according to their requirements and preferences.
The demand for children's furniture is also rising since China ended its one child policy. Wooden children's furniture makes up almost 90 percent of the market, followed by plastic furniture.
There's also a huge increase in demand for office furniture in China. Both international brands and domestic corporations are establishing offices in China, raising demand for office furniture. The total "Grade A" office space in Shanghai is expected to reach 11 million square meters by 2020, surpassing Hong Kong for the first time as the largest office market in China.
Furniture businesses in China should pay close attention to latest trade policies and adjust market strategies accordingly.
Follow the link below to learn more about how U.S. tariffs affect China's furniture industry.
China's furniture makers hope for trade war's end as US orders 'disappear' following the 25 per cent import tariff – Daniel Ren and Zhang Shidong, South China Moring Post
3. Bicycle riders beware! Unsafe helmets are widely available online
When most consumers buy a bicycle helmet, they think they're making a responsible buying decision to protect their safety. But what if helmets you buy or sell on the market aren't actually safe?
In a recent investigation, Consumer Reporters found that unsafe helmets are widely available on online marketplaces. These unsafe helmets lack proper certification labels, meaning they might not guarantee protection against injury.
Consumer Reports regularly monitors the safety of products sold in the U.S. Often their investigations lead to heightened consumer awareness of safety issues and can even prompt the U.S. Consumer Product Safety Commission (CPSC) to investigate an issue further.
Every bike helmet sold in the U.S. must comply with CPSC regulations. Importers who want to sell helmets in the U.S. must pay careful attention to labeling compliance to ensure labels contain all CPSC-required information.
Helmets without CPSC compliance labels can easily be bought online
A bicycle helmet should provide a certain level of protection from skull fracture to meet CPSC requirements. This safety requirement is generally assessed through impact testing coordinated by the manufacturer. Then the manufacturer must affix a label on the helmet stating which CPSC standards it's compliant with.
But the recent investigation from Consumer Reports found shoppers were able to buy 13 helmets without CPSC labels on mainstream online markets like Amazon, Sears, LightInTheBox and AliExpress.
While missing a label doesn't necessarily mean these helmets are unsafe, it does mean these helmets may not have been tested according to CPSC standards.
Even some of the helmets with CPSC labels lacked required information, such as the manufacturing date or the compliance statement. Without full information, consumers can't verify whether the seller has tested the helmet according to the proper regulations.
Also, many of the 13 helmets that investigators bought had a label declaring compliance with the European CE safety standard. CE labels do not mean compliance with U.S. laws. The CPSC's requirements for bicycle helmets are currently stricter than European requirements, requiring the helmet to withstand a stronger impact force.
Online platforms fail to ensure product compliance
Consumer Reports says online platforms need to set stricter requirements for retailers importing helmets into the U.S.
Consumers have traditionally been able walk into a physical store and inspect the helmets and check the label requirements themselves. But when buying online, consumers can only judge the compliance of the product based on the images or videos provided on the site.
Helmets are self-certified by manufacturers, meaning the CPSC doesn't test products for compliance prior to sale. The supplier or importer must ensure compliance with the required testing protocols themselves. This means there's a higher risk for safety problems if online retailers don't take steps to ensure compliance.
All the online retailers cited as noncompliant in the investigation have since removed their related listings.
But online platforms can and should verify the validity of product certifications before allowing sellers to publish listings. While LightInTheBox provided Consumer Reports with compliance certificates, not all the certificates had identifying brand names, model names or production lot information.
As an importer, remember to buy only from trusted suppliers and check safety certifications carefully when importing helmets into the U.S. You can also rely on an independent inspection company to help you check your supplier's qualifications and product labels.
Follow the link below to learn more about noncompliant bike helmets on online markets.
Bike Helmets That Don't Meet Safety Standards Are Widely Available, Consumer Reports Finds – Kevin Loria, Consumer Reports
---
We're constantly scanning the web for top manufacturing stories and news. If you'd like to submit an article for consideration for our weekly Best in Manufacturing, send us a message and let us know.