Evaluating suppliers remotely is difficult, if not impossible. But failing to assess supplier capabilities can put your company at risk. Here's why quality audits are an essential tool for your risk management strategy.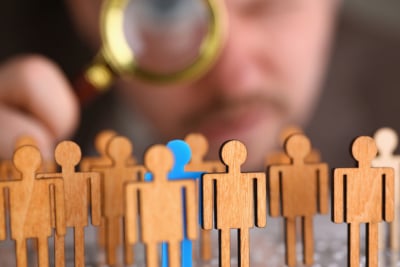 Imagine you're a purchaser, and you're analyzing a potential supplier you found online. The pictures on the factory's website look great, the salespeople speak English relatively well and the product sample they sent you matches your requirements.
Based on these factors, you decide to work with the supplier.
Unfortunately, you soon discover the supplier has overpromised their production capabilities. When you receive your first order, the finished product is nothing like the initial sample the supplier sent.
It's often difficult, if not impossible, to accurately evaluate suppliers remotely. That's why having a professional auditor on the ground to conduct a quality audit is an essential part of supplier risk management for purchasers (related: How Quality Audits Help MJS Packaging Reduce Risks and Secure Business [case study]).
Without a reliable presence at the facility to assess supplier capabilities, you could be putting the fate of your company, and your job, at risk. Here we'll explore why professional, third-party quality audits should feature in your supplier risk management strategy.
How quality audits help purchasers assess four potential supplier risks
As a buyer or purchasing manager, you're likely under pressure to find the best price for goods without sacrificing quality. And understanding a supplier's capabilities before working with them is key to this objective.
Gathering accurate, detailed information about a supplier often requires some on-site investigation. But many purchasers don't have the time, money or training needed to evaluate their supplier's capabilities themselves.
How can you evaluate a potential supplier when you're located halfway around the world?
Many experienced purchasers choose to rely on a dependable third-party QC partner as their "feet on the street" for supplier evaluations. These partners can perform an audit on your behalf and provide detailed results, including legal and financial information, production capabilities and potential quality issues.
Here are four supplier risks an audit can help you avoid before you even place an order with a supplier:
1. Poor legal standing of supplier's operation
In December, the Associated Press published a report suggesting Badger Sportswear was working with a Chinese factory that uses forced labor. Additional investigations disproved the allegations, but the company continues to face consumer backlash.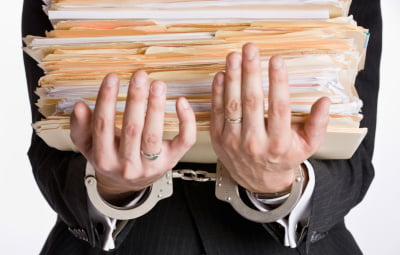 Illicit practices can impact much more than just your brand's image. Working with a factory that's legally compromised can introduce other risks, including:
The supplier's factory could unexpectedly shut down due to financial or legal issues
Government officials or customs agents could confiscate your goods
Your customers might discover ethical violations at your factory and boycott your brand
Retailers may refuse to stock your goods
Factory representatives likely won't tell you about any legal risks, even if you ask them directly. They may dodge your concerns or plainly give you false information.
An audit is one of the most reliable ways to verify a factory's legal standing and ensure a supplier meets standards.
How a quality audit helps purchasers assess legal risk
There are online databases available where you can check certain legal aspects of suppliers. For example, if you're based in China, this Chinese government website lets you search a supplier's name and check whether they have a registered business license.
Though these official websites are often only available in the local language and won't have all the information you may need to verify a potential supplier's legal risk.
Auditors visiting the supplier's facility can typically verify legal documentation on-site, including checking:
Business licenses
Export licenses
Certificates, such as ISO 9001, GMP and RoHs certifications
They may also take photos of the factory's licenses and provide them to you for review in their report.
A quality audit report should also include some key information regarding business and export licenses, such as the official company name, registration number and issue date.

Though a social audit focuses more on social compliance issues, auditors performing a quality audit can often check for serious social compliance issues at the same time. For example, they might report on any incidences of child labor, unsafe working conditions and any other specific concerns you have.
2. Financial risks and potential scams with unverified suppliers
Legal and financial risks often go hand in hand. And working with an unverified factory presents many risks of losing money—not just on a single order, but also in terms of any potential future business lost as a result of dissatisfied customers.
While there are many misconceptions about manufacturing in China, many importers are aware of the increased risk that comes with overseas production. Common financial scams include:
Transferring money to a scammer's account for an order and then the supplier claiming they never received it
Paying a deposit for an order, only to later discover the factory has abruptly closed, and the owners have fled
Sending money to an alleged factory that doesn't actually exist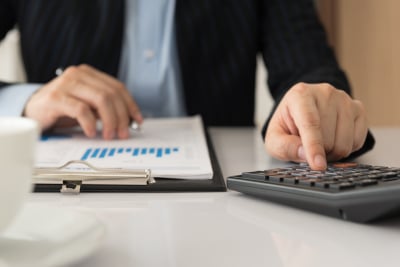 Reviewing financial records is a vital part of many professional quality audits. An auditor can ask your supplier to:
Provide their bank details, which you can compare to previous information your contact provided
Verify the supplier's current production flow to assess whether they have active orders or may just be a "front" for a sub-supplier operation
This information will give you insight into the factory's overall financial health and help you verify whether the information you've been told is representative.
Factories with few or no active customers are more likely to close without notice, leaving you without inventory and little recourse to recover your money.
Conducting a supplier audit before placing a large order or transferring money to an account can help you avoid falling prey to scams. Consider any supplier resistance to an independent audit to be a sign that that supplier is likely disreputable.
3. Production and shipping delays due to disorganization
Virtually all buyers worry about delivery dates. A bargain price or high product quality may be little consolation to customers that don't receive their good on time (Related: 3 Ways Experienced Importers Avoid Production Delays).
Shipment delays threaten your reputation as a reliable supplier. A late delivery can cause a customer to end their business relationship with you or consider alternative vendors. To make matters worse, you might not receive full payment for an order if your customer charges back for late delivery.
Even if your supplier is responsible for a delay, your end customer is still likely to blame you for a missed delivery date.
Your supplier's internal processes and organization have a major impact on their ability to meet production and shipment deadlines. Missing production records, unkept maintenance logs for vital machinery and lacking an approved supplier list can all lead to disorder at your supplier's facility.
Evaluate factory organization with a quality audit based on ISO9001 standards
A quality audit based on ISO9001 standards will help you identify the factory's quality management system and ability to consistently provide products and services that meet customer and regulatory requirements.
Following the ISO9001 standard, a quality audit checklist should include checks for the presence of:
A documented procedure for internal audits
Training records for existing staff and new employees
Relevant procedures and maintenance records for workstations
Clearly defined acceptance and rejection criteria for components/materials from approved suppliers
A procedure for implementing corrective action plans in the case of poor performance
Product quality plans, with process flowcharts and acceptance and rejection criteria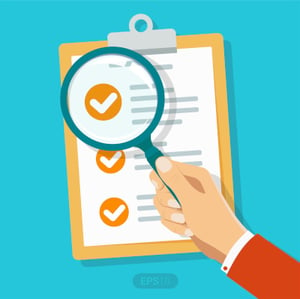 Your auditor should also verify important documentation of:
Receipt date of raw materials and components
Corrective actions on faulty products
Staff training meetings
Calibration of tools and machinery
Shipment date of outgoing orders
ISO9001 criteria are a great baseline for evaluating your supplier's quality management system. But it's also a good idea to look at the factory's actual internal operations while on site.
The audit process also involves a facility walkthrough to check for the presence of internal labs, a research and development department, adequate warehouse space and more.
While this may seem like more information than you need, these points can tell you a lot about the factory's internal processes and overall organization.
4. Quality issues due to limited factory QC checks
Quality issues pose a different level of risk, depending on your product type and the defect severity. While some mishaps are inevitable as you iron out the production process, you never want to let quality issues through to your customers.
This is especially true for purchasers who sell on platforms like Amazon. Just one defective shipment can result in a suspended Amazon seller account (Related: How to Meet Amazon Seller Requirements When Importing from Asia).
A supplier audit lets you address potential product quality problems in advance by examining your supplier's internal QC processes. The auditor can verify whether:
There's an independent QC team, separate from production line staff
The engineering and design team maintains records of product changes
A sampling plan (such as one based on acceptable quality levels) exists to evaluate batches of raw materials and finished goods
How supplier audits can help limit product defects throughout production
An audit can't predict every quality issue in advance. But it can reveal inadequate practices that commonly lead to quality issues.
Identifying these practices before mass production gives you the foresight to speak with your supplier and limit quality defects before your entire order is affected.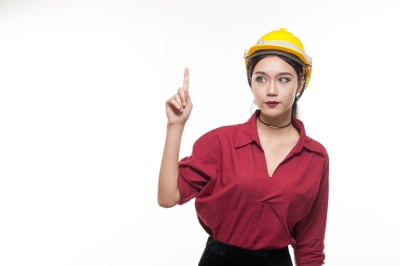 Some questions an auditor might ask during a supplier audit to verify internal QC processes include:
Does the factory conduct incoming inspection according to defined standards and requirements? Are the results of incoming inspections recorded?
Is the status of raw materials clearly identified after being inspected (e.g. "approved", "rejected", "pending", etc.)? Is rejected material recorded and quarantined?
Do personnel responsible for product quality have the authority to stop production to correct quality problems?
Does the factory conduct pre-shipment inspection and testing based on the defined inspection requirements? Are the results of inspection and testing recorded?
As you can see, a conscientious supplier must manage product quality throughout production.
Importers who rely only on a pre-shipment inspection check might find numerous quality issues that need reworking before shipment. This process can require valuable time and money in the critical days before a shipping deadline.
Quality audit reports help purchasers make smarter business decisions
A standardized quality audit process can help you compare multiple suppliers quantitatively. Some reporting formats will include a point value for each section of the audit. Auditors add these points and apply a weighted score to arrive at a total with an associated rating.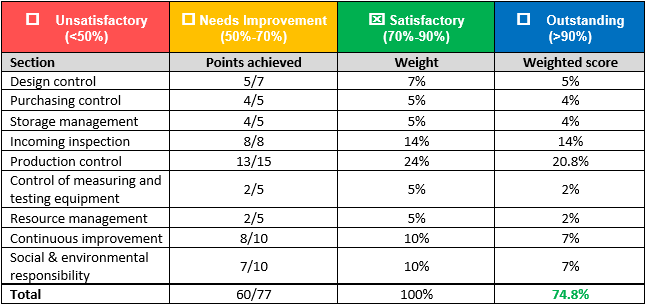 As you review the audit report, you can judge which advantages and deficiencies of each supplier are the most meaningful to you. You can compare these results side-by-side with those of any other suppliers you're considering and choose accordingly.
As your supply chain evolves through regular quality audits on existing suppliers, you can also use these scores as a benchmark to evaluate whether operations have improved or deteriorated.
Conclusion
Quality audits are an effective tool purchasers can us to evaluate new suppliers and manage supplier risk. They can also be a tool for continuous improvement, since you can use audit results to benchmark established suppliers and compare them to others.
You might consider other steps to verify suppliers, such as credit checks, social audits or environmental audits. Together, these offer a robust analysis of supplier risks and help you determine the best fit for your supply chain.
Always ensure you're working with a reputable third-party auditing firm, regardless of audit type. Ask potential auditing partners about any relevant accreditations or certifications they hold. Ask for references from other purchasers they've represented. And request an example audit report to clearly see what checks are included in the audit you want.
Working with the right partner will help you receive accurate and comprehensive reports you can trust and ultimately protect your supply chain.
---
Find out why one purchaser says supplier audits helped secure their company's decision-making process in our case study below!