Critical U.S. state sales tax changes, Lego attempts 'green' sourcing, improving labor conditions for Bangladeshi garment workers and more in this week's roundup.
Best in Manufacturing – September 30, 2018
Each Sunday, we publish a list of top articles and other content related to manufacturing in areas like quality control, product development, ­­­supply chain management, sourcing, auditing and law.
1. What do U.S. state sales tax changes mean for your ecommerce business?
As of 2018, state sales taxes are collected on just half of ecommerce sales, according to The Tax Foundation. But the Supreme Court's landmark South Dakota v. Wayfair decision in June is likely to change this number drastically.
For the last 50 years, internet sellers only had to collect sales tax from buyers if the company had property or employees in the state of sale.
The court's ruling doesn't require ecommerce companies to start collecting sales tax. But it allows individual states to put such a mandate in place.
Prior to this decision, many ecommerce sites could operate without worrying about complex sales taxes. Now, online sellers will have to figure out how to comply with individual sales tax requirements.
Factors influencing the overruling of the 1992 Quill case
Internet purchases weren't actually exempt from taxation prior to the June ruling. In fact, consumers have always been required to pay taxes to their resident state on purchases where they didn't pay sales tax.
In the 1992 Quill case, the Supreme Court reaffirmed a previous ruling disallowing states to require sales tax from out-of-state sellers.
Initially intended to reduce burdens on interstate commerce, the ruling allowed online-only retailers to operate at an advantage over local retailers. This led to the South Dakota v. Wayfair decision this past June.
Several other factors that influenced the court's June decision include:
Growth of eCommerce – ecommerce has grown tremendously from 1992 to 2018. Many ecommerce sellers aren't collecting sales tax despite widespread directed sales and activity in a state.
Technological advances – new platforms have lowered the cost of collecting sales tax.
Ineffective physical presence rule – 31 states already required tax collection with minimal physical presence prior to the ruling.
How can ecommerce sellers comply with new laws?
Now that states have the legal right to dictate if ecommerce companies must abide by state tax laws, ecommerce sellers must remain abreast of the individual laws.
There are more than 15,000 taxing jurisdictions in the U.S. Understanding the complex tax laws is no easy task, even for large ecommerce sellers.
Technology has luckily reached a point where online retailers don't have to figure out individual laws themselves. Consider using sales tax software to assist with this transition. Why stress about tax compliance when you can automate it?
For example, Avalara helps more than 20,000 companies globally with tax compliance. Avalara integrates with your existing systems and automatically makes sales tax decisions on every purchase.
Regardless of how you choose to comply, start working towards a solution now. Don't wait until individual localities begin imposing taxes.
Follow the link below for more information on the supreme court's decision.
Online Sellers Stumped over Sales Tax Collection - Ina Steiner, eCommerceBytes.com
2. Can Lego go green without sacrificing product quality?
Lego, the children's toy maker known for its iconic plastic bricks, is undergoing a manufacturing overhaul.
By 2030, Lego wants to build all its toys from plant-based materials and eliminate dependence on petroleum-based plastics.
The company is striving to reduce its environmental impact amid rising consumer concern over the use of plastics.
But with a product made entirely from plastics, it may be hard to change materials and maintain product continuity.
Challenges of changing raw materials
Product consistency is key for Lego. Lego bricks dating all the way back to 1958 are compatible with current products. Legos must click and separate easily. They must be sturdy enough to withstand the rigors of a child's play. Plus, they need to retain their vivid colors.
According to Tim Brooks, Lego's vice president of environment responsibility, Lego emits about one million tons of carbon dioxide annually. Three quarters of this comes from raw materials.
Lego plastic is currently sourced from petroleum. Finding an alternative plastic will be difficult for Lego as petroleum is a primary raw material in most plastics.
Any new material Lego uses must match the functional aspects and quality standards of past products. The company will have to pay special attention to quality control as it navigates new materials.
Lego is facing a common manufacturing challenge: How can you change an input material in your product without changing the production output?
Systematically navigate change
Change is a factor you're likely to experience at some point during the manufacturing process.
Lego plans to hire more than 100 new positions to assist with their eco-transition. They've also set a lengthy timeline to realistically accomplish the goals.
But not everyone has the same resources or time as a toy giant. Sometimes you simply cannot plan for change.
If you don't have the resources or time to match a manufacturing giant like Lego, there are still tools to help you navigate through a transitional period.
Consider using a systematic approach for change management. This involves data collection, reflection and consistent reassessment.
The knowledge cycle below is one example of how you can manage decisions made during a product change.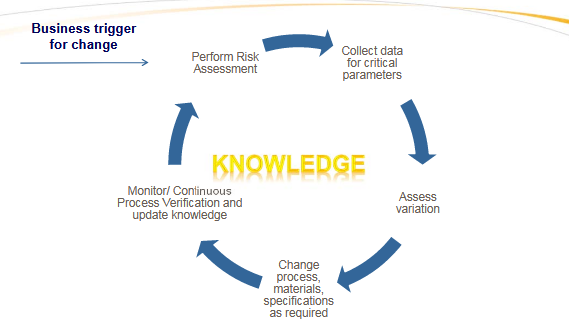 Transitional periods provide a greater opportunity for error. One way to reduce errors and maintain quality is by setting clear expectations. Paying attention to the following points when implementing a product change can help:
Train and educate everyone who the change affects
Understand potential risks and promote control awareness
Nail down processes to avoid unintended change
Remember, change can be an opportunity for growth. With the proper management and attention, you can smoothly transition and reduce errors.
Follow the link below for more information on the changes underfoot at Lego.
Lego Wants to Completely Remake Its Toy Bricks (Without Anyone Noticing) – Stanley Reed, New York Times
3. Labor conditions improving for Bangladeshi garment workers
Bangladeshi garment workers produce more than $30 billion worth of products for Western retailers annually. It comes as no surprise that the country is the second greatest exporter of garments globally behind China.
But the Bangladeshi garment industry is not without its shortcomings. Major compliance disasters and a surge of worker unions have pushed some garment manufacturers to look elsewhere for their production needs.
But the industry's focus on safety in the past few years is beginning to pay off. And it has helped many factory workers climb out of poverty.
The garment industry's positive impact on Bangladeshi employment
The World Bank estimates that eight million Bangladeshis have moved out of poverty in the last eight years. Some of this success can be attributed to employment provided by the garment industry.
Once known for subpar working standards, conditions for factory workers are improving drastically, as a direct result of changes implemented after the 2013 Rana Plaza collapse.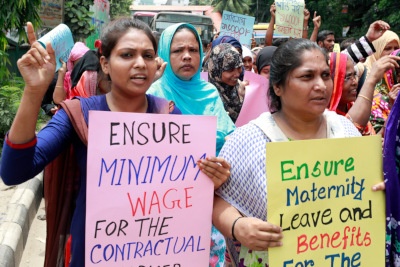 After the disaster, more than 200 companies signed the Accord on Fire and Building Safety in Bangladesh. The Accord is a legally binding, five-year agreement between global brands, retailers and trade unions.
Over the last four years, factory worker salaries have increased by about 77 percent in Bangladesh. With somewhere between 2.5 and 4 million employed in the trade, this raise has a significant impact on many lives.
Local labor organizations and activists have also played a large role in helping workers to bargain for their rights.
On the day of the Rana Plaza collapse, factory owners forced workers to enter the building, even though engineers had already declared the building unsafe. Now, Bangladeshi workers have greater awareness of their rights and have access to more collective bargaining avenues.
Persistent challenges for brands sourcing from Bangladesh
But challenges still persist for all involved in manufacturing in Bangladesh. Key impediments to further improvements include:
Political pressure for continued economic growth: The government supports factory owners because garments account for 84.1 percent of Bangladesh's total exports. Senior politicians have branded activists as "enemies of the nation" for disrupting this key industry.
Factories operating on thin margins: Labor unrest threatens to disrupt production and delay crucial shipments for factory owners. Thousands of workers could lose their jobs if just one factory declares bankruptcy.
Murky business practices: A system of agents and subcontracting means some of the worst Bangladeshi factories never maintain direct financial relationships with Western brands.
Some brands might forgo sourcing from Bangladesh altogether due to these challenges. But most Bangladeshi labor groups discourage brands from boycotting Bangladesh's factories, as the country is heavily reliant on the garment industry for employment.
But jobs alone are not enough. Kalpona Akter, the founder of the Bangladesh Centre for Worker Solidarity (BCWS), has a message for foreign brands manufacturing in Bangladesh:
Thank you so much for the jobs you are providing.... But we want these jobs with dignity. Have your factories pay a living wage, respect workers' rights and [let them] exercise their union rights. Please do buy your clothes from Bangladesh but buy from responsible factories.
Bangladesh's importance in global manufacturing is unlikely to waver in coming years. Many changes are underway in the industry, but the demand for labor remains.
Read more about the current state of Bangladesh's garment industry and Kalpona Akter's compelling journey from a 12-year-old garment worker to a labor activist in the link below.
Fashion to Die For - Robb Young, Business of Fashion
4. The trade war continues as new tariffs take effect
Tariffs were a major conversation point at this year's International Manufacturing Technology Show in Chicago. Attendees voiced concerns about potential impacts of new tariffs throughout the week-long show.
Tim Shinbara of The Association for Manufacturing Technology remarked,
The closer we can get to the resolution, the better people can understand their investment path… We hope the reconciliation is clear and quick, as no one can plan in uncertainty.
This growing concern is echoed across the manufacturing industry. Recent weeks have been marked with pleas from American companies hoping for exemptions from final tariff lists. But new tariffs continue to take effect.
The impact of most recent tariffs
The Trump administration announced its decision Monday to start imposing a 10-percent tariff on $200 billion worth of Chinese goods. That number will increase to 25 percent at the end of the year.
Many aspects of the trade war are surrounded by a cloud of uncertainty. But the tariffs taking effect later this month should come as no surprise.
The Trump administration released an initial item list for the upcoming tariffs in July, followed by a short open comment period.
They removed almost 300 items from the initial list after the comment period. But the final list still covers almost 6,000 Chinese goods.
Product categories on the final list include:
Electronics, smartwatches and Bluetooth devices
Industrial chemicals used in textile manufacturing
Health and safety products, including bicycle helmets
Child safety furniture, including high chairs and car seats
Almost half of all Chinese goods entering the U.S. will fall under tariffs once these take effect.
Long-term effects of the trade war
While most focus has been on the immediate effect of the trade war, some industry leaders are starting to discuss long-term effects of the tariffs too.
Chicago's manufacturing event saw a record attendance of more than 2,400 exhibitors. But some were left wondering if tariffs might negatively impact success for years to come.
Jeff Levin, a Forbes community voice, says this is a valid concern. Even if the trade war is short lived, repercussions could last for a few years.
Jeff Levin groups potential repercussions into what he calls "the three R's." These include:
Rising costs due to tariffs. Lumber, steel and aluminum are among materials with post-tariff price spikes.
Interest rate increases from the Fed if the labor market softens due to the trade war.
Risks in the market due to uncertainty in the economy. Trade wars impact more than just material costs.
Voicing opinions and staying up to date with current trade developments can clear uncertainty and help companies and consumers feel empowered.
Follow the link below for more excerpts from the International Manufacturing Technology Show.
U.S. Tariffs Dominate Discussions at International Manufacturing Show – Dan Williams, CGTN
5. Should you be encouraging innovation at your manufacturing company?
When Henry Ford created the rudimentary assembly line, he revolutionized American manufacturing. Other manufacturers took notice and this "Fordism" went on to define the modern automotive industry.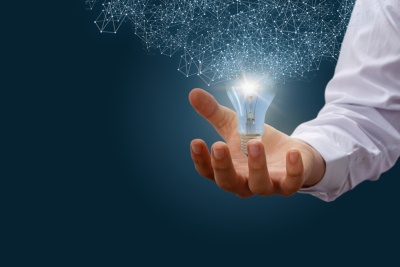 But these days it's easy to feel like your company is being left in the dust. It seems like new technologies are announced daily. And when it's not new technologies, it's mergers, collaborations and new products.
Changing workplace cultures are now opening the door for innovation. Allowing creativity to flow and addressing fears head-on can help your company stay ahead of the game.
Why not nourish employees' insights? Every game-changer starts as someone's idea.
Start small and work your way up
Manufacturing is a constantly evolving industry. But it's also an industry marked by repetition and established systems. It can be hard to figure out where to start to innovate.
Igor Makarov, the author of this featured article, suggests implementing nine ideas to encourage innovation in your company:
Intrapreneurship – Encourage employees to try out new ideas.
Fifteen percent time – Allow employees to spend 15 percent of paid time experimenting, doodling or daydreaming.
Reward experimentation – Celebrate the failures.
Encourage research – Let personal interests and passions guide discoveries.
And more!
Maybe you're comfortable with your manufacturing operations and don't want to change anything. Implementing new ideas, no matter how small, can be difficult.
But whether or not you choose to encourage innovation, ideas will continue to blossom into large-scale movements in the industry. And change will persist.
Following manufacturing innovation and issues in the news can help you stay up to date with industry trends. Along with this blog, there are many resources you can turn to. Industry Week, for example, devotes an entire section of its website to innovation.
Follow the link below to learn five more ways you can encourage innovation at your manufacturing company.
9 Ways Your Company Can Encourage Innovation – Igor Makarov, Entrepreneur
---
We're constantly scanning the web for top manufacturing stories and news. If you'd like to submit an article for consideration for our weekly Best in Manufacturing, send us a message and let us know.