Many importers have found moving manufacturing to Vietnam isn't as simple as just finding a new supplier. Let's look at four key factors to consider before you move your manufacturing from China to Vietnam.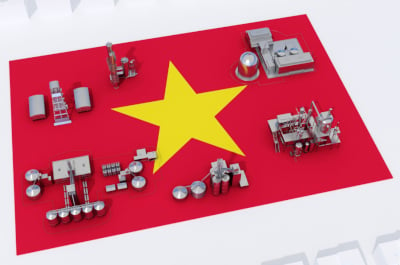 The U.S.-China trade war has added new energy to the debate over whether importers should shift production to Vietnam. Importers have been considering relocating supply chains away from China for years and some have already taken the bait.
Consider Nike, for instance. In 2010, Vietnam became the primary supplier of Nike-branded footwear, accounting for 37 percent of production, while China remained a close second at 34 percent. Fast forward to 2018, and Vietnam had grown to 47 percent while China dropped to only 26 percent.
But many importers have found moving manufacturing to Vietnam isn't as simple as just finding a new supplier.
Many news outlets have touted Vietnam as the "next China". But some importers remain skeptical of Vietnam manufacturers' ability to provide the same level of industry expertise as offered in China. And despite lower labor costs, importers must also consider the quality of Vietnamese products.
The road to China is well worn at this point. But that doesn't mean you can't also succeed with Vietnam sourcing. Let's look at four key factors to consider before you move your manufacturing from China to Vietnam.
1. Availability of capable manufactures for your product type
The very first factor you should consider when relocating to Vietnam is whether you can actually manufacture your desired product there.
Importers experienced in sourcing from China know it's easy to find a manufacturer for just about any product type in China. And not just one manufacturer—you can easily find tens or even hundreds of manufacturers with a similar skill set and product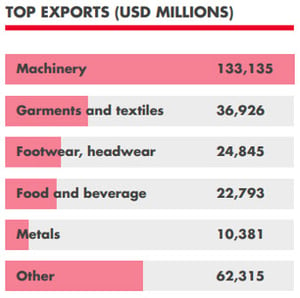 offering.
Consider that online search engines for sourcing, like Alibaba or Made in China, are overwhelmingly dominated by Chinese suppliers. For example, searching for "plastic bag" suppliers on Alibaba yields only 485 potential Vietnam manufacturers, compared to 3,850 in China.
Vietnam simply can't offer the level of diversity China can at this stage. But Vietnam's manufacturing industry does boast a higher level of industry diversity than some other alternative sourcing destinations, such as Bangladesh and Cambodia.
The country's top exports include various types of machinery, garments and textiles, footwear and headwear, food and beverage and metals.
Industry maturity and manufacturing expertise in Vietnam vs. China
Importers looking to shift production from China to Vietnam should also weigh the risks of a workforce that is relatively inexperienced with sophisticated manufacturing. Products requiring high levels of technical precision, like aerospace parts, for instance, might be harder to source in Vietnam.
While Vietnamese manufacturers exist in a variety of industries, these factories might be newly established or inexperienced with exporting to your target market. Production line workers may similarly lack experience with manufacturing your product type.
Another key consideration is equipment and tooling. Has your existing Chinese supplier designed custom molds or tooling for your product? They might refuse to transfer custom-made molds to your new Vietnam manufacturer if you don't already have an appropriate and binding IP agreement in place.
Finding a qualified tooling engineer in Vietnam to design new molds can be difficult—78 percent of Vietnam's workforce lacks academic qualifications. And Vietnam ranks 120th out of 130 countries in terms of "know how", or the breadth and depth of specialized skills, on the World Economic Forum's Human Capital Index.
One injection molding company that recently moved to Vietnam relies on a Chinese supplier with computer numeric control machines and engineers to develop molds and tooling. The company then ships this equipment to Vietnam for use in large-scale production. You could find yourself in a similar position in Vietnam depending on your product needs.
2. Costs of moving your existing supply chain from China
Importers most commonly cite China's rising labor costs as a chief reason they're considering moving production away from China.
China's wages have increased over 60 percent since 2011, eroding profit margins on some labor-intensive products. And with new tariffs levied in 2018, some American companies, in particular, have now found China to be cost-prohibitive.
Let's examine the costs of manufacturing in Vietnam vs. China:
Labor costs and human capital in Vietnam vs. China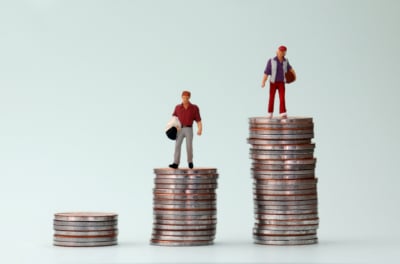 Vietnam's monthly minimum wages in 2019 vary by region from $125 to $180, with the highest rates in urban areas like Ho Chi Minh City and Hanoi. These wages are sometimes half of China's which vary by province from about $140 to $346.
And Vietnam's minimum wage growth is showing signs of stability. Minimum wages increased by an average of 5.3 percent in 2019, a lower increase than in 2018 (6.5 percent) and 2017 (7.3 percent).
It's no surprise that Vietnam's low labor costs are one of its most attractive features to importers. But is a reduction in labor costs enough incentive to uproot your supply chain?
Vietnam is at an enormous disadvantage when it comes to the size of its labor force. With a labor force approximating 788 million people, China has nearly 14 times the number of workers as Vietnam. And Vietnam is already seeing a major shortage of skilled labor following a surge of manufacturing in the wake of the Sino-U.S. trade war.
Vietnam also falls behind China in a number of other key human capital index rankings, including know-how and development and education. These limitations can certainly offset any savings in labor costs to make Vietnam a less attractive alternative to China for many manufacturers.

Relocation and facility development costs
Labor costs are a major consideration for any labor-intensive product like footwear and garments. But looking solely at labor costs doesn't show the full financial commitment relocating to Vietnam might require.
One Chinese factory owner recently told the South China Morning Post that moving a Chinese supply chain to Vietnam could cost $1.4 million just for the early stage of relocation, including:
Paying for and converting the industrial plants, transferring automated production lines…as well as paying allowances to send skilled Chinese workers there.
The cost to rent industrial land on a long-term lease at one Vietnamese industrial park in 2018 also increased to $90 per square meter (10.76 square feet), up from $60 to $70 in 2017. And the monthly rent for existing factory buildings in industrial parks near Ho Chi Minh City has risen to $4 per square meter, up from $3 last year.
Time is of the essence for manufacturers looking to build new facilities in Vietnam. As one industrial park executive noted in late 2018:
You must be quick… our land is running out soon. A lot of Chinese factory bosses come to visit our industrial park every week.
Imported material and component costs
Another important consideration is the cost of machinery, components and inputs for your product.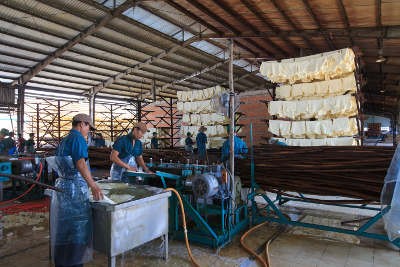 Injection molded plastic parts, fabric and electrical components are still often imported from China to Vietnam for production. Vietnamese manufacturers rely on foreign inputs for production across a variety of industries. For instance:
Vietnam's garment industry imports

70 to 80 percent of textiles

used in the production of from China

Vietnam's electronics industry imports manufacturing inputs worth up to 77 percent of the total product value

Vietnam's pharmaceutical industry imports 85 to 90 percent of materials

Vietnam's plastics industry imports manufacturing inputs that account for 70 to 80 percent of production costs
Imported materials or components usually increase your price per product unit. And your supply chain will still be vulnerable to increased costs from tariffs and trade tensions if it continues to rely on China for inputs.
But Vietnam does have a geographic advantage—its proximity to China. Compared to some other ASEAN countries farther afield, importing inputs from southern China is relatively fast and cheap.
Quality control costs when manufacturing in Vietnam vs. China
Many importers choose to conduct product inspection through a professional third party to verify product quality remotely. But the costs of inspection can vary widely depending on factory location.
You might face higher QC inspection costs if your third-party QC provider doesn't operate widely in Vietnam. Many local inspection companies in China only operate domestically and don't have a global presence.
A shortage of available inspectors or subcontracting of inspectors can lead to several problems, including:
Higher travel expenses for inspectors needing to travel a longer distance to the inspection site

Longer lead times for scheduling inspection

Integrity concerns

due to a lack of centralized ethical and operational policies
If you're considering relocating your supply chain, reach out to your existing QC provider and see what support they can provide. Carefully evaluate new suppliers before and after selection to ensure they can meet your quality standards.
3. Vietnam's logistics and infrastructure
With well-paved roads, seven of the world's 10 busiest shipping ports and a massive rail network, China boasts some of the most developed and efficient import-export infrastructure in Asia. It's relatively easy to get from one supplier to the next, whether you're moving freight or just visiting your suppliers.
But when it comes to logistics, importers considering relocating to Vietnam may find the infrastructure there to be a major limiting factor. You might face longer lead times and unexpected delays due to less efficient infrastructure (related: It's Not Just About Quality: 4 More Factors to Consider When Sourcing).
Among the 160 countries included in the World Bank's 2018 Logistics Performance Index, Vietnam (39th) ranked well behind China (26th) overall. But importantly, Vietnam did outrank several countries in the region, including Bangladesh (100th), Cambodia (98th), Indonesia (46th) and India (44th).
Differences in quality of infrastructure are the main reason for the scoring difference between China and Vietnam. Though construction of Vietnam's $5 billion North-South expressway, which commenced last month, is expected to bring a major boost to the nation's logistics industry.

4. Ease of doing business in Vietnam
One area where Vietnam actually ranks better than China is in terms of ease of doing business—ranking 69th place to China's 46th place on the World Bank's metrics. Vietnam was also among 34 countries that improved the most from 2018 to 2019 on such metrics, most notably regarding:
Starting a business: Lowering the cost of starting a business and publishing notices of incorporation online.
Taxes

: Removing the requirement to submit a hard copy of value-added tax returns and lowering employers' contribution to the labor fund.

Contract enforcement

: Publishing judgements given at all levels in commercial cases online.

The gradually improving regulatory environment in Vietnam has made operating a local business there easier than ever.
5. Foreign-owned Vietnam manufacturers
A growing number of factories in Vietnam are Chinese or Taiwanese owned, which can make your transition out of China and into Vietnam much smoother.
If fact, you might be surprised to learn that most export-oriented Vietnam manufacturers are actually foreign owned. For instance, Samsung has invested $17.3 billion over the past decade into building eight new factories and one R&D center in Vietnam.
Vietnam's foreign direct investment (FDI) rose nine percent in 2018, continuing a year-on-year increase seen since 2014. Japan, South Korea and Singapore are the largest sources of foreign investment in Vietnam, while Chinese investment continues to grow at a fast pace.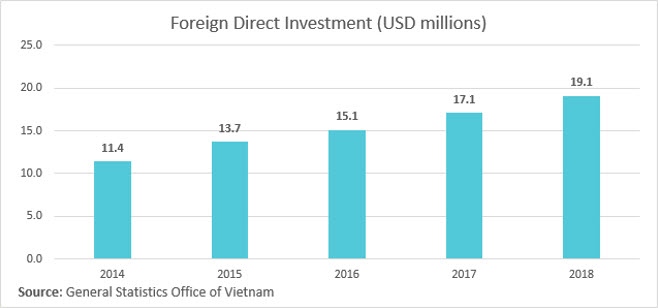 Vietnamese officials are also considering opening three new special economic zones (SEZs) to foreign investment in 2019, though anti-China political protests have stalled a decision thus far. The government is proposing offering 99-year leases and tax exemptions to spur further investment.
Chinese influence in Vietnamese factories
The larger your Chinese supplier is, the more likely they are to have considered moving operations to Vietnam to reduce costs. You may be able work with them to keep some production processes or orders in China, while outsourcing others to Vietnam.
And since many mainland Chinese and Taiwanese companies own factories in Vietnam, your time and energy spent learning the nuances of Chinese culture will not have gone to waste.
Furthermore, the foreign influence at these factories will often extend well beyond ownership to mid-level managers. Chinese-owned contract footwear manufacturers may employ as many as 200 Chinese workers alongside 10,000 local Vietnamese workers.
You'll generally find that these factories also employ Vietnamese staff proficient in both English and Chinese. This makes it easy to transfer existing QC checklists, specification sheets or other product documentation that might have been written in English and Chinese.
Conclusion
If you're sizing up Vietnam as a potential destination for relocating production from China, consider these key points:
What you can reasonably expect to manufacture in Vietnam? The lower cost of labor might obscure equally important concerns like potentially lower quality and increased supplier risk.
What kind of financial investment will be required for a stable supply chain? Will cheaper labor costs offset any other potential relocation costs?
Are local substitutes available for necessary components and materials for your product?

They may not be as easy to find or as quick to obtain as in China.

What partners can help you relocate your supply chain without massive disruptions to product quality?

Talk with any of your current suppliers—manufacturers, QC or logistics providers—to see how they might be able to help.
Above all else, remember there will always be somewhere cheaper to manufacture your product. So whatever competitive advantage you hope to gain with sourcing in Vietnam, first consider these four factors before leaving China.
Editor's note: This post was originally published in March 2015 and has been updated for freshness, accuracy, and comprehensiveness.
---
Have you considered moving your supply chain to Vietnam? Share your experiences in the comment section below!