Studies have shown that companies which pay special attention to these three critical areas are 60% more likely to have a successful product first-run. InTouch reveals some of the common issues that plague companies preparing to release a new product with 3 Secrets of a Successful Product Launch...
In this article we'll skip the obvious factors that go along with a new product launch when manufacturing in China. These would include essentials like product testing, product certification, and developing a solid QC Checklist. Contact us if you need more information about those.
We'll focus on three less common areas of the process that are just as critical to a good first production run. So let's go:
1. Choosing Packaging
It's easy to overlook packaging as a critical component when designing or launching a new product. However, your customers certainly won't, since it's the very first thing with which they come in contact. The key aspects of packaging when it comes to launching a new product include:
Packaging Design (Structural)
It's hard to know exactly how a new product will fare in its packaging during transport, and once taken home by the customer. For this reason we recommend working with an experienced packaging engineer, of which there are many in China, to design packaging that adequately supports and protects the product. Once you have a sturdy design, it's time to test it.
Transportation Testing
ISTA is the authority when it comes to shaking, dropping and subjecting your packaging to everything else that it will likely face once it leaves the factory. Key elements of a common ISTA testing program include:
Shock testing, including drop and inclined, horizontal and vertical impact testing
Vibration testing, such as fixed and variable displacement
Compression testing with both static and dynamic load under vibration
Atmospheric testing for temperature, humidity and pressure
Verifying the Packaging Suppliers
As we go further down the supply chain, such as from your main factory down to the sub-suppliers, the overall quality level of the facility is likely to get worse. Anecdotally, it seems to be the case in 95% of the China-supply chains that we evaluate.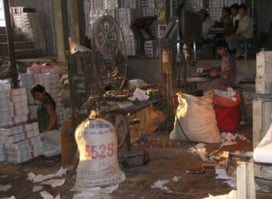 This is a good reason to be concerned if you are relying on a packaging supplier to deliver perfect product, on-time, for a fast-approaching new product launch. For this reason it's important to visit and meet with the ownership of any packaging factory on which you are relying, even if you are not the one buying the packaging directly. Try to build a personal relationship with factory management, as relationships can be an integral part of doing business in China.
You should also consider doing a full evaluation of the facility if you are not yet committed to that packaging supplier and are comparing several options. In that case, key aspects to look at would include:
How does the factory verify color? Do they use a spectrometer and/or do they have an approved Pantone color viewing light?
How does the factory adapt to design changes?
Is printing machine maintenance performed regularly? This affects quality of printing and registration.
Does the factory have an internal lab for testing areas of production such as ink?
Cleanliness – although always important, it is especially relevant to printing.
Packaging storage
The final key point to consider here is how your packaging is going to be stored once it is at your main supplier's facility. It's best to have a look with your own eyes, or send in a qualified representative, to evaluate the storage conditions of the packaging. Issues we've seen before include packaging being stored in an area where it's damp, moldy, or overexposed to sunlight. Infestation of bugs and other rodents can also be an issue.
Packaging Method
Once a facility has been packing the same units for some time, packaging method is rarely an issue, but if you are doing a new production run, this is something to evaluate at least once before launching.
You should consider requesting video to see how assembly line workers are handling the packaging and the product, as this is the very last "touch" before it gets to your customers. Mainly you are looking for any opportunity for the product or packaging to become dirty or damaged, or poorly arranged assembly areas that could increase the chances of a worker's mistake while packing (such as packaging the wrong item or assortment).
***Click here to learn more about Real-Time Supplier Video Monitoring***
2. Material Control
Controlling materials is one of the secrets of a successful product launch. You likely took the product through a round of lab-testing before it was approved to go to manufacturing, as that's a key step in ensuring you have a safe and viable product for manufacturing. However, although you may receive passing test results, there's no guarantee that the factory will actually use the same materials in mass-production. For this reason, it's important you do a few things to ensure that the materials in your specifications are really in the product, such as:
Verification of Incoming Raw Materials at the Factory
This simple step is not as complex or daunting as it may seem. Each product should have a Bill of Materials (BOM), which is a list of every raw material, part and component that is used in the product. This list is utilized by the factory staff for purchasing and production planning.
You can either verify the materials in the BOM yourself, or you can hire a trusted third party to do so. Another option here is to ask the factory staff to create a spread sheet and send you verification of each key component or material that is going into the manufacturing run. As proof, you would request photos of the raw materials with clear markings indicating their source, material testing records, or delivery records which should state exactly what material has been delivered to the factory.
Material Inspection and Testing On-site of the Final Production
Another method of materials verification is to perform some simple inspection and testing of the final products. Although this would include the obvious, such as measuring the thickness of materials, visually observing colors, etc., it could also include verifying a Component Data Form (CDF). A CDF is a table of critical components and their approved manufacturers. Having a CDF on-hand at the factory saves time during an inspection because the auditor can simply disassemble one or two units from production and verify that components are consistent with those in the CDF, often reducing the need for costly lab testing of parts.
3. Production Validation Testing (PVT)
This is just a fancy way of saying "test production run", and if your supplier is not doing this, you have cause to worry. A knowledgeable and conscientious staff should set up a PVT before they are ready to move to mass production.
During PVT, the line and higher-level managers observe exactly how production and assembly is going to occur, and make any modifications to the line that may be required. This is absolutely essential for any factory that is implementing lean manufacturing, or generally producing at a high level, but even for very basic factories there should be a PVT process in place.
As a buyer, you should know when the PVT has been scheduled for any new production run, and you'll want to request a write-up of the results (this kind of document should already be created as part of the process). If you want to take it to another level, you can hire specialists to come in and evaluate the PVT line, and provide recommendations for improvement.
Conclusion
Let's say you have a new product set to launch within the next few months. You're anxious and you're on a tight deadline, and the last thing you can afford is to under-deliver. Here are some essentials you NEED to cover to make sure the product that reaches your customers meets the expected quality standards:
Packaging may be a detail you haven't seriously considered before, but your customers will surely notice. If you're not a packaging expert, make sure you consult someone that is. Ensure that your packaging will hold up to transportation by having it professionally tested. Either on your own or by hiring a trusted source, vet your packaging supplier and confirm proper storage & packing method.
Material control ensures that the materials and specifications used to produce that "golden" sample you received earlier haven't been changed prior to mass production. Visit the supplier on your own, or hire professionals, to verify the Bill of Materials for your product. If possible, verify that parts used in the product conform to those in a Component Data Form, and potentially save yourself a lot of time and headaches later down the road.
Production Validation Testing looks at the processes involved with manufacturing and assembly during a "test run" and seeks to find any inefficiency or other issue from which modifications or improvement can be made. This is especially important for any factory working with lean manufacturing, and manufacturing consultants can help you analyze results and implement plans for positive change.
Don't let these quality pitfalls lead to the failure of your next big product. Keep these areas in mind, and your next product launch is sure to be a Grand Slam!