This 3-minute video guides you through how QC inspectors use a QC checklist to check products and explains how clarifying requirements can help you avoid quality issues!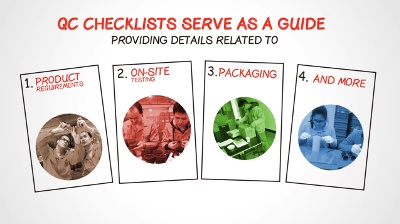 What does it take for an importer to effectively manage product quality? How can you make your requirements and expectations clear to your supplier before manufacturing to prevent unacceptable issues later on?
Fabric importers sometimes find their products have the wrong material composition. Power bank importers find their products don't have the power capacity they specified. And importers working with machined components find their product's dimensions don't measure within their precise tolerances. Managing product quality is a very common frustration among importers across most product types and regardless of which country their supplier is from.
But few importers realize that failure to adequately clarify expectations is one of the most common causes for quality issues and other problems with the finished goods. Fewer still know of the best approach to take in clarifying expectations with their supplier.
How inspectors use your QC checklist in practice
Understanding how professional inspectors actually use a checklist in the field will help you greatly in knowing how to organize and what to include in your own. In the video below, you'll see a 3-minute overview of the step-by-step process inspectors use to check products with a checklist to guide them. By the end, you'll have a greater appreciation for the value you'll get as an importer trying to clarify expectations (related: Why Importers Need a Quality Control Checklist).
How QC checklists help ensure your requirements are met
The quality control (QC) checklist is the leading document for helping you ensure your supplier understands all your product specifications and similar requirements. An effective QC checklist should be shared between you as the customer, your supplier and any QC staff with will be inspecting your goods before shipping. Checklists address a number of areas vital to the manufacturing and inspection process, including:
Product requirements
Packaging requirement
Defect classifications and tolerances
And more
QC checklists limit the risk of your supplier misunderstanding your expectations and making mistakes during production. They also serve inspectors in guiding them on how to properly check your product and report on any problems to you. The result is that you have a stronger hold on the condition and status of your order, and you're better able to manage the quality of your product.
---
Do you know of any other ways a QC inspector might use your checklist while checking a product? Share your ideas in the comments section below?