This week on Best in Manufacturing, learn about how automation is an impending threat to Asia's move up the economic ladder, rising labor disputes in China and more!
Each Sunday, we publish a list of top articles and other content related to manufacturing in areas like quality control, product development, supply chain management, sourcing, auditing and law.
1. A drastic shakeup in Asia's economic model
In the decades following World War II, Asia has undergone remarkable developments. For example, bolstered by the employment and value that manufacturing generates, Japan, China and South Korea have risen to become some of the world's most impressive economies. Manufacturing spurred growth and innovation for these three nations and is surely a component of their current global status.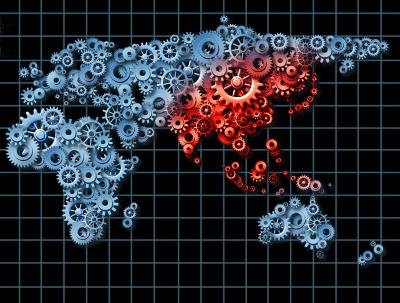 But thanks to automation, this success might not be replicable for several other Asian nations.
Production of basic consumer items like clothes and shoes make up the foundation of early manufacturing development. Products like these are what Japan, China and South Korea started making before eventually progressing to more advanced ways to improve their economies. These products, along with many others that are labor intensive, are typically created in locations with very affordable minimum wages. Automation threatens this trend because it eliminates the potential for mass industrial employment.
For consumers, these changes might not be so bad. With automated machines, there are no training costs, sick days, strikes and so forth. Manufacturers can also operate closer to target markets. Altogether, these advantages can bring final prices down. In most cases, you'd be hard pressed to find a consumer and CEO that don't like a more affordable, competitive price.
Bangladesh, Cambodia and Myanmar are particularly threatened by automation. Without manufacturing, masses of people will not make the transition to more advanced labor. These countries will not make the same leap up the value chain that their neighbors have been able to. With this potential change to its economic model, what do you think Asia will look like in the coming years?
To learn more about the shifting economic model in Asia, check out the full article in the link below:
This Economic Model Organized Asia for Decades. Now It's Broken – Kevin Hamlin and Dexter Roberts, Bloomberg
2. Robots vs. workers: A clear choice for Chinese factories
Chinese manufacturers likely worry about many problems, ranging from protectionist foreign sentiment to the possibility of workers no showing up to work that day. And after a survey of 1,200 Chinese manufacturers, there's another clear concern: insufficient labor supply.
Turnover rates are high among factory workers, which increases labor costs because factories need to pay more to retain them. This problem isn't so rare, either. For example, this featured article reports that around 26 percent of workers in the Pearl River Delta (located in Southern China) had changed jobs during the two year time period studied.
High turnover is obviously a major issue for factories. When workers leave, that means new ones must be hired and retrained, requiring time and money. Robots, however, don't suffer from this problem. According to the survey cited by this featured article, 40 percent of manufacturers in Guangdong and Hubei have turned to automation for production to fight the effects of turnover.
To learn more about how Chinese factories are coping with turnover, check out the full article in the link below:
China's Factory Owners Pick Robots over Job-hopping Workers – Sidney Leng, South China Morning Post
3. How 3D printing will upend manufacturing
Let's pretend that you're in a lab trying to develop an improved part for a motor. Finally, after hours of running ideas through an algorithm to formulate the part, you settle on what will be a revolutionary upgrade to motors. There's just one problem: it's too complicated to make. Even if you do somehow manage to make the part, it'll be too laborious to efficiently produce on a massive scale.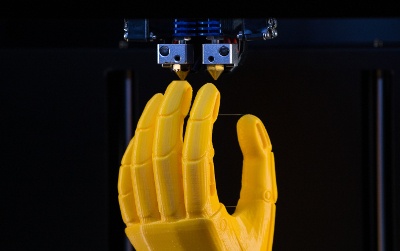 Enter 3D printing. In case you're not familiar with how it works, 3D printing adds one layer of material on another, making it an additive production process. Subtractive manufacturing, by contrast, removes material until a desired form is achieved. But with subtractive manufacturing, it's not always possible to make complex designs a reality.
This featured article contains a remarkable story demonstrating the capabilities of 3D printing. Engineers at General Electric were able to make some serious improvements to a helicopter engine after a few months of work. Specifically,
Within 18 months, the team was able to print half of the machine, reducing 900 separate components to just 14, including one segment that previously had different 300 parts. The printed parts were also 40 percent lighter and 60 percent cheaper.
The improvements on the helicopter engine serve as an indicator of the potential for applications elsewhere. By printing the machine, the engineers eliminated the need for dealing with several different suppliers, a handful of different tolerances and all the other hassles that came with creating a complex product. And I've got a feeling that all the amazing potential of 3D printing is only just beginning to emerge.
If you'd like to read more about 3D printing and its disruptive potential, check out the full article in the link below:
An Epiphany of Disruption: GE Additive Chief Explains How 3D Printing Will Upend Manufacturing – Tomas Kellner, GE Reports
4. An all-time high for labor disputes in China
In a previous edition of Best in Manufacturing, I wrote about the scale of Chinese labor unrest. And as this featured article reports, the unrest has continued to grow.
Official national statistics recently revealed that more than 1 million workers were involved in labor disputes. One of the major causes of unrest was unpaid social insurance contributions, which accounted for as much as 40 percent of arbitration cases in the last 3 years.
The increase in unrest is further evidenced by the Chinese Labor Bulletin's strike map, which has "recorded over 8,000 worker collective actions in the five-year period between 2011 and 2016".
Labor disputes should be a major concern for importers and manufacturers. With workers protesting or considering protesting, delayed shipments might become a reality. Even worse, if a dispute is significant enough, production could halt for days and weeks, throwing a supply chain into chaos. Of course, the disputes might also signify unsound factory practices, which in turn should be a wakeup call to find a new supplier that is more socially compliant.
To see the data for yourself, check out the full article in the link below:
Labor Disputes at Historic Highs, Official Statistics Reveal – China Labor Bulletin
5. Using laser markings in manufacturing
In manufacturing, sometimes lasers can help with measurements (see #5). On other occasions, they help reduce product rework and increase throughput (see #5). And yet another application nowadays for lasers is as a tool for creating markings.
While I personally don't expect screen printing and engraving methods of marking to disappear anytime soon, lasers now also offer the ability to imprint an item with your desired text or image. The technology works by using "focused laser light to produce easy-to-read, damage-free marks instead of using a physical tool to transmit ink or etch the surface."
Lasers are better seen than merely described. If you skip to 0:51 of the video below, you can observe a laser engraver in action.
This technology isn't just cool, it's also helpful. By using laser marking technology, you can benefit in a few ways:
Have more eco-friendly and cleaner operations: no chemical-based inks are necessary in laser marking, making it more sustainable. Additionally, it eliminates the need for cleaning marking printers.
Comply with the federal laws of the United States: laser markings are clear and help offer the traceability required by some federal U.S. agencies
Connect parts to the industrial internet of things (IIoT): laser markings can automatically mark parts if they're part of an IIoT-enabled system
Minimize counterfeit products: laser markings are delicate enough to interact with sensitive product categories, like pharmaceuticals, to ensure items are properly identified and easily discernable against fake goods
Avoid compromising quality: using ink for markings, there's the risk that it will run and alter the appearance of a product. Laser markings avoid this problem and preserve the item's original quality
Lasers aren't just for villains in movies. They've got real, practical applications in manufacturing.
Laser Marking in Manufacturing and It's Benefits - AZO Materials
---
We're constantly scanning the web for top manufacturing stories and news. If you'd like to submit an article for consideration for our weekly Best in Manufacturing, send us a message and let us know.