Learn about Target and Apple's electronic product recalls , brands staying in China and Amazon's revolutionary drones in this week's roundup.
Best in Manufacturing – June 23, 2019
Each Sunday, we publish a list of top articles and other content related to manufacturing in areas like quality control, product development, supply chain management, sourcing, auditing, and law.
1.Apple and Target issue major electronic product recalls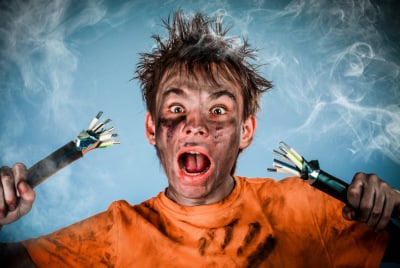 We are surrounded by electronic products every day. Products like phones, laptops, power banks, charging cables, and power adapters have become so commonplace that we use them without giving them much thought.
But defective electronic products could lead to deadly problems—for both consumers and brands.
The U.S. Consumer Product Safety Commission (CPSC) recently issued two high-profile recalls affecting Target's charging cables and Apple's wall plug adapters. These electronic products have critical defects that could lead to safety issues.
CPSC recalled electronic products due to reported safety risks
Both Target and Apple are famous brands, but even they are still troubled by defective products.
Target recalled 90,000 Heyday lightning USB charging cables at the end of May. These cables are sold both in-store and online. Target said they received 14 reports of the cables smoking, sparking or igniting, including two reports of consumer burns.
CPSC's recall notice said the metal around the cord could pose shock and fire hazards while charging. This recall was bad news for Heyday, as it's Target's first-ever consumer electronics brand. Just launched in 2018, the brand's reputation could struggle to recover from this recall.
As for Apple, it has recalled 814,000 two-pronged and three-pronged AC wall plug adapters. The AC plug adapters were sold with Mac computers and some iOS devices between 2003 and 2010. The three-pronged plugs were also included in the World Travel Adapter Kit for use in Hong Kong, Singapore, and the United Kingdom.
Apple's statement said the affected plugs "may break and create a risk of electrical shock if touched". The CPSC reported that Apple has received six consumer reports regarding these hazards. Although no injuries have been reported, two consumers were medically evaluated and released without the need for further medical treatment.
In fact, this is not the first recall of this type for Apple. Apple recalled 895,000 AC adapter kits in 2016 as well.
On-site testing can help prevent hazards in electronic products
You don't want to risk a product recall if you import electronic or electrical products. Pre-shipment inspections can help you identify hazards before your products hit the market, preventing recalls (related: 5 Electronic Product Recalls that QC Inspection Could Have Prevented).
A pre-shipment inspection should always include a function test to mimic real use. The inspector should test a specified sample of units by using the product as instructed in the user manual.
Inspectors can also perform on-site tests to confirm whether batteries perform safely and optimally. These can apply to electronic products like smartphones, power banks, and toy cars and can include such tests as:
Battery short circuit

Battery charge/discharge, and

Temperature cycling
Overheating is another common problem among electronic products. Still, there's on-site testing to identify overheating problems as well. An inspector will usually:
Disassemble the product to confirm electrical components meet specifications

Ensure components have the proper rating for voltage, current, and temperature for safe function
The above tests can help check for a short-circuit voltage and determine whether the product creates excessive heat while in use.
Alongside on-site testing, you can also perform lab testing to detect hazards ahead of time and avoid further recalls. Follow the link below to learn more about Target's lightning cables recall.
Target recalls own-brand Lightning cables over fire risk – Jon Porter, The Verge
2. Some brands remain in China, despite tariff impact
President Trump's tariffs on Chinese goods are already affecting consumer goods' prices. Many U.S. brands are
considering relocating outside China to avoid tariffs and price increases.
But some brands are choosing to keep their production lines in China, recognizing the potential of China's huge consumer market.
Others rely on China's skilled workers and technical expertise to manufacture specialized products. These brands are not willing to leave China or are simply unable to manufacture their products elsewhere in the short term. All these brands are currently protesting additional tariffs on their products.
The trade war between the U.S. and China shows no signs of stopping. So brands and manufacturers had better think of new ways to offset the increasing costs and retain their customers.
U.S. consumer prices rise due to tariffs
Everyone in the supply chain will pay for tariffs—especially consumers. When tariffs increase, higher costs are often passed onto consumers in the form of higher prices.
Gareth Brooks, the Asia-Pacific managing director VF Corporation, expressed his concern for rising inflation:
We've been able to help offset the rising cost of labor within our supply chain, but as the trade war begins to bite, inflation of the cost of consumer products is a real possibility.
Tariffs imposed by Trump over the last year could cost an average family of four in the U.S. around $767 a year. This is not a small sum of money for the average American. And that amount could rise with more tariffs on "Made in China" goods.
Goldman Sachs analysts recently found that prices for nine categories of products affected by tariffs rose roughly 3 percent between February 2018 and April 2019. These goods included furniture, bedding, washing machines, auto parts, motorcycles, and sewing machines.
Shoe shoppers will pay $7 billion more for tariffs according to an estimate of The Footwear Distributors and Retailers of America (FDRA). The FDRA said a pair of sneakers currently retailing for $49.99 could increase to $65.57 under Trump's 25 percent tariff.
In May, footwear giants like Nike, Adidas, and Foot Locker wrote President Trump a letter urging him to stop the tariff increases. The letter included the following statement:
[Trump's] proposal to add tariffs on all imports from China is asking the American consumer to foot the bill.
Some U.S.-bound goods will continue to be produced in China
VF Corporation's popular brands like North Face, Vans, and Timberland are getting hit by the tariffs. But VF Corporation is among the companies that won't leave China.
VF sees huge potential in China. China is VF's fastest-growing consumer market. VF's China revenue jumped 22 percent last fiscal year, compared to 11 percent growth for the Asia-Pacific region overall.
This firm currently has no plans to move its production out of China, and will instead double down on China. Kevin Bailey, VF Corporation's Asia-Pacific group president, said:
Our brands are still really in their infancy in this marketplace and are recognizing what China's potential is.
Some companies also plan to stay in China for their specific advanced manufacturing skills, including VF. Not all manufacturing plants in China simply manufacture low-end goods. Some manufacturers have been investing in their Chinese production lines by purchasing high-tech equipment and training skilled laborers.
Take VF's high-performance tents, for instance. These tents have crucial safety features for mountain climbers. Fabric type, sturdiness, climate conditioning, and flame retardance are among many other factors VF must consider when manufacturing tents.
Relocating manufacturing is rather difficult for this kind of tent manufacturing. Brooks said:
That's a capability that's developed over many, many years. It's not like a tee shirt where you can pick up that material and move it somewhere else, there's a lot of expertise.
Follow the link below to learn more about the tariffs' impact on consumer prices.
Next phase of trade war could hit clothing prices as manufacturers leave China to dodge tariffs, warns owner of Vans, North Face – Simone McCarthy, South China Morning Post
3. Amazon enters battle: revolutionary new drones unveiled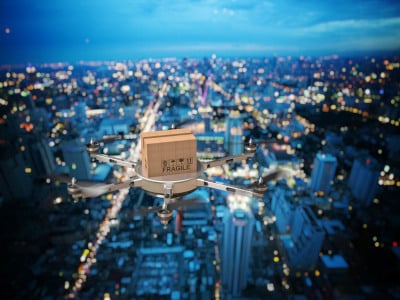 Drone delivery has been quite a hot topic in logistics lately. Drones are a fast and convenient solution for delivering goods in dense urban areas and the remote countryside.
Amazon has been teasing for a while about soon using drones to deliver goods. And they recently unveiled their new "hybrid" drones for deliveries.
The battle for drone delivery in the U.S. is tense. Amazon has been competing against Google's Wing, UPS, and many other smaller companies to create devices for commercial deliveries.
Plus, any company that wants to launch commercial drones in the U.S. needs to comply with Federal Aviation Administration (FAA) regulations. But Amazon says all the components of its new drones are designed with FAA regulations in mind.
The company expects these new drones can be used for test deliveries in the next few months.
Amazon's futuristic drones will take flight "within months"
After staying quiet for over a year, Amazon announced its new drones for its Prime Air service on June 5th. Amazon's blog said the company expects the new Prime Air drones to join Amazon's existing delivery army within months.
The new drone can fly 15 miles with small packages that weigh no more than five pounds. And it can deliver goods to the customer in just 30 minutes. Jeff Wilke, Amazon's Worldwide Consumer CEO, explained the drone's hybrid design:
It can do vertical take-offs and landings – like a helicopter. And it's efficient and aerodynamic – like an airplane. It also easily transitions between these two modes, from vertical mode to airplane mode, and back to vertical mode.
The new Prime drone has just 10 moving parts, including six propellers and four control surfaces. The device also has a six-sided shroud that can protect people from the propellers and can serve as a high-efficiency wing.
The drones are also equipped with thermal cameras, depth cameras, and sonar technology to detect hazards. The machines can transfer the real-time data to onboard computers. The computers can then analyze the data and automatically identify obstacles and navigate around them.
Wilke is confident about this technology, saying "From paragliders, power lines, to the corgi in your backyard, this drone has safety covered". The drones are designed to maintain stability even in gusty wind conditions.
Amazon hopes the new drones will help them meet its massive one-day shipping goal. The drones are also part of Amazon's Shipment Zero program, an initiative for net-zero carbon shipments.
Drones must fly under FAA regulations
Delivery drones aren't widely available for U.S. customers yet because of the need for regulatory approval from the FAA. It can take years for traditional aircraft manufacturers to get U.S. FAA approval for new designs.
The FAA has several requirements if you want to use drones for commercial deliveries, such as:
But the FAA has recently considered loosening restrictions for commercial drones in the U.S, including for night delivery permits. Amazon's competitor, Google's Wing, became the first FAA-approved drone to carry packages in the U.S. last April.
Although Amazon was one of the only drone companies that weren't chosen for a government-sponsored test last year, their new drones are compliance-ready. Gur Kimchi, who heads Amazon's engineering team that developed the aircraft, said:
This aircraft was designed with compliance in mind… this is an airplane that's built to exacting aerospace standards.
Amazon hasn't confirmed where their new drone deliveries will take place. But an FAA regulator told BBC that they have issued "a Special Airworthiness Certificate to Amazon Prime to train in authorized areas".
Follow the link below to learn more about Amazon's futuristic delivery drones.
Amazon Unveils Futuristic Helicopter-Plane Hybrid Drone for Deliveries – Alan Levin, Bloomberg
---
We're constantly scanning the web for top manufacturing stories and news. If you'd like to submit an article for consideration for our weekly Best in Manufacturing, send us a message and let us know.