Thinking about relocating? Take a look at some of the different opportunities and challenges importers might experience in each of these China sourcing alternatives.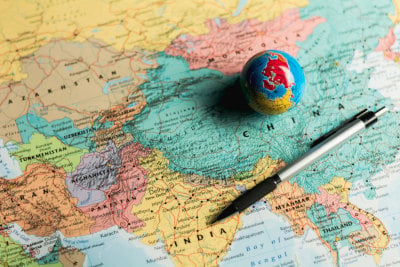 China has long been the country that comes to mind when importers hear the term "manufacturing hub".
And China does still hold some major competitive advantages over its smaller manufacturing counterparts, despite its rising wages. But with growing uncertainty from the U.S. raising tariffs against China, it's never too early to consider China sourcing alternatives.
Many up-and-coming players in Southeast Asia are competing for the title of the world's next manufacturing hub. Five countries often considered as such are Malaysia, India, Thailand, Indonesia and Vietnam—coined the "MITI-V" or "Mighty Five".
Each of these alternative manufacturing countries has their own unique advantages and disadvantages. So how do you know which country is best for your manufacturing relocation?
Let's take a look at some of the different opportunities and challenges importers might experience in each of these China sourcing alternatives.
1. Malaysia sourcing
Malaysia's economy is the third largest in Southeast Asia behind India's and Indonesia's, despite having a much smaller population. It's considered an upper-middle-income economy, with its openness towards trade and investment largely credited for its development.
Malaysia exported $264 billion worth of goods in 2017, including: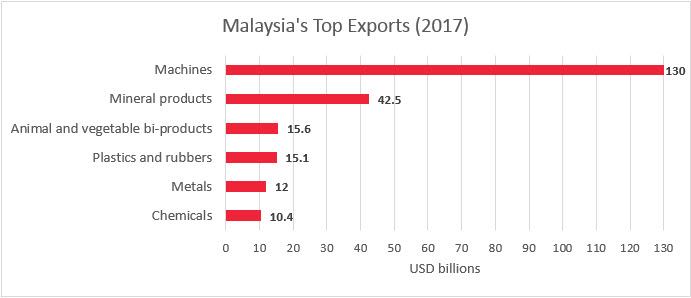 Advantages of sourcing from Malaysia
Malaysia ranks top out of the MITI-V countries on the World Bank's 2018 ease of doing business metric and also outranks China. This metric compares 190 economies on their business procedures. Some of the submetrics relevant to importers include trading across borders and enforcing contracts:

Exporters in Malaysia benefit from no value-added tax (VAT) on exports, as compared to a tax of about 13 percent on exports from China. This lowers costs for importers that purchase goods made in Malaysia.

Malaysia's geography also offers significant advantages in terms of shipping goods, as it is located on the Strait of Malacca, an important shipping lane. The country is home to Port Klang and the Port of Tanjung Pelepas, the second and third busiest ports in Southeast Asia, respectively.

Malaysia's workforce is also highly skilled, ranking sixth globally on the World Economic Forum's ranking of current workforce skills. Companies in Malaysia find it relatively easy to find employees with the skill set needed for their business given Malaysia's high level of education and vocational training.
Disadvantages of sourcing from Malaysia
Political instability is a recent concern in Malaysia and presents some risk for importers planning to manufacture there. A political coalition that led the country for more than 60 years was unexpectedly ousted in 2018 after a corruption scandal involving former Prime Minister Najib Razak.
The new government's approval rating has struggled in the months since, falling from 79 percent to just 39 percent in March 2019. This political uncertainty has scared off many foreign investors, making Malaysian stocks among the worst-performing in Asia in 2019.
Another competitive hindrance to consider when sourcing from Malaysia is the country's high labor costs.
Malaysia standardized its minimum wage in 2019, setting a national rate throughout the country. The current monthly minimum wage is RM1,100 ($263.88). This is a much higher rate than that in other MITI-V countries and China, all of which have tiered wage rates for different regions. By comparison, China's minimum wages are as low as $143 in some smaller provinces.
2. India sourcing
India is another country that's commonly cited as an alternative manufacturing location to China, due to its similarly large labor force and low labor costs.
India exported $292 billion worth of goods in 2017, including:
Advantages of sourcing from India
English is one of the official languages of India, making the country much more international in terms of doing business. Foreigners manufacturing in India don't face the same barriers of communication that often plague those who source from China.
You could also see a significant reduction in labor costs if you shift production to India. India's national floor level minimum wage is just Rs 176 ($2.54) per day or about $65.99 a month.
But India's minimum wages vary significantly by region, manufacturing sector and worker skill level. Many regions have higher rates, with Delhi's the highest at Rs 13,988 ($201.75) a month. And a new government-appointed committee has recently suggested doubling the national wage, though a decision has not yet been made.
Disadvantages of sourcing from India
India's main drawback is its lack of quality infrastructure. The World Bank's 2018 Logistics Performance Index ranks India far below China in terms of its infrastructure quality. India also ranks below many of its competitors in Southeast Asia, including Thailand, Vietnam and Malaysia.
This index scores 160 countries on six metrics, from 1 (least efficient) to 5 (most efficient):

Another concern for India is its large geographic size and relatively decentralized governance system, which can complicate business dealings. Sourcing from different regions in India could bring very different concerns, legal requirements and challenges.

For instance, working conditions are known to be generally worse for informal workers in northern India than southern India. This difference has implications for social compliance, especially if you're distributing through major retailers and expect an official supplier audit.

This complicated business environment is reflected in India's lower rank compare to China in ease of doing business. India also ranks lower than all four other MITI-V countries by this metric. Enforcing contracts remains a particular concern where India lags far behind China in the time and fees required for resolving disputes in court.

India did introduce some reforms in 2018 that will make trading easier. These reforms included

implementing electronic container sealing, upgrading port infrastructure and allowing electronic submission of supporting documents with digital signatures.
3. Thailand sourcing
Thailand's major manufacturing sectors include cars, computer components, rubbers and food processing. Thailand is also the world's second largest producer of hard disk drives (HDDs), producing about one third of all HDDs sold.
Thailand exported $215 billion worth of goods in 2017, including:
Advantages of sourcing from Thailand
According to 2018 data from the World Bank, Thailand's infrastructure quality ranks similarly to China's, particularly for the ease of arranging international shipments and the timeliness of shipments:

Officials plan to upgrade Thailand's infrastructure in its three main manufacturing provinces, Chonburi, Rayong, and Chachoengsao, as part of a $45 billion plan called the Eastern Economic Corridor. Thailand will expand two deep-sea ports and build the country's first high speed rail lines over the next five to 10 years.

This initiative is part of the broader Thailand 4.0 plan which aims to transform Thailand's industries from manufacturing based to high tech. Thailand is courting Chinese investors for this plan as part of the Belt and Road Initiative, which could bring more Chinese manufacturers to Thailand.

Thailand also ranks well on ease of doing business, outranking China. Only Malaysia ranks higher than Thailand of the MITI-V countries.
Disadvantages of sourcing from Thailand
Thailand has been hit hard by the U.S.-China trade war as the majority of Thai goods are linked to China's supply chain. Exports of computers and parts, electrical circuits, wood and wooden products and chemical products have fallen by 23.6 percent, 30.6 percent, 36.1 percent and 75.9 percent, respectively, since August 2018.
Another possible threat to manufacturing in Thailand is the country's political instability. There have been two military-led coups following frequent protests over the last decade. Although Thailand held democratic elections in 2019, importers should be wary of rapid shifts in political power and social order when sourcing from Thailand.
The country's relatively high minimum wage also makes Thailand a less attractive China sourcing alternative for some. Thailand's minimum wages are, on average, higher than Vietnam's and some smaller provinces' in China.
Thailand's minimum wage is set on a daily rate and ranges from 308 baht/day ($9.81) to 330 baht/day ($10.51). Assuming a 5-day work week, this amounts to 6,160 baht ($196.34) to 6,600 baht ($210.37) a month. The minimum wage was last raised in 2018, but workers are currently calling for another increase to 400 baht/day within the next one or two years.
4. Indonesia sourcing
As the second largest economy in Southeast Asia, Indonesia also has the world's fourth largest population with 269 million inhabitants. Its export industry is largely dependent on raw commodities and agriculture, but it also has recently expanded exports of simple manufacturing products.
Indonesia exported $189 billion worth of goods in 2017, including:
Advantages of sourcing from Indonesia
While Indonesia's population isn't as large as China's or India's, importers sourcing from Indonesia will also benefit from a large workforce. The population is also very young—the median age is only 28 years.
Depending on the region, importers sourcing from Indonesia could also benefit from low labor costs. Indonesia's minimum wage ranges from Rp 1,570,922 ($110.67) per month in the small region of Yogyakarta to Rp 3,940,973 ($277.64) per month in Jakarta.
Increases in Indonesia's labor costs have stabilized somewhat in the past five years. The minimum wage increased by 8 percent in 2019, which investors saw as an improvement over double-digit growth in 2014. The increase in minimum wages in Indonesia is now pegged to the country's national GDP growth rate and inflation rate each year.
Indonesia offers more political stability than Thailand and Malaysia, which can reduce risk for manufactures. President Joko Widodo was democratically re-elected in April 2019, signaling the continued strength of Indonesia's young democracy.
Disadvantages of sourcing from Indonesia
Indonesia's manufacturing industry isn't as well developed as some of its neighbors'. About 99 percent of the country's manufacturing firms are micro or small sized, which could make large-scale projects difficult.
Indonesia's geography presents a disruption risk to both production and logistics. The country is in Southeast Asia's "Ring of Fire" region and home to 130 active volcanoes. An earthquake and tsunami in Sulawesi, Indonesia in September 2018 killed over 4,000 people and caused widespread damage to Sulawesi's airports, ports and roads.
As of 2018, Indonesia ranks last among MITI-V countries in terms infrastructure and logistics:

On a positive note, Indonesia did jump 17 spots on this index from 2016 to 2018. The improvement is likely due to President Widodo's focus on upgrading infrastructure in his first five-year term. Widodo spent $350 billion in his first term on infrastructure and plans to spend another $412 billion in his second term.

Indonesia still ranks similarly poorly in ease of doing business. More improvements in reducing regulations are needed to support improvements in infrastructure and to make Indonesia a more competitive China sourcing alternative.

5. Vietnam sourcing
Although last on this list, Vietnam is arguably the most commonly cited country as an alternative to sourcing from China. Many have called Vietnam the "new China" due to its lower labor costs, young workforce and rapidly growing manufacturing exports (related: Manufacturing in Vietnam: 4 Key Factors for Moving from China).
As evidence of Vietnam's growing importance as a China sourcing alternative, U.S. imports from Vietnam rose 40.2 percent in the first three months of 2019 compared to the same period in 2018. Meanwhile, U.S. imports from China fell 13.9 percent.
Vietnam's economy grew by 7.08 percent in 2018, the highest rate in 11 years. And manufacturing grew by 12.98 percent as the strongest driver of the economy. This comes at a time when China recorded its lowest GDP growth in 28 years.
Vietnam exported $220 billion worth of goods in 2017, including:
Advantages of sourcing from Vietnam
Vietnam's wages are lower than China's on average. Vietnam's monthly minimum wages vary by region from VND 2,920,000 ($125) to VND 4,180,000 ($180), with the highest rates in urban centers like Ho Chi Minh City and Hanoi.
And unlike some of its neighbors' minimum wages that are rising at a rapid rate, Vietnam's only increased by an average 5.3 percent in 2019. This was a lower increase than in 2018 (6.5 percent) and 2017 (7.3 percent). The regional variation in wages is also relatively small, compared to some countries like India with large wage differences between urban and rural areas.
Recent foreign-friendly reforms now allow foreigners to own property as well as majority holdings in Vietnamese companies. This and consistent economic growth have made Vietnam attractive for foreign investment and manufacturing relocation.
Foreign direct investment (FDI) in Vietnam grew to over $7.8 billion in the first four months of 2019, a year-on-year increase of 28.6 percent. More than 70 percent of the new FDI funding is concentrated in the processing and manufacturing sector.
The country's geography is another advantage. Vietnam generally suffers fewer natural disasters than its neighboring manufacturing nations. And manufacturers considering China sourcing alternatives will benefit from easier integration with their existing supply chains, due to the close proximity of the two countries.
Disadvantages of sourcing from Vietnam
A possible risk of Vietnam sourcing has been the propensity for worker strikes. Worker strikes increased almost 10 percent from 2016 to 2017. Strikes are particularly common in Vietnam's garment industry, which accounted for 39 percent of all strikes in 2018 and has a labor turnover rate of 40 percent (related: Side-by-Side: Top 4 Asian Countries for Manufacturing Garments).
China's influence in Vietnam could lead to more strikes. Thousands protested the opening of special economic zones (SEZs) in June 2018 that would be open to foreign investment. These tensions could continue to mount as more Chinese manufacturers move to Vietnam to capitalize on low labor costs.
Although Vietnam has implemented many reforms over the past decade, Vietnam still ranks lower than China, Malaysia and Thailand in ease of doing business.

One likely reason for Vietnam's lower rank is the time needed for border compliance for exports. Border compliance takes 55 hours in Vietnam vs. 25.9 hours in China.
Conclusion
Southeast Asia offers several China sourcing alternatives for importers. Malaysia, India, Thailand, Indonesia and Vietnam are just a few of the trending countries in the region that offer competitive advantages over sourcing from China.
Ultimately, your decision to shift to manufacturing away from China will depend on your unique sourcing needs.
Are you a buyer that's especially sensitive to factors like cost of labor or value-added taxes? Or are you hoping to set up your own factory? Are you willing to wait for local or national reforms and improvements to infrastructure? These are all questions you may want to ask yourself as you're making a manufacturing relocation plan.
Sourcing from China remains the top choice for many importers. But as all experienced importers know quite well, your sourcing strategy will not be a one-size-fits-all solution. So make sure to do your homework!
Editor's note: This post was originally published in April 2015 and has been updated for freshness, accuracy, and comprehensiveness.
---
What other China sourcing alternatives are you considering? Share your experiences in the comment section below!