Learn about the rising tariffs, Starbucks' blockchain-based supply chain and Samsung's foldable challenges in this week's roundup.
Best in Manufacturing – May 26, 2019
Each Sunday, we publish a list of top articles and other content related to manufacturing in areas like quality control, product development, supply chain management, sourcing, auditing and law.
1. Trade war escalates! U.S. and China both raise tariffs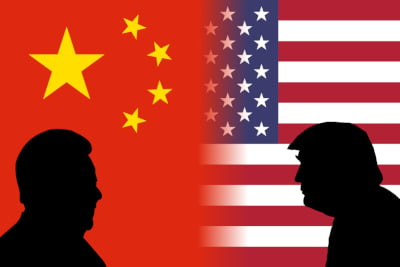 The U.S.-China trade war has been ongoing for almost a year since it started back in July 2018. And now it's escalating further.
Earlier this month, U.S. President Trump raised tariffs from 10 percent to 25 percent on $200 billion worth of Chinese goods. China retaliated one week later by announcing it will raise tariffs to 25 percent on 2,493 U.S. goods.
The latest U.S.- China talks ended on May 10th with no word of progress. President Trump says he will next meet with Chinese President Xi Jinping during the G20 meetings in June. Until then, the trade war between the world's two biggest economies shows little sign of stopping.
Tariff increases disrupt the global market
Before the tariff increases, U.S. and Chinese officials last held trade talks in late April. This was the 11th round of negotiations to put an end to the bilateral tariff war.
But President Trump was seemingly dissatisfied with the talks. Trump posted a tweet on May 5th threatening to hike tariffs from 10 percent to 25 percent on all Chinese goods. The new trade policy officially followed on May 10th.
The proposed list of affected goods covers nearly every consumer product not included in previous tariff lists, including laptops, cellphones, clothing, home textiles and sporting goods. The tariffs are planned to take effect at the end of June.
In response, the Chinese Ministry of Commerce expressed their "deep regrets" regarding the decision and said China would have to take necessary countermeasures.
Chinese officials then announced on May 13th China will increase tariffs on $60 billion worth of U.S. goods from June 1, 2019. The tariffs will be imposed at four different levels, according to the announcement:
25 percent tariffs on 2,493 items
20 percent on 1,078 items
10 percent on 974 items,
5 percent on 595 items
China's 25 percent tariffs apply to a wide range of products, including footwear, building materials, furniture, home appliances, consumer electronics and animal products.
The stock market responded quickly to the announcement—$1.1 trillion in market value evaporated overnight. The Dow Jones Industrial Average fell 2.04 percent, the S&P 500 fell 2.4 percent and the Nasdaq fell 3.4 percent.
The trade war isn't likely to come to a swift end, as China has been unwilling to back down throughout the trade war. The Chinese embassy said in a statement back in 2018:
If a trade war were initiated by the US, China would fight to the end to defend its own legitimate interests with all necessary measures.
Manufacturing industries in both countries will be affected
A trade war is never just about tariffs. Trump's tariff policy is intended to narrow the nation's trade deficit. But the tariff policy will also affect individual importers and manufacturers in both countries.
Tech products like computers and electrical equipment form a large part of the U.S. trade deficit with China. According to U.S. Census data, the total value of U.S. imported goods from China was $539 billion in 2018. Among these goods, computers and electronics made up $186.5 billion, or about 34 percent.
The harsher tariff policy will significantly impact U.S. tech companies which manufacture their products primarily in China. For example, the tariff increase could affect a wide range of Apple products, including the iPhone, Apple Watch, AirPods and more. A 25 percent tariff would effectively raise the price of an Apple iPhone XS by $160, according to one estimate.
China's manufacturing industry has also been deeply affected. Many U.S. companies are shifting their manufacturing from China to other Asian countries to avoid the tariffs. Apple plans to build product lines in India for lower tariffs and labor costs, for instance (related: Is the Trade War Pushing Manufacturing Out of China?).
U.S. or China will likely have to surrender in the trade war eventually. But Gary Hufbauer, a China expert at the Peterson Institute for International Economics, says China's not giving up yet: "Xi is preparing the Chinese people for an all-out economic war with the United States."
Both sides look like they're going to take a tougher stance before either eases off. Follow the link below to learn more about China's tariffs on the U.S.
China Retaliates Against the U.S. With Its Own Higher Tariffs – Keith Bradsher, New York Times
2. Starbucks' blockchain will tell you where your coffee comes from
Stopping by Starbucks and buy a cup of coffee on their way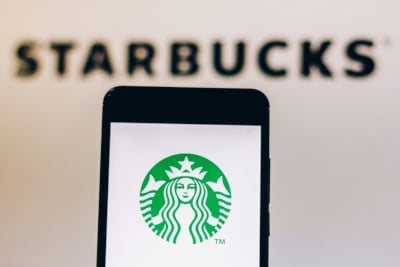 to work is a daily habit for many people. But have you ever asked about the origins of your coffee?
Starbucks is planning to use blockchain technology in its supply chain to tell customers about the source of their coffee. This technology will help link coffee buyers and coffee growers together for greater transparency.
Multiple parts of Starbucks' supply chain can benefit from this transparency. Starbucks can better analyze their customers' habits, customers can track where their coffee comes from and coffee growers can see where their products end up.
Although the launch date of the new service remains unknown, the digital traceability program is a highly anticipated step forward in ethical sourcing.
Starbucks launches "bean to cup" program
Ethical sourcing concerns have been growing among consumers in recent years. And Starbucks is aiming to foster closer relationships with its customers through responsible growing of fair-trade coffee.
Starbucks announced a new digital transparency plan in response at the March Microsoft Build 2019 conference. The "bean to cup" program helps verify their coffee beans are 100 percent ethically and sustainably sourced.
Starbucks announced they will use the Microsoft Azure blockchain service for this program.
In collaboration with Microsoft, Starbucks plans to develop a blockchain-based supply chain tracking system and mobile app. The digital program will track every ingredient in a cup of coffee, which consumers can access via a single mobile app.
Customers can see in the mobile app where their coffee beans were grown, how they are processed and how Starbucks is supporting those coffee farmers. Gerri Martin-Flickinger, Starbucks executive vice president and chief technology officer, said:
Everything we do in technology is centered around the customer connection in the store, the human connection, one person, one cup, one neighborhood at a time.
The new technology is taking Starbucks' ethical sourcing efforts to a higher level. Michelle Burns, Starbucks senior vice president of Global Coffee & Tea, said of the technology:
This kind of transparency offers customers the chance to see that the coffee they enjoy from us is the result of many people caring deeply.
Blockchain increases transparency in supply chains
Blockchain provides a mechanism for tracking data across complex supply chains. Blockchain adds efficiency, reduces human errors and clarifies responsibilities and liabilities along the supply chain (related: Blockchain in Global Supply Chains).
Retail giant Walmart is also partnering with IBM to implement blockchain technology to improve food safety in its global supply chain.
Frank Yiannas, vice president of food safety at Walmart, told Fortune on a call:
Consumers today want more transparency about where and how a product came to be. If you shine a light on the food system, that leads to transparency.
The fashion industry is also starting to use blockchain technology. Designer Martine Jarlgaard is working with software company Provenance to improve transparency in their supply chain. Jarlgaard said: "We are such a closed, centralized system. Being open and transparent is the only way forward."
The blockchain project brought three key benefits to Jarlgaard's supply chain:
Assigning a unique digital product ID to each garment through a QR code or NFC tag
Improving collaboration among participants in the supply chain
Providing customers a more integrated view of a product's digital and physical characteristics
Neliana Fuenmayor, the founder of A Transparent Company, commented the project is "a way to embrace new technologies that can help the circular economy to become a reality".
Blockchain brings more possibilities to supply chains. Follow the link below to learn more about Starbucks's blockchain-based supply chain.
From coffee bean to cup: Starbucks brews a blockchain-based supply chain with Microsoft – Lucas Mearian, Computer World
3. Samsung Galaxy Fold's delay reveals foldable manufacturing challenges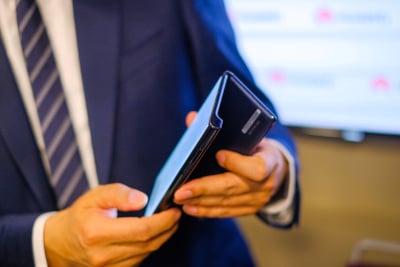 After a spectacular unveiling in February, Samsung's Galaxy Fold is in the spotlight again. But not for good reasons. The smartphone giant has since failed to launch its foldable smartphone on schedule due to quality issues.
Some early reviewers of the phone reported several display issues with the Galaxy Fold. Samsung has since delayed its launch and recalled the early release units. The company is now working to fix the quality issues, but customer interest in the product has already faded.
Samsung's CEO DJ Koh addressed the display issues in mid-May, noting that "news" was coming soon. But there's still no clear date for the new launch.
Aside from Samsung, there are many tech companies facing challenges in manufacturing foldables. As with any innovation, manufacturing problems still need to be solved before foldables can be successful.
Quality issues cause headaches for Samsung
Foldable smartphones are a hot topic among consumers, and many brands are competing to occupy this new market. As the first company to release a foldable phone, Samsung met its "waterloo" with the Galaxy Fold.
Samsung initially said it would launch its Galaxy Fold on April 26. The company first shipped some pre-release units to the media, but several reviewers reported display issues in just a few days:
Due to these issues, Samsung announced a delay of the product launch before recalling the review units.
Samsung will also automatically cancel all Galaxy Fold pre-orders if it has not shipped the device by May 31st and customers haven't indicated they still want the product. And Samsung won't charge the customer's credit card until the Fold ships.
Although Samsung is now reportedly readying its Galaxy Fold for release after finding a "fix", the new phone's launch date is still unknown.
Manufacturing challenges with flexible technology
2019 is said to be "the year of foldables". Major mobile phone manufacturers like Samsung, Huawei and other mobile phone manufacturers all aim to release their new foldable phones this year.
But there are still many challenges in manufacturing foldables. The phone's glass screen and the electronic components inside must be durable in order to fold properly.
But brands must consider both hardware and software challenges for optimal product design. Raymond Wong, a senior tech correspondent at Mashable, listed six problems that still need fixing for foldable phones:
Crease: All foldable phones currently have a crease down the middle. The visible crease on the screen will affect users' visual experience.
Durability: Today's consumers use their phone hundreds of times a day. The screen needs to be able to fold repeatedly without issue.
Software: The foldable's display aspect ratio is different from a traditional smartphone's. App designers will need to design new versions of their apps to suit the foldable's screen size.
Battery life: Constantly folding and unfolding a screen consumes a lot of battery power. Battery life will be an issue with early foldable designs.
Thickness: Foldable phones are thicker when folded. They'll need to get much thinner to match traditional smartphones.
Price: The Samsung Galaxy Fold costs $1,980. The large price tag will hinder foldables' popularity among the general public for now.
Only with high-quality products can a brand stand firmly in this new market. Follow the link below to learn more about the challenges facing Samsung and other flexible technology manufacturers.
Can we bend it? The challenge for Samsung and others to make flexible technology – Drew Evans, The Conversation
---
We're constantly scanning the web for top manufacturing stories and news. If you'd like to submit an article for consideration for our weekly Best in Manufacturing, send us a message and let us know.