How your Indian factory might be outsourcing garment work to home workers, Honda's Brexit decision to leave the UK and increased FDA drug supply chain monitoring in this week's roundup.
Best in Manufacturing – March 3, 2019
Each Sunday, we publish a list of top articles and other content related to manufacturing in areas like quality control, product development, supply chain management, sourcing, auditing and law.
1. I am in living hell: Indian
home workers sew your clothes for $0.15/hr
A new study from the University of California is urging garment importers manufacturing in India to pay attention to the informal workers in their supply chains.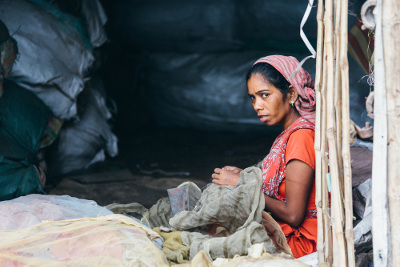 "I am living in hell". "We are slaves to the subcontractors". "We cannot leave this work even though we are treated so badly". These are the saddening words of home-based workers in India's garment industry.
The researchers interviewed 1,452 home-based garment workers in and around nine Indian cities in a comprehensive study of India's informal sector.
They found more than 99 percent of workers interviewed did not receive the state-stipulated minimum wage. Instead they earned an average of $0.15 an hour, or 50 to 90 percent less than the minimum wage.
The report serves as a warning sign to many importers who might be considering moving garment production away from China amid recent trade tensions. Eight-five percent of the workers surveyed said they work exclusively for major American and European apparel brands.
How do home workers end up in garment supply chains?
India's informal garment workers don't work inside a factory—instead they work inside their home. These home workers don't:
Sign a formal work contract

Belong to a trade union, or

Receive medical care
So how then might they end up in your supply chain?
"Tier 1" factories might outsource labor-intensive work to home workers when they need to cut production costs or meet tight deadlines, often during peak seasonal periods. These factories will contract out to sub-contract "village liaisons" to pass on unfinished goods to home workers.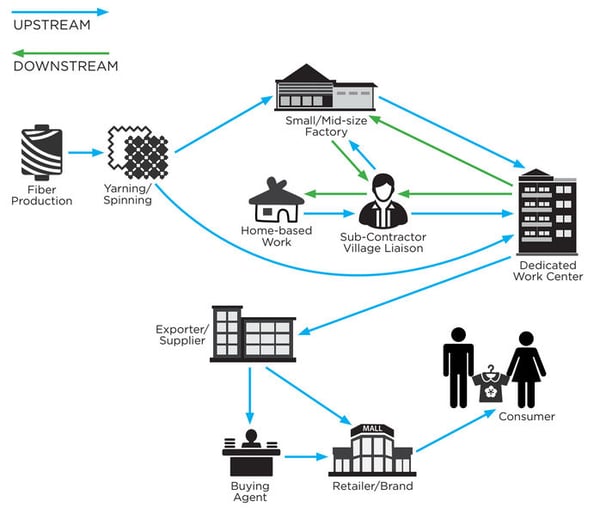 These workers often put the "finishing touches" on a garment, performing small tasks like embroidery, embellishing, beadwork and sewing on buttons. They're paid on a "piece-rate" basis, meaning payment is given per piece completed.
The study also revealed India's informal and formal sectors are strongly divided along demographic factors. More than 99 percent of the workers interviewed were either Muslim or belonged to a subordinated caste group. And 95 percent were female. The report also found that informal working conditions were slightly worse in northern India than southern India.
Of these workers surveyed, researchers also found:
8 percent began garment work as children

5 percent began the work under some form of duress

5 percent suffered severe delays in their wage payments, and

Only 9.9 percent felt they earned enough for a decent life
What can Western importers do to improve informal work conditions?
The study's author, Siddharth Kara, has 10 recommendations for importers to help improve working conditions for home workers and increase transparency in their supply chains. Some of his suggestions include:
Implementing independent, third-party supply chain inspections

Ensuring overtime payment

Increasing and enforcing minimum wages

Forming a home-based garment worker union

Increasing transparency and formalization of the home-based garment sector
But notably, Kara doesn't recommend importers switch suppliers or production locations. This is because Western apparel brands provide vital employment for these marginalized workers who can't otherwise find work.
Rather than switch suppliers, Kara encourages apparel retailers to formalize home-based employment into their supply chains. Only by demanding greater transparency from their Tier 1 suppliers can Western importers improve conditions in the informal sector (related: Social Compliance for Garment Factories: How to Avoid Disasters).
Follow the link below to learn more about India's informal sector and to read the full study.
The invisible women and girls who make your clothes – Siddharth Kara, Thomson Reuters Foundation News
2. Brexit haunts U.K. auto industry as Honda announces plant closure
Honda's recent decision to close its U.K. manufacturing plant has invoked a new wave of fear in the U.K. auto industry. The 34-year-old manufacturing plant in Swindon, England will close when the current Honda Civic model's production lifecycle ends in 2021.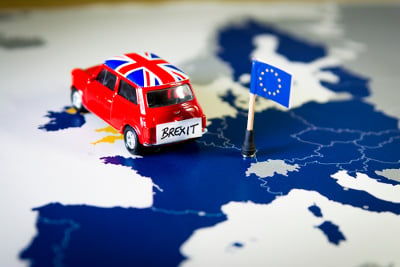 The timing of the announcement is telling, as the U.K. is scheduled to leave the EU on March 29th unless the U.K. Parliament agrees to a potential delay.
Honda has downplayed Brexit's influence on their decision, saying "no single event was to blame" for the decision. But Honda management has previously said the challenge posed by Brexit is "unprecedented in terms of its total impact", making their preference for a frictionless trade environment clear.
Other factors are likely to blame for Honda's decision as well, including a lack of infrastructure and funding support for electric vehicle manufacturing. But many are worried Honda's announcement is just the first of many post-Brexit factory relocations to come soon.
Japan-EU trade agreement promises smoother supply chain operations
In a 2018 briefing, Honda outlined some of the ways Brexit would affect their supply chain. Honda Motor Europe's government affairs manager Patrick Keating warned Brexit would:
Interrupt "just in time" delivery of two million parts a day, 20 percent of which come from Europe
Require increased customs controls and paperwork, warning suppliers might have to fill out 60,000 customs declaration forms a year
Complicate regulatory compliance, requiring the company to conduct two different sets of safety tests to meet differing U.K. and EU regulatory requirements
Three-quarters of the individual components for a Honda Civic travel via the Eurotunnel. With Brexit, those components will be costlier and more difficult to get. And it'll be more difficult to export the finished cars to Europe—the U.K. exports 47 percent of its cars to Europe.
A new EU-Japan trade deal will make it easier and cheaper for Japan to export vehicles from Japan to the EU, instead, in the future. The trade agreement came into force on February 1st, 2019, just weeks before the U.K.'s scheduled departure.
The trade agreement will remove EU tariffs of 10 percent on Japanese cars and 3 percent on most automotive parts by 2027. And it removes regulatory barriers between the two groups, as Japan will align its automotive standards to the EU's standards.
Will more Japanese companies follow?
Some trade experts think Honda's move might signal a larger trend among the Japanese business community to leave the U.K. And many believe this is because U.K. leaders haven't paid enough attention to Japanese trade relations during the Brexit transition.
As former UK government trade official David Henig says:
Japanese companies and the government were continually asking for reassurance and weren't getting it. What else are they going to do? They're going to make their excuses and leave.
Nissan, another Japanese auto giant, have already announced they won't manufacture their new X-Trail SUV in the U.K., even after being offered £61 million in state aid. Rather, Nissan will relocate production back to Japan due to "continued uncertainty around the U.K.'s future relationship with the EU".
Brexit might also motivate Japanese companies to shift production to cheaper sourcing locations in Europe and Asia. One worker at Honda's Swindon plant said, upon hearing the news:
For me the Japanese just want to produce the same product with less costs. I won't be surprised if they build a new factory in a cheaper European country.
Follow the link below to learn more about how the U.K.'s trade relationship with Japan might be in danger post-Brexit.
Honda, Brexit and the collapse of Japan's love affair with the UK – Chris Stokel-Walker, Wired
3. FDA steps up drug supply chain monitoring amid opioid crisis
The FDA issued its first warning letter to a drug manufacturer under the Drug Supply Chain Security Act (DSCSA) in early February.
This action comes on the heels of increased scrutiny of the FDA's monitoring of drug supply chains amid the U.S. opioid crisis. More than 130 people in the U.S. die from opioid overdose every day—and many think the FDA should be doing more to monitor the distribution of opioids.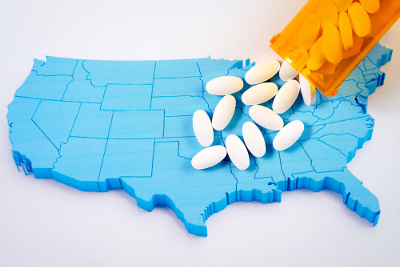 The FDA's recent move to issue a warning letter under the DSCDA is a sign the FDA is ready to take further action against drug manufacturers.
FDA Commissioner Scott Gottlieb issued a press release following the issuing of the warning letter, remarking:
The FDA won't hesitate to act when companies violate the law and jeopardize the safety of Americans by neglecting their responsibilities to maintain the security of the supply chain, especially when it comes to opioids.
Stakeholders at all stages of drug supply chains should expect increased regulatory action in coming months—manufacturers, repackagers, wholesale distributors and dispensers alike.
Requirements for drug trading partners under the Drug Supply Chain Security Act
The Drug Supply Chain Security Act was passed in 2013 to help protect consumers from exposure to counterfeit, stolen, contaminated or otherwise harmful drugs.
The first DSCSA warning letter states the drug manufacturer in question, McKesson, failed to:
Sufficiently respond to illegitimate product notifications
Quarantine and investigate suspect products
Maintain records of investigations of suspect product and disposition of illegitimate product for six years, as the law requires
The FDA issued the warning letter after three Rite Aid pharmacies reported receiving bottles labeled oxycodone hydrochloride that were instead filled with naproxen. Although McKesson investigated the incident and concluded the drugs were most likely tampered with while in their possession, they failed to notify their other trading partners of this contamination.
Under the DSCSA, drug supply chain trading partners (manufacturers, wholesale distributors, dispensers and repackagers) are required to:
Provide lot-level product tracing information to subsequent purchasers
Establish systems for verification and handling of suspect or illegitimate product
Verify authorized trading partners, namely by verifying FDA establishment registration
These requirements are in addition to existing good manufacturing practice (GMP) regulations drug manufacturers must comply with.
How the FDA is increasing drug monitoring and enforcement
As part of the DSCSA, the FDA plans to build an electronic, interoperable system to identify and trace the distribution of certain prescription drugs in the United States.
The FDA will continue to gradually phase in the system until 2023, but the FDA is already:
Paying increased attention to international shipments, particularly those shipped to U.S. Postal Service international mail facilities. In a sample of 20 websites audited by the U.S. Postal Service and found to distribute illicit drugs, 80 percent instructed traffickers on how to ship illicit drugs through the U.S. Postal Service
Issuing warning letters to online networks that illegally market potentially dangerous, unapproved and misbranded versions of opioid medications
Increasing ports-of-entry inspections and investigations in cooperation with the U.S. Customs and Border Protection
With the recently issued warning letter, it's becoming increasingly clear the FDA is taking the next step towards protecting consumers against harmful drugs.
Follow the link below to learn more about the FDA's recent drug supply chain enforcement actions.
FDA Issues Warning to Drug Manufacturer Over Product Tampering – Kelly Burch, The Fix
---
We're constantly scanning the web for top manufacturing stories and news. If you'd like to submit an article for consideration for our weekly Best in Manufacturing, send us a message and let us know.