In this week's roundup, learn about the rising price of holiday gifts, Amazon's in-store pick-up service, and insights on garment labels.
Best in Manufacturing – November 09, 2021
Each Tuesday, we publish a list of top articles and other content related to manufacturing in areas like quality control, product development, supply chain management, sourcing, auditing and law.
1. Customers Watch Out: Holiday Gifts Might Cost You More This Year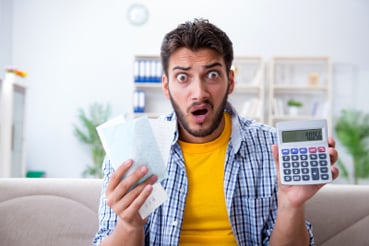 The holiday vibe can usually light up people's shopping wills and push them to buy more than usual. People tend to expect to see more on-sale labels at the end of the year but this year hopes might lose. Customers might need to hold their purses this time as there won't be that many discounts for holiday gifts this year.
Whom to blame? The disordered supply chain.
The major reason is obvious: port congestions. From the Suez Canal Blockage to the Yantian Port Congestion, the supply chain has suffered lots of disruptions this year so far. The congestions in major ports have caused chain reactions including container shortage and congestions in other smaller ports globally.
Worse, the labor shortage at the receiving ports further extended the lead time. For instance, tasks like unloading the stocks from the ships, shipping the products to warehouses, distributing the goods to shelves all need manpower. These workers have to deal with COVID-19 infections or exposures, and many choose not to proceed with such works to protect themselves and their families.
They have no choice but can only lift prices to mitigate cost pressure
For many brands and retailers, the holiday strategy is often small profits but quick turnover. But with all those restraints on the inventory, they cannot provide the same discounts efforts as before, if they want to maintain their profit level. Adrian Mitchell, Macy's chief financial officer, commented:
From a promotional standpoint, this year's promotional levels have been lower than historical levels, and we've been thoughtful about the categories that need promotion and we'll continue to do so.
The garment industry cannot be spared from this disruption. Women garment chain J. Jill recently announced that the stores will offer less discounting in the coming weeks as they are suffering from "elevated shipping costs and delays".
The same issue happens to footwear retailers as well. sporting goods chain Academy Sports + Outdoors said there will be fewer deep discounts for the upcoming holiday season:
There's been a lot less promotions in the marketplace because there has been a shortage of supply....Last year was not very promotional. We don't think that this holiday is going to be terribly promotional either.
However, the brands and retailers are not just sitting and waiting for their containers. They are also working on finding new suppliers as well to fulfill their warehouses as soon as possible.
Supply chain diversification is essential
Here comes the concept of supply chain diversification (related: Supply Chain Diversification: Not Leaving China, But Expanding From China). But certainly, it's not only about sourcing from China.
As evaluating a supplier needs massive time and efforts and trust, many importers tend to work with one major supplier and build a long-term relationship, or multiple suppliers in one region for better management.
But this strategy doesn't work well since the COVID-19 rages. For example, if the supply and export is affected in Vietnam and Vietnam is your only sourcing country, your supply chain will be affected. The impact will last longer than expected as every chain will bear a side effect.
Under this circumstance, supply chain diversification is more important than ever to maintain the feasibility of your supply chain. Even if one supplier is affected, you may quickly shift to another supplier to meet the demand and ensure your lead time.
Of course, the transition period can be painful and might cost a lot as you might need to rent new space or conduct several audits to your new supplier. But eventually, it is a healthier supplier chain that can support you go further.
Follow the link below to learn more about how the product price for the upcoming holiday season.
Discounts will be harder to find this holiday season. Blame the supply chain – Parija Kavilanz, CNN
2. Amazon and Local-Businesses: The Ins and Outs of In-Store Pickups
BOPIS or Buy Online and
Pick-up In-Store is not a new service. In fact, it's been around since the early 1970s. However, in pre-pandemic times, only about 66 percentof US stores offered the option of BOPIS, while post-pandemic, the figure has increased to almost 90 percent. Alongside related services have popped up—take curbside pickup, for instance. Since its conception in 2019, curbside pickup is now being offered by 60% of stores across the US.
Providing the option for in-store pickup has become extremely beneficial for all ecommerce businesses and companies that have brick-and-mortar stores or have tie-ups with retailers who do. Though this may seem counter-intuitive, it is not surprising as waiting time and delays in delivery are a huge hindrance for customers who wish to purchase goods online without having to wait to receive their product.
Since in-store pickup thus blends the best of both worlds, it is no wonder that Amazon has launched the option on their platform as well.
Amazon and In-Store Pickup
Amazon's newest update, Local Selling, allows small and medium businesses to offer in-store pickup on their Amazon pages to ensure a faster delivery to customers who live close to their retail store locations.
This is a prudent move to ensure that they do not lose customers to other retailers' websites, marketplaces, or brick and mortar stores.
It also ensures that while shoppers are provided with the bonus convenience of having multiple delivery options available to them, retailers continue to receive business from their Amazon pages and are thus incentivized to continue their tie-up with the company. There is an added advantage: when customers collect their orders in-store, they are likely to make additional purchases.
How Does In-Store Pickup and Local Selling Work
Shoppers are provided the option to select in-store pickup on items that are eligible for the same. They may then collect their package on the same day, at no extra cost.
In the case of local deliveries, sellers can opt to transport items to the customers using their transport vehicles. They may also offer other services in addition to the delivery, such as installation assistance or product assembly.
Sellers also have the freedom to decide the speed and cost of shipping. However, most merchants manage to deliver products within two days at no additional charge, just like Amazon Prime. Some are also capable of offering same-day deliveries, according to the retail sales and installation manager of Walts TV, Arizona - Bear Hendley.
What This Means for Amazon and Its Retailers
Amazon's vast network covers a variety of third-party sellers all across the globe who have a large physical presence. Using this to their benefit could be crucial to Amazon's growth, just as Walmart and Target used their brick-and-mortar storefronts to provide same-day delivery and in-store pickup options to customers living in the vicinity who placed orders online.
So how does Amazon differentiate itself from other retail giants? Simple. It offers sellers a new service called Product Opportunity Explorer. Once they opt for this service, Amazon will share with sellers valuable metrics based on consumer searches. This service will help sellers fill gaps based on unmet customer needs, identify pricing trends, gain more insight through sales history and identify high-potential products.
Sellers stand to gain from this service as it might boost sales and be beneficial in providing additional income. They may also use their existing infrastructure to provide additional services to customers, thereby improving their profit margins. While there have been concerns about potential data misuse and granular insights due to Amazon's dual role as manufacturer and marketplace provider, the company assures transparency and value to its sellers.
Follow the link below to learn more about Amazon's latest in-store pickup services.
Amazon launches in-store pickup option for items from local businesses – Annie Palmer, CNBC
3. Garment Labels for A Sustainable Fashion Industry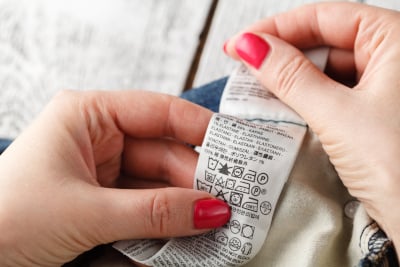 Standardized garment labels have been an essential part of the clothing industry since the inception of synthetic fibers used in commercial production. However, labels don't serve just one purpose, i.e., letting customers know how to wash and care for their clothing. In their earliest form, labels were used by labor unions. They also helped differentiate between low and high-quality products.
Somewhere in the illustrious journey of the humble garment label came a movement (started by Hanes) that replaced the itchy, inconvenient tag with instructions that they printed directly on the garment. The basic message remained the same: information about the brand, material, wash and care instructions.
In the past few years, there has been a call to change what information is depicted on garment labels. Called an eco-label, these share with consumers ethical and environmental information.
Let's take a closer look at what's trending with labels today.
The Changing Face Of Garment Labels
With technological advancements and increasing demand for sustainable clothing amongst environmentally-conscious consumers, clothing brands are beginning to make the conscious shift to share even more information about their garments. But why?
A survey conducted by Avery Dennison found that customers value transparency and traceability from clothing brands. Perhaps this is why over 60 percent of buyers appreciated incentives that helped them track their clothing's journey—where it came from and how it was made.
Interested in showing or verifying your garment's lifecycle? As a quality control service, we verify the production process, including working conditions and inspection before shipment to ensure that the quality of products is maintained. Get help and reduce rejects and returns today.
Sustainable Fashion: Brands and Labels
Reselling a garment is relatively easy, as customers are typically only concerned with its authenticity.
However, since each garment is made from different materials, it could complicate the recycling process. Garment labels that provide essential information regarding material composition are thus crucial in this aspect.
Aside from this, brands also use labels to provide insights into other aspects of the garment's journey. Let's look at a few examples:
Boden (London, UK) maintains supply chain transparency by providing all the information regarding the making of their garment in their labels.

The Loom Art's (Jaipur, India) popular initiative #WhoMadeYourClothes uses hang tags to provide in-depth information regarding the product's manufacturing—the craftsmen involved in making the garment, including the tailors, weavers, and embroiderers.
Certain popular fast-fashion brands have also made appropriate changes in an attempt to be more sustainable. These are:
Looop by H&M - remakes an existing garment into a new piece of clothing for users, thus decreasing waste generated by discarded clothes.

Uniqlo by Uniqlo - encourages recycling and reuse of garments by using donated clothes to make new clothing or distribute them amongst those in need.

Join Life by Zara - an initiative to donate and reuse clothes that would otherwise end up in a landfill.
How Can Labels Be Sustainable
Despite the shift in clothing manufacturing towards a more sustainable method of sourcing and production, most garment labels have yet to catch up. Companies might consider the following sustainable, environmentally-friendly labels for their clothing:
Cloth scraps

Virgin FSC paper

Wheat straw

Bagasse
Using reusable and sustainable items such as safety pins and jute threads to attach hang tags may also go a long way in reducing the unnecessary waste involved in selling clothes.
Ultimately, fashion can only be slow, sustainable, and ethical if all the details are just right—from the fabric's source to the artisans involved, the design process, collections produced, and ultimately, how we buy and dispose of clothing.
Follow the link below to learn more about how the secrets of the garment labels.
Why garment labels will unlock a more sustainable fashion industry – Zofia Zwieglinska, Glossy
---
We're constantly scanning the web for top manufacturing stories and news. If you'd like to submit an article for consideration for our weekly Best in Manufacturing, send us a message and let us know