Ecommerce is the fastest growing sector of the consumer goods market. Whether you are an up-and-coming ecommerce brand, or an established brick-and-mortar retailer facing pressure to adapt, you'll need to understand the unique expectations of the ecommerce space in terms of product packaging.
This means that Ecommerce brands, including Amazon FBA sellers, need to have effective quality controls in place to ensure customers are having a positive experience with the brand. And one part ecommerce businesses can't overlook is the quality control on packaging.
What is ecommerce packaging and why is it essential?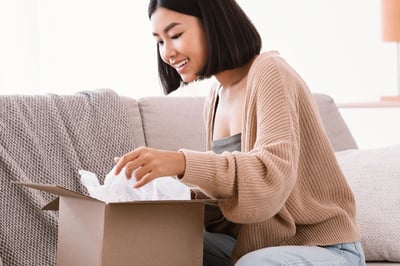 First impressions matter. For Ecommerce brands, the product packaging is the first physical interaction that customers have with your brand. This makes it essential to create a satisfying unboxing experience through quality packaging. Not only does this make your customers happy, it also improves brand loyalty and increases the chances they will come back for repeated purchases.
For retail business and ecommerce business, the standard for packaging is different. When selling products in a retail environment, the primary concern is to stand out and grab attention from the store shelf. Many retailers will also look at how the item sits on a shelf and how much space it takes up.
However, ecommerce-friendly packaging needs to do different things. The primary concerns that ecommerce customers have include the following:
Simple, easy-to-open packaging

Ability to protect the product during transport

Consistent branding

Environmentally friendly materials
The good news is that ecommerce packaging is generally more straightforward than retail packaging. With some standard QC checks in place, ecommerce sellers can quickly gain satisfied customers.
4 Important Quality Controls for Ecommerce Packaging
In order for your products to arrive in perfect condition for your customers every time, quality control services are necessary to perform the various inspections for every shipment before it leaves the warehouse. Consistency is key — implementing quality control for your ecommerce business is what will ensure a top-quality customer experience and mitigate losses.
These are some highly important quality control checks to consider:
1. Carton drop test
This test is designed to simulate rough handling during transport. It is performed by holding the package at a specific height and dropping it several times and several different angles to see how well it protects the product inside. It can help to make sure your package won't reach your valuable customers in a mess.
2. Verify appropriate sealing methods
You also need to verify the structural integrity of your packaging by checking if it has been sealed appropriately. Do not neglect to specify sealing methods your package requires (tape, glue, staples, nylon band, etc.) on your QC checklist.
3. Clear branding
Secondary packaging is an important part of your branding that shouldn't be underestimated. Make sure your logo and colors are correct, and that any graphics or text can be easily read. Doing so will create a satisfying unboxing experience that your customers will want to share online.
4. Check your sample
As part of your QC process, you need to have an approved sample that will serve as the standard for all products being shipped. This sample should be made of your desired material. It should reflect all your requirements including color, printing, size, logo, and etc. Make sure to check all outgoing shipments against your sample to verify that all requirements are met.
Ecommerce Quality Control With AQF
Quality control doesn't have to be complicated. At Asia Quality Focus, we provide a user-friendly quality control platform to make sure you have all your bases covered when it comes to maintaining your brand's reputation and delivering the best quality experience for your customers. Contact us today to schedule a demo!