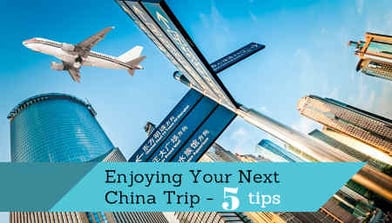 Remember your first China trip? Remember how exciting and new everything felt? Trying new foods, experiencing new things, and traveling in China, even if only for work, can be very exciting and really open your eyes.
But once you've made maybe ten or twenty trips, traveling to the Middle Kingdom can start to become a little tedious. But we can help because each year, InTouch organizes hundreds of trips for Western buyers who want to visit their suppliers personally.
We've learned, through experience, how to make the most of a trip to China, so we've come up with our top five tips for taking the tedium out of your next trip. Let this list take your China experience to the next level…
Tip #1: Make an itinerary – but keep it flexible
A successful trip anywhere abroad starts with an effective plan with realistic expectations. So when you plan your China trip, don't make it 100 percent jam-packed. Visiting suppliers can be exhausting, especially if you'll be jumping around to several that are all located in remote areas. And don't forget, you may have some serious jet lag.
We recommend planning for no more than two supplier visits or similar activities per day. Filling your schedule with three consecutive factory visits and leaving yourself a hundred emails to catch up on later that night isn't fun for anyone.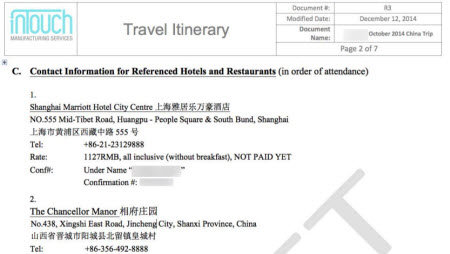 You can guarantee your life will be a lot easier by having a clear itinerary on-hand, either printed out or viewable on your smartphone. For over ten years, we've been creating itineraries for our clients who come to China. These have become a valuable tool for our clients and their suppliers.
Among the important parts to include in an effective itinerary are the following:
Contact information for relevant parties – include phone numbers for all suppliers, colleagues, and other contacts you plan to visit during your trip.
Address and contact information for hotels and restaurants – you don't want to be in a situation where you can't find your way to the hotel or restaurant at which you've booked a reservation. Keep this information and directions, if necessary, handy. Bonus tip: Include the address in both English AND Chinese, in case you need help from a local person who can't speak English.
Travel and meeting details – write down a detailed play-by-play of your activities for each day of your visit. Include the "who", "what" and "where" of all meetings. Don't leave yourself having to look through past emails to find the agreed upon time and place!
Tip #2: When possible, arrange your own transportation – Uber!
We have to admit, we absolutely dread relying on suppliers and factories to provide transportation. Even if your supplier promises a driver will arrive at a certain time to pick you up, you never know when they're really going to show up. Likewise, you may not be ready to leave when they are. In this case, you might feel bad keeping your partner's staff waiting on you.
Besides the potential cost of your time or others', you forfeit the freedom and flexibility of arranging your own schedule when you don't coordinate your own transportation. It's hard enough to say "no" if the factory insists on going out to dinner. You don't need the added pressure which comes with relying on that supplier for a lift back to your hotel.
In short, when you count on the supplier for transportation, you see what they want you to see when they want you to see it. This also leads to you – the customer – getting a rather filtered view of what is really going on in your China-supply chain.
We recommend that you arrange your own transportation for every China trip. Although we maintain several car and driver contacts, it's now easy to arrange your own transportation in just seconds, with Uber! Uber is certainly alive and well in China and throughout Asia. Every time I see a huge line of people queuing for a taxi at the front of my hotel, I just have to chuckle inside. Download the app and join the 21st century!
Tip #3: Meet suppliers at your hotel
Ok, this one really is a no-brainer. Whenever possible, unless you're going to attain significant value by visiting the factory, ask your suppliers to meet you at your hotel. By having suppliers come to you, you'll be able to conduct a lot more meetings in the course of a few days than you otherwise would. Don't be shy about requesting this option from your suppliers during your next business trip to China.
Tip #4: Meals with the Supplier– To Dine Or Not To Dine
In an earlier article, entitled "Don't Fall Into These 5 Cultural Traps in China", we covered how to deal with pressure from suppliers to eat and drink. Spending time with your supplier is important, and something we write about quite often. However, don't feel like you're absolutely required to eat with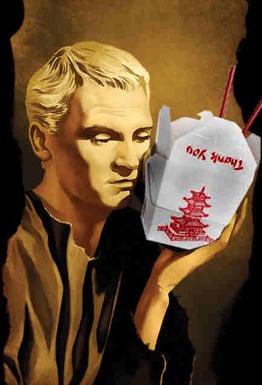 them, especially for every meal.
We've seen a marked decline in the extravagant and time-consuming lunches to which buyers were so often treated in China just five or ten years ago. Times have gotten a lot tougher for Chinese factories which foot the bill for these meals (and they're not so cheap). And not every supplier is really interested in spending two to three hours drinking rice wine with you in the middle of the day.
It's probably a good idea to have a meal or two with your key suppliers while you're in China and put in some quality "non-work" time with them. But at the same time, you shouldn't feel obligated to do more than this. It's perfectly acceptable to tell the supplier that you're tired or need to catch-up on work at your hotel.
We have clients who buy over $100 million USD worth of goods from certain suppliers, and when they come for a visit, they don't necessarily have lunch with factory management. At the same time, maybe your orders represent a tiny portion of the factory's business, and you're trying to get them more interested. In this case, setting aside some time during your China trip for more "relationship-building" with them is definitely worth your while.
Tip #5: Ride the bullet train - don't fly
Quite possibly one of the most astounding achievements of China over the past ten years has been the development of its extensive bullet-train network. We recently caught the bullet-train from Shanghai to Beijing and just can't overstate how much more enjoyable this was than flying.
Taking the train has several advantages over flying. You don't need to get to the train station nearly as early as you would need to get to an airport.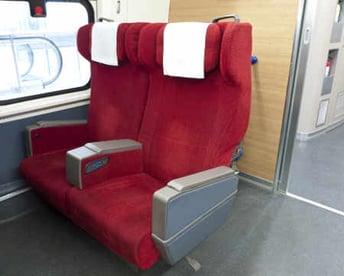 Train stations are also generally more centrally located in cities, whereas airports may be located on the outskirts, where it can be less convenient to travel.
In addition to the greater convenience and generally lower cost of such travel, trains are just more comfortable than planes. Trains allow you to stand up, stretch, and have a walk around - not to mention the seating is far less cramped than aboard a flight. If you're a smoker, you'll have a chance at each station to step off and back on again before continuing to the next station.
But one of the most important concerns for travelers considering taking the train over flying is speed. Consider that the high-speed train from Beijing to Fuzhou reduced travel time from 33.5 hours to less than 20 hours.
Tickets for China's high-speed trains are separated into the following three classes:
Second Class – The cheapest train ticket, second class seats are also the smallest and laid out in rows of five. They have about as much space as you'd find in economy class on a flight, but the seats can rotate a full 360 degrees. The seat can recline and has a foldable tray table and a power outlet on the bottom by the aisle.
First Class – The middle ground for train seats in terms of price, first class seats are more spacious and comfortable than second class seats. They're arranged in rows of four, and come with the added comforts of a pillow near the top and a foldable footrest. First class seats also come equipped with headphone jacks and volume control on the arm.
Business Class – Some high-speed trains include business class seating, the most expensive and luxurious of the three types. Business class seats are arranged three to a row, with a full two meters of space in between. These leather seats come outfitted with a mini LED TV folded in the left arm rest, and plenty of movies to watch. Some routes will even throw in free snacks, drinks, disposable slippers, back cushions, and blankets. But what is perhaps the best part of business class seating is that the seat backs can fold down flat for sleeping.
Consider taking the train to get around during your next China trip.
Conclusion
No doubt, traveling to China for the first time can be an amazing experience. But making the trips can become more of a nuisance than an adventure, as you continue to rack up trips. Take some difficulties out of your next China trip by:
Creating an itinerary
Arranging your own transportation
Meeting suppliers at your hotel
Limiting dining with factory management; and
Riding the bullet train
China's a massive country with a long history and a rich culture. By following these five travel tips, there's no reason why all of your travel experiences there can't be smooth and carefree!