In this week's roundup, let's learn about the labor shortage in some Chinese factories, H&M's new sustainable packaging, and Nike's sales increase.
Best in Manufacturing – January 12, 2021
Each Tuesday, we publish a list of top articles and other content related to manufacturing in areas like quality control, product development, supply chain management, sourcing, auditing, and law.
1. Insight from Chinese Factories: Export Surges, Labor Shorts
In recent months, exports from China have been increasing at an unexpectedly rapid rate despite the pandemic. Orders are flushing like snowflakes and China's exports even surged at the fastest pace in almost three years in November 2019.
However, the uprising orders make a double-edged sword to many export-orientated Chinese factories: they are now short of labor. Factory owners have to pay a high price to recruit short-term workers to finish the orders.
Lu Zhou is an operations director at a foreign-invested medical equipment factory in Jiangsu. He said:
The industrial zones in Taicang and [nearby] Suzhou are full of recruitment ads and labor agencies asking for ¥300 yuan (≈$46) for introducing a worker, and the price is still rising.
Under the trend, a skilled worker can now earn up to 10,000 yuan ($1528) a month according to the news.
Although factories are seeing more orders coming in, they still hold reservations about the global economic panorama. They would rather recruit short-term workers than long-term ones to reduce risk.
The Chinese labor market will further tighten
What's more, reporters estimated that the labor shortage in China might not get better in short term and could be a relatively strong problem in 2021. Liu Ligang, the chief China economist at Citigroup, explained that although the higher wages can attract some workers from home, it's not enough to lure all migrant laborers, especially the younger ones.
Li Dian, a worker from Hunan province in her early twenties, said:
Earning 8,000 yuan a month sounds good, but it's actually exhausting work. It's a lot of pressure working 12 hours per day, 6 days per week, with only half an hour for meals and no rest during the shift.
If the labor shortage lasts, factories might face higher pressure and "say no" to their clients.
Additionally, factory owners still have a concern about the unstable global recovery from the pandemic. Take Wang Jie, a footwear factory owner in Dongguan, for example. He took orders for more than 90,000 pairs of shoes in February 2020 but 80,000 were canceled in the second month. He said:
In October and November, there were many new orders, but in December we suddenly saw an obvious drop. We have heard that the pandemic is becoming even worse [outside China] … we are actually very scared. We could not survive another round of cancellations and postponements of orders.
China aims to focus on its domestic consumption in 2021
Export has always been an important part of the Chinese economy. Despite the exports, China has set its goal to focus on domestic consumption in 2021. China's new commerce ministry Wang Wentao stressed the importance of the domestic market in a recent statement:
We will step up domestic demand, try to drive up consumption potential, build a modern circulation system, clear obstacles to domestic circulation, and eventually form a strong domestic market.
Analysts hold an optimistic attitude towards Chinese domestic consumption potential. Due to the uncertainties of the pandemic situation overseas, Chinese consumers are now more willing to choose Chinese-made goods.
Julian Evans-Pritchard, a senior China economist at Capital Economics, wrote in a note:
There is still plenty of room for domestic consumption to accelerate as households run down the excess savings they accumulated this year.
Furthermore, China will "deepen cooperation with Belt and Road countries" to seek more trade opportunities. The ministry has also set a goal of joining the Comprehensive and Progressive Agreement for Trans-Pacific Partnership.
In short, Chinese manufacturing will remain strong and the country will make efforts to incentive more people to buy those homemade products. Follow the link below to learn more about the labor shortage in export-orientated Chinese factories.
As China's coronavirus rebound gathers steam, export-oriented manufacturers struggle to find workers – He Huifeng and Sidney Leng, South China Morning Post
2. H&M now applies sustainable packaging to reduce plastic waste
Plastic waste has been a topic of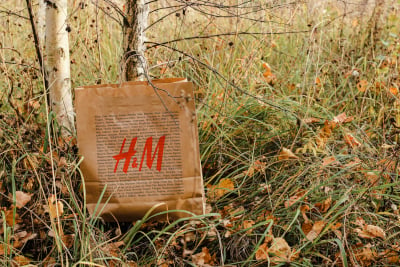 sustainability for years. All the businesses across the industries are thinking of ways to replace plastic with sustainable material and reduce plastic waste. Recently, Swedish clothing retail giant H&M introduces a new packaging solution to reduce plastic waste.
According to H&M Group's press release, the company is seeing an increase in packaging waste along with increasing online orders. Most of the packaging is plastic and will end up in landfills or in the ocean, "having an extremely negative impact on our planet."
H&M Group's solution is to replace plastic with paper. The new solution is a multi-brand paper packaging system. Those paper bags have brands' logos on them and will have a cleaner and nicer look. Once the packages are open, the bags are recyclable.
As for now, H&M Group has launched this new paper packaging in its distribution centers in China, Russia, the Netherlands, and Australia. The company will keep collecting feedback from customers and expand the coverage to more regions.
"A small step on a long journey"
H&M Group's paper packaging is not the end of the packaging improvement but only the start. Hanna Lumikero, service owner and responsible for the new packaging system at H&M Group, said the company will improve the paper packaging constantly:
…we need to continue working on replacing the use of plastic throughout our logistics supply chain. But by introducing this new multi-brand packaging we are creating a huge impact by replacing the outer plastic with a paper solution. This is a small step on a long journey.
H&M Group has already committed to reducing plastic throughout its business and value chain. The company's new packaging solution applies to all its brands including COS, ARKET, Monki, and Weekday. Lumikero added:
That is why we will implement this packaging solution in all of our brands.
Further, H&M Group has removed most of the plastic shopping bags in stores with certified paper options. Those moves will together help the company achieve its goal to reduce the usage of plastic packaging by 25 percent by 2025.
EU now bans shipping plastic waste to developing countries
Not only brands, but officials are fighting plastic waste as well. Plastic waste is a global crisis. But the crisis is particularly serious in some of the Asian countries as they are the dumping grounds for the western world.
Previously, China has been accepting the world's plastic trash for nearly two decades. In 2018, China announced an import ban on "foreign garbage" and officially declined further dumping. Then, other Asian countries became new plastic waste dumping grounds. (related: Malaysia Is America's New Plastic Waste Dumping Ground)
But things are getting better now. Since January 1st, the European Union has banned all non-recyclable plastic waste from being shipped to developing nations.
Under the new rules, only recyclable "clean plastic waste" is allowed to be exported to non-OECD (Organization for Economic Co-operation and Development) countries. The bloc will also apply stricter rules on these shipments of plastic waste to make sure the receiving countries have the capacity to sustainably treat the waste.
Want to know more about the war on plastic waste? Follow the link below to learn more about H&M's latest sustainable packaging.
H&M reduces plastic waste with new sustainable packaging solutions – Mette Larsen, Scand Asia
3. Nike reported a sales increase, thanks to ecommerce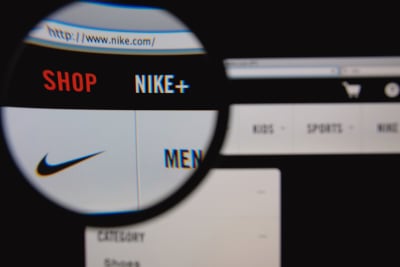 Although the pandemic has restricted people's activities outside, people's enthusiasm for sports is unabated. According to Nike's announcement, the company achieved an $11.2 billion revenue in the fourth quarter of 2020, a 9 percent increase from the previous year.
Particularly, the sales increase is driven by eCommerce sales. Donahoe also revealed that the company saw an 84 percent surge in digital sales part. It's also the third straight quarter that Nike is seeing around 80 percent growth in eCommerce.
What's more, despite the remaining haze for physical store sales, Nike still opened two live stores and six Nike Unite stores in the second quarter of 2020. In the new year, the sports giant will open 30 more stores in the second half of 2021, according to Nike's Chief Financial Officer Matt Friend.
With more stores, Nike will develop a more advanced retail network and supply chain. The company will apply technology to its supply chain, analyze the needs and stocks, and best allocate the resources to meet the demands. Friend added:
We're investing in technology in the supply chain so that we can better predict where to put inventory, where we think consumers want the inventory — and the benefits for us in that are in gross margin.
Livestreaming emerges as a strong booster to eCommerce sales
Selling online needs strategies. When your potential consumer can't feel the product or test how it works, how can you attract them and drive them to purchase? Aside from paying for an influencer to promote the products, livestreaming has emerged as a strong booster to eCommerce sales.
Livestreaming is the latest trend in eCommerce. In fact, live streaming is now the most popular way for online shopping in China. Some brands will choose to have their own live streaming to sell directly. Some will choose to work with famous live streamers to promote products on their live streaming.
Usually, there will be many more views on popular live streaming, like Li Jiaqi's or Viya's. More audience means a higher exposure rate and a higher chance the products get purchased. But the live streamers also have their own teams to do the selecting – products with bad quality will be excluded from their lists.
Initially, live streaming is only popular on Taobao. Now, with the booming of this new selling method, live streaming is on almost every Chinese eCommerce platform including JD, PinDuoDuo, and XiaoHongShu.
Ecommerce trends in 2021
Ecommerce will still be prosperous in 2021. To gain more market share, businesses better put more effort into eCommerce to grab the chance. Here we list 5 Transformative E-Commerce Trends for 2021 and hope they are inspiring:
Growth in the online marketplace. COVID-19 has sped up the pace of online marketing and the trend will last in 2021. The online market definitely needs your continuous attention.

Diversifying supply chains. The pandemic has given everyone a lesson on building a healthy supply chain. Coordinating with global suppliers and offer improved quality of service to end consumers is a never-ending pursuit for businesses.

Faster delivery. With more orders booking online, sellers should be used to packing packages and deliver them fast, rather than simply giving consumers a paper or plastic bag to hold their goods. And keep in mind, consumers don't like to wait. If they always have to wait a long time to get your packages, they have plenty of reason to switch to other sellers who can satisfy them faster.

Rising social commerce.

The average user spends 27 percent of daily waking hours on their mobile devices. A good product can spread quickly on social networks and bring you unexpected profits.

The transformation of key retail shopping events. Due to the pandemic, shopping events in physical stores are not as attractive as before and are losing popularity. A well-organized online shopping event can pull sales-forward and sustainably service a growing audience.
Follow the link below to learn more about Nike's sales increase.
Nike posts $11B quarter and plans for 30 new stores – Cara Salpini, Retail Dive
---
We're constantly scanning the web for top manufacturing stories and news. If you'd like to submit an article for consideration for our weekly Best in Manufacturing, send us a message and let us know