This week on Best in Manufacturing, check out a video that explains why only 1/10 of manufacturing jobs have been lost to offshoring, what's to blame for the rest and more!
Best in Manufacturing – November 5, 2017
Each Sunday, we publish a list of top articles and other content related to manufacturing in areas like quality control, product development, supply chain management, sourcing, auditing and law.
1. [Video] The true culprit behind lost manufacturing jobs
"We want more stuff made here! We don't need more imports! [Insert country here] is stealing our jobs!"
This rhetoric isn't unique to any one country. And it's certainly understandable. Workers that get laid off and hear news of production moving to another nation have an easy target to blame for why they are no longer employed. For many political candidates running for office in their respective countries, discussing this topic and suggesting protectionist countermeasures is a popular way to gain support.
But what these candidates and members of the general public rarely discuss is how nowadays more goods are made by fewer hands. For example, American manufacturing output is growing…with fewer people. A smaller amount of workers is needed to produce the same volume of, or even more, goods. Productivity has increased.
The speaker of this TED Talk actually points out that lost jobs are normally not stolen, but lost rather to machines. Eighty-seven percent of lost manufacturing jobs have been eliminated because of improvements to productivity stemming from automation. Only 1 out of 10 jobs have been lost because of offshoring.
Protectionism may sound appealing. But learning the data behind it might change your point of view on the subject.
To listen to a comprehensive talk about shared production, trade wars, manufacturing employment and more, check out the video in the link below:
The Real Reason Manufacturing Jobs Are Disappearing – Augie Picado, TED Talk via Youtube
2. Using trademarks to fight Chinese counterfeiting
Last week I wrote about the people that go after Chinese counterfeiters. But what if you don't have the resources to hire investigators or personally go hunt the factories making fake versions of your goods? This is where a common intellectual property (IP) protection strategy comes into play.
Trademarks are an effective way to prevent counterfeit items from entering your target market and in some cases from leaving the shores of where the infringing products were made.
This featured article mentions the specific case of China and the United States. If you have a U.S. trademark and work with U.S. Customs and Border Protection, they are authorized to,
…block, detain and seize incoming products that violate U.S. intellectual property rights. The EU and Spain have similar procedures.
Without a doubt, for safeguarding your brand and bottom line, this is a win. Aside from prompting the seizure of goods, trademarks can also help online. If you've got a U.S. trademark, it can help compel Alibaba to remove offending products from its online listings. While it's not guaranteed that it will stop the products from being shown, there's still a chance…which is better than nothing.
There's plenty more insight in this article about how you can protect yourself against counterfeiting. Learn more about using trademarks to protect your products by checking out the full article in the link below:
How to Protect Your Product from China Counterfeiting with 360° Trademark Protection – Dan Harris, China Law Blog
3. The digital twin: a manufacturer's new best friend
If you're thinking about making changes on a factory floor, there's some inherent risk involved. Sure – you've planned meticulously. The team at the factory has prepared for the changes and is ready to execute. Yet still…something could go wrong that throws all your hard work in the fire.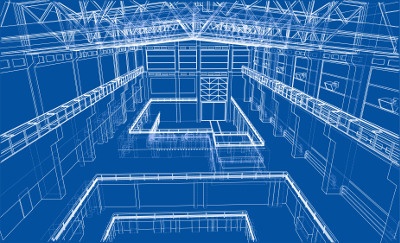 Nowadays, there's a way to circumvent this risk and even improve factory efficiency. How? The digital twin.
Think of it like this: you've got your real factory, that's equipped with sensors and a connection to the cloud, and you've got a digital version of that factory. The digital version is identical to the physical one. It serves as a sandbox to test ideas, review production in real-time, address problems instantly and more.
The vice president of Dassault, a provider of twinning software, believes that,
The true value in twinning is to bring products to market faster at a lower cost and to push the boundaries on innovation in the less risky virtual space without impacting the production line…
And while in the past this sort of capability was reserved for large companies with money to spend on futuristic projects, nowadays, thanks to the cloud, smaller manufacturers can also start to take part and experiment.
To learn more about twinning and how it can help manufacturers of any size push the boundaries of innovation and make their operations better, check out the full article in the link below:
Through the Virtual Looking Glass – Dustin Walsh, Crain's Business Detroit
4. Offshoring's future according to supply chain leaders
In today's economy, offshoring is abundant. A small importer can easily find a host of far-away suppliers online, wire money, get an order produced, have it shipped and in no-time sell those goods. Compare this to the days of purely local manufacturing and there are some advantages, like more affordable goods. Sourcing from abroad in many cases allows importers and consumers to buy for less.
But will international trade remain like this?
To get an idea of an answer to this question, this featured article offers perspectives from supply chain leaders on what they believe is the future of offshoring and nearshoring (bringing back operations closer to a target market).
Some leaders, like Tania Seary, believe that global supply chains will continue to grow for the nearshoring and offshoring of products and components. And with the development of artificial intelligence (AI), people-intensive services could experience a change as well. In Tania's words,
If everything we are learning about AI eventuates, then we won't need to offshore to geographies that offer better skills, services or more attractive labor rates. These services will be automated…digitized….cognitive. So, I think the big change will be in off-shoring services.
Another industry leader, Jon Slangerup, touches on AI as well, saying,
Artificial intelligence and robotics (AI&R) are rapidly transforming the face of global manufacturing and operations, which will ultimately enable goods to be made at or near the point of consumption.
It seems AI is on the minds of these two supply chain leaders – what about you? How significantly (if at all) do you think future supply chains will integrate AI and impact international trade? Let us know in the comments section below!
To read more perspectives on offshoring and nearshoring, check out the full article in the link below:
What Is the Future of Offshoring? – Kate Patrick, Supply Chain Drive
5. Manufacturing of the future: full of robots
Manufacturing has certainly changed over time. From using steam to power looms, to the assembly line for mass production and now using technology like 3D printing for customization, manufacturing has kept pushing the boundaries of innovation and efficiency. And now, there's another major change on the horizon: robots.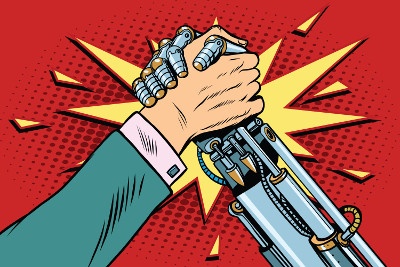 Automated production is frequently discussed in the news. It will certainly displace swaths of manual laborers, but proponents also mention that automation will give opportunities to more skilled employees to manage the technology. For the lucky few that haven't been displaced by robots, the machine will actually aid the workers to complete otherwise strenuous tasks.
In some cases, using more robots enables reshoring, which brings back some employment to local communities. The widespread, stable manufacturing jobs of 1970s America won't return en masse, but a few jobs returning are better than none.
This featured article also mentions how automation can benefit manufacturing by creating efficiencies that enable businesses to save money, which puts pressure on competitors to do something similar or wither and die. And automation helps other parts of the supply chain, like warehousing. The featured article points to the case of SYMBOTIC:
Because [SYMBOTIC's product] can store more products in a smaller space, companies could have more compact warehouses closer to their retail outlets, requiring less trucking. The robots don't need light to operate, so the warehouse could use, Gahagan estimated, thirty-five per cent less energy than a conventional one, while reducing labor costs by eighty per cent.
This article doesn't just focus on automation in the United States, however. It also looks to China. With manufacturing wages rising in China, robots are increasingly seen as an attractive investment to keep the factory of the world going. Robots also don't migrate in great numbers during Chinese New Year like many factory workers.
Curious about how robots will affect the manufacturing landscape? Check out the in-depth article from the New Yorker by following the link below:
Welcoming Our New Robot Overlords – Sheelah Kolhatkar, The New Yorker
---
We're constantly scanning the web for top manufacturing stories and news. If you'd like to submit an article for consideration for our weekly Best in Manufacturing, send us a message and let us know.