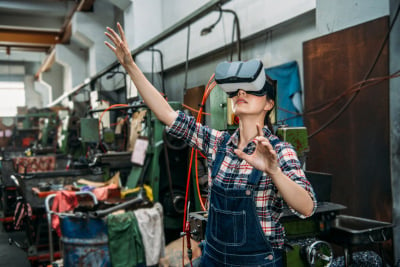 Learn more about how wearables enhance safety measures, Amazon's growing logistics service and the sustainable future to fashion industry in this week's roundup.
Best in Manufacturing – May 26, 2020
Each Tuesday, we publish a list of top articles and other content related to manufacturing in areas like quality control, product development, supply chain management, sourcing, auditing and law.
1. Wearables could enhance safety measures to aid social distancing measures

So far, 2020 is a year full of challenges. As living-with-virus is the new normal, industries are thinking about ways to take COVID-19 protection measures as a routine. And now, owners of warehouses and factories are eyeing wearables to help them.
Wearables are smart electronic devices that are worn close to skin. Not only on the wrist, helmets, badges and even boots worn on the job can become wearables. They can help the supervisors to conveniently track data and better manage the resources.
For example, wearables can detect the distance between employees and alert when they are too close. Wearables can become great helpers to keep social distancing especially in places like warehouses that views are blocked.
J.P. Gownder, VP and principal analyst at Forrester, predicts that wearables and personal protective equipment (PPE) will be used in combination in a year. He said in an interview with Supply Chain Dive:
This is a fertile area of consideration. …We're unlikely to have a vaccine [any time soon], and millions of front line workers need to keep the world moving. Companies need to be proactive.
Make warehouse solutions smarter
Nowadays, every industry wants to digitize and warehouses are no exception. Many companies are now implementing technology to make their warehouses smarter. For example, DHL is using smart glasses in its innovation center to improve picking process.
DHL is the first to use the latest generation of Glass Enterprise Edition in warehouses and hubs worldwide. The glasses can virtually support the vision picking process in warehouses and drive more accuracy. Those wearables are a huge part in DHL's digitalization strategy.
Besides, robotics is the most-widespread technology in warehouses. The most famous example will be Amazon's fulfillment robots.
Amazon is aiming to upgrade its supply chain by adding robotics to every part of it. These robots can work with employees together "to pick, sort, transport, and stow packages". They are four to five times faster than human packers and can significantly reduce mistakes.
In 2019, Amazon invested $40 million in its new robotics hub and will keep valuing robotics in the future.
China owns a prosperous wearable market
With the popularity of wearables, the market for wearables has become increasingly prosperous. If you are doing wearable business, there's one big market that you can't ignore: China (see #2).
With a huge population, wearables enjoy a huge market potential in China. According to a report, China's wearable devices shipments went up almost 50 percent in Q3 2019. Its revenue amounted to surprising $4,599 million in the same year.
Apart from giants in wearables like Apple, China's domestic wearable brands should not be underestimated. Local businesses like Xiaomi and Huawei are gradually occupying market share in recent years.
Also in Q3 2019, Xiaomi's shipment of wearables rose 42.8 percent year on year (YOY). In the same time, Huawei shipped 188 percent more worth of wearables too. The market is realizing the possibility of made-in-China wearables and are more willing to accept them.
In a nutshell, wearables have unlimited possibilities in the future. No matter in daily lives, in manufacturing processes or in supply chains, wearables will become our strong helpers.
Follow the link below to learn more about wearables.
Wearables could be key for worker safety as warehouses, manufacturers eager to reopen – Jen A. Miller, Supply Chain Dive
2. Amazon's logistics service now expand to more states
You may have been focusing the COVID-19 protections on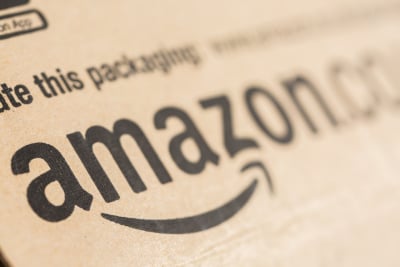 Amazon recently. But on the meantime, Amazon is expanding its logistics coverage quietly. This giant recently announced that it has expanded its freight service to the lower 48 states from five Eastern states initially.
Amazon freight service was first launched in August 2018 to full truckload for dry van hauls in five states: Connecticut, Maryland, New Jersey, New York and Pennsylvania. It was designed for small and medium line-haul providers. By using Amazon freight, they can carry loads for Amazon in the middle mile.
Previously, the access to the freight site was limited to only Amazon's pre-approved line-haul providers to sign up for loads. But now, the site is open for more carriers.
For the shippers who signed up, Amazon can offer full truckload service for them. The shippers can ship most of the commodities but there are some exceptions like hazardous materials and products requiring refrigeration.
Amazon trying to better control its logistics
As the largest ecommerce platform in the world, Amazon is not only satisfied with providing a shopping platform. It is also strengthening its shipping capabilities to become a logistics company.
In august 2019, Amazon cut ties with FedEx and expected to ship packages with other big carriers like UPS and USPS. But in the future Amazon might cast off third-party carriers if it can successfully build its own logistics network.
As for the end of 2019, Amazon can already handle half of its packages by itself. It has rose as a strong rival to other logistics providers. The company has been expanding its air network as well as its ground shipping capacity.
Brian Olsavsky, Amazon CFO, said the company is optimistic about the future. He said in a Q4 2018 earnings call:
We know where our demand is, we know where we're moving things between warehouses and sort centers. And by not involving third parties all the time, we found that we can extend our order cutoffs and we've done that over the last few years.
How does Amazon solve last mile delivery
Being one of the most popular ecommerce sites globally, Amazon is also working to improving its last mile delivery service.
Aside from traditional ways like human labor and trucks, Amazon is also implementing drones and electric vehicles. In June 2019, Amazon unveiled its revolutionary new drones. Although these drones have not been used in large quantities, this is also a very bold attempt.
As for the electronic vehicles, ordered 100,000 electric delivery vans and the first van will hit the road in 2021. Amazon expects to put them all on road by 2024.
What's more, Amazon launched mini-fulfillment centers in March for faster delivery. The size of the new centers is only one tenth of the traditional ones but the distance from the consumers has entered a lot. By those centers, Amazon can delivery good to consumers in even faster speed.
In conclusion, Amazon will keep emerging as a strong logistics company and it's worth learning its pattern.
Follow the link below to learn more about Amazon's growing logistics capability.
Amazon Freight expands to 48 states, furthering control of its logistics network – Jim Stinson, Supply Chain Dive
3. While sustainability was already a key topic for fast fashion, COVID-19 is speeding up implementation of sustainability initiatives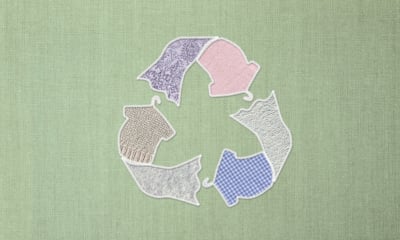 The raging COVID-19 has caused many industries to shut down. People start thinking about how to achieve more sustainability while the whole industry is affected. One of the most concerned is the fashion industry.
To keep up with the trends and styles, the fashion industry has to run in full speed to offer new products every season, every month, even every week. It requires its supply chains working at full steam to stitch up and ship out new fashions on time.
However, as the COVID-19 post threat to everyone's health, people are thinking about sustainability more than ever to contribute healthy environment. Although the fashion industry has formed the Sustainable Apparel Coalition (SAC), it seems like they are not fast enough.
Sarah Willersdorf, BCG's partner and global head of luxury, pointed out that consumers' pursuit of sustainability will drive the fashion industry. Fashion industry should speed up the implementation of sustainability:
Sustainability is going to be table stakes for consumers when it comes to brands, both current and future consumers, and I don't mean greenwashing, but real sustainability.
Sustainability matters to everyone
Aside from driving the fashion industry, in fact, sustainability matters to everyone. From start to end, every part on the supply chain will be improved due to the pursuit of sustainability.
On the sourcing part, sustainability will have a positive impact on the growing pattern and labor usage. With brands focusing more on sustainability, they will push the suppliers to be more ethical to win the orders.
On the brands' part, sustainability can have a positive self-reinforcing impact on company culture. Fashion talent of the future will be more willing to work for fashion companies that make sustainability and social responsibility a priority.
What's more, the COVID-19 might change consumers' habits in shopping. Willersdorf predicted that "consumers are going to spend less for the foreseeable future". They will focus more on the ethical problem and fashion industry should be aware of that. Willersdorf said:
And they are going to be far more selective with a mindset toward quality, value and sustainability. They will be concerned about where fashion comes from, that it is ethically manufactured, and that it is as good as it can be for the environment.
Start from using recycled material for garment products
However, implementing sustainability is easier said than done. It requires updates in all the parts of the supply chain. For fashion brands, using recycled material for garment products might be a good start.
Leading companies in the industry are implementing recycled material. In January, H&M announced to sell clothes made from sustainable fabric. The clothes will be using fabric made from 100 percent cotton recycled clothing and garment production waste. The company is the first to bring such fabric to the market.
Additionally, some sports brands are now using recycled material for their apparel lines too. For instance, Puma is now partnering with recycle company First Mile to collect used plastic to make garments.
As for now, over 44 tons of plastic waste from landfills and oceans has been recycled just for the products made for 2020. In the near future, more businesses in more industries will be aware of sustainability and keep it as a goal.
Follow the link below to learn more about fashion industry's sustainable future.
Coronavirus Will Force Fashion To A Sustainable Future – Pamela N. Danziger, Forbes
---
We're constantly scanning the web for top manufacturing stories and news. If you'd like to submit an article for consideration for our weekly Best in Manufacturing, send us a message and let us know